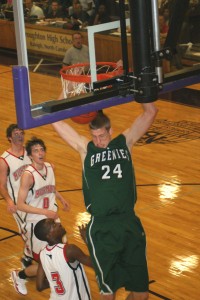 Future Dukie Mason Plumlee earned All America honors from the Louisville Courier.  Here is the LINK.
Here is the NBA's early entry list with foreign players listed. The face of college hoops will change as players either come out or stay in the draft, so the watch begins.
The Boston Celtics tripped the Orlando Magic last evening to even their series at one game apiece.  Former Duke standout JJ Redick was ejected from the game after arguing a call which gave him his sixth foul.

Duke Baseball swept Presbyterian and prepares for a stretch run in hopes of gaining a bid to the ACC Baseball Tournament which will be held in Durham Athletic Park, home of the Durham Bulls.  LINK
Zack Greer is a candidate for the Tewaaraton Trophy, the highest individual honor in collegiate lacrosse. He is the only one of the five finalists announced Tuesday by the Tewaaraton Foundation who will not be able to advance his case further in the upcoming NCAA tournament. Greer, who finished tied with former Duke teammate Matt Danowski with 353 career points, used his final season of eligibility to play for Bryant and former Duke coach Mike Pressler. He also owns the Division I record with 206 goals. He helped the Bulldogs to a 10-5 record, but the Bryant program is transitioning to Division I and is not yet eligible for the national championship. Greer was among the Duke players who lost a season when the program was shut down following rape allegations against three players. The players were later cleared and all the members of the team who had eligibility left were given another year by the NCAA. Greer chose to transfer to Bryant.
Blue Devil Nation Premium will cover this weekend's Southern Invitational where members will hear from Josh Hairston, Andre Dawkins and Tyler Thornton among other prospects.   So, be sure to stay close to the message board and site this weekend.