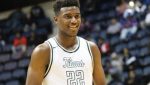 We love doing recruiting updates at Blue Devil Nation but only after we have good information.  Our latest offering is 2304 words of what is going on with 2020 class and how things should play out.  After the exciting commitment from DJ Steward, Duke now has three players for 2020, but the staff is far from finished.
Who will be the next player to commit?  Where does Duke stand with key prospects?  When are they visiting and who else is in play for their services?  I try to answer those questions to clear the picture on the Blue Devils hoops future.
Be sure to take advantage of our one-year special, which is 60 bucks for the year in the link above.  I have been covering Duke since Coach K stepped on campus and that allows Blue Devil Nation to offer a unique perspective on the program which is set to get things underway for the upcoming season.
Note - new members need to also register for the message board and will then receive approval.