[private]
Duke Football held their second practice of the season last evening and it was evident that some changes have been made. I've been going to practices for many years having seen every coach run their version since Mike McGee. Wallace Wade would often be right beside me, yet he never commented but so much. There was one exception which was Red Wilson's 1981 season which was the last time Duke beat Virginia Tech on a Dennis Tabron interception. Wade stated, "now that's good football," after a play fake which resulted in a forty yard scamper by the tailback.
I couldn't help but wonder what Wade might have said about David Cutcliffe. Wade of course coached Alabama before coming to Duke and Cutcliffe graduated from 'Bama in 1976. While Wade was a man of few words at practices, he always had that "legend" thing going on, where he commanded attention. It got to the point where I could almost tell when he was not impressed by reading his facial expression and there were quite a few times when he must have been thinking what happened to the once proud tradition that was Duke Football.
A lot has changes since the days when Wade stalked the sidelines, but good football is still good football. Wade always talked about protecting the ball and the advantage of a good kicking game. He would often crack a slight grin watching Scott McKinney nail field goals on a consistent basis in 1981.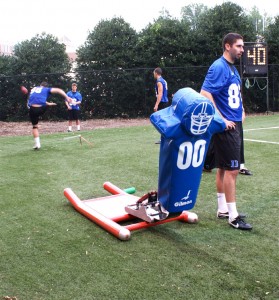 Well, Coach Cutcliffe preaches ball protection too. And he also knows how important the kicking game is for Duke this coming season. I couldn't help but gravitate towards the kickers where I watched the footwork of Joe Surgan and incoming freshman Paul Asack. Cutcliffe most recently stated that he would go for extra points if their wasn't significant improvement.
That is but one of the concerns the new staff will address. North Carolina is known for it's sometime schizophrenic weather and on this evening, the humidity increased as the night went on. So, did the intensity of the pace which ended with the dreaded one legged suicides while pulling a significant amount of weight.
The practice seemed much more uniform than last season. Players would run to their stations and if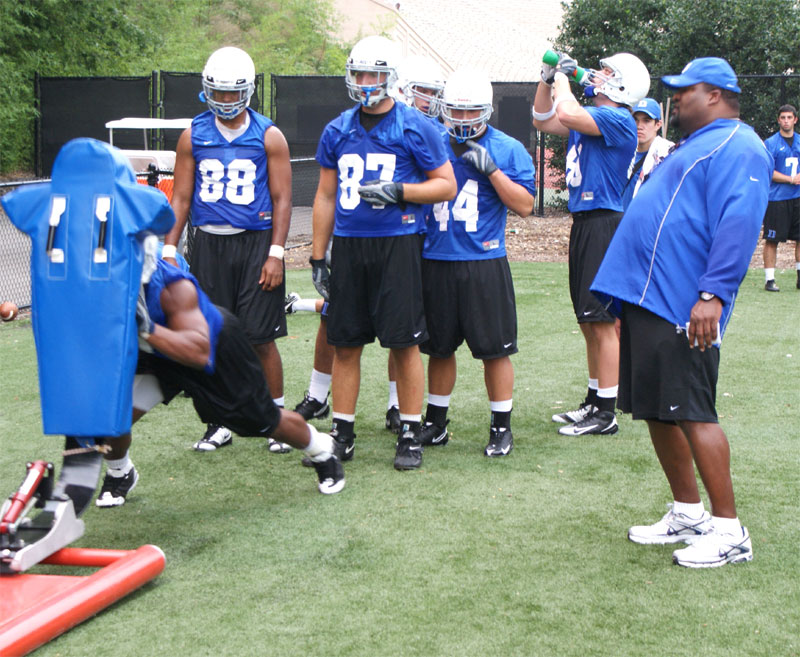 they let up, a coach was sure to be in their ear. In fact, watching Coach Middleton at work broght back memories of old school discipline. Middleton is an imposing figure that will not hesitate to tell a player what he feels. During one drill with the tight ends he let one player know that his intensity was as soft as, well, you get the idea.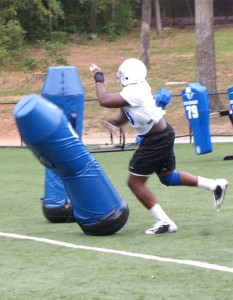 Watching the intensity of Vince Oghobasse and others on the defensive front was a refreshing sight. It was nice to see Ayanga Okpokowuruk return to his natural position of defensive end as well. No matter where you looked, each coach was focused and on the same page. Simply put, there is more organization.
Cutcliffe lets his coaches do a lot of the work. He will float from offense to defense, from lineman to backs, letting them know what he expects. Cutcliffe will insist certain plays are run over again or that an individual players take more reps.
The team as a whole looks svelte. They are not that imposing physically on the whole, but they are in good shape. Duke will employ new schemes which will require mobility and of course the emphasis has been on being fresh in the fourth quarter since Spring.
Cutcliffe mentioned that he was anxious to see what the team carried over from the Spring and his reaction was mixed. "I thought our team was fresher from start to finish tonight," said Coach when comparing it to the first nights practice. He was ready to get off the field and get right into watching the tape. "Okay, let's make it quick, I have work to do," he bellowed as print media gathered after and extended local TV piece.
The work ethic was also mentioned again by Senior leader Eron Riley, "We worked really hard in the off season conditioning wise. We made it through practice, we're tired but we are making it through it. We need to be more consistent, but we've got good work in the last two days." Riley was gasping for breath having just completed the aforementioned suicides to close Duke's second practice.
Cutcliffe mentioned that he felt there was balance to the practice and that he would have to look at tape to reaffirm that. "We really went back and focused on fundamentals on both sides of the ball which I think payed dividends," he said. After watching the first nights tapes he mentioned, "We were making some of the same mistakes that we made in Spring. We can't go another day making the same mistakes."
Cutcliffe also mentioned that he threw in some unexpected changes on both sides of the ball to keep the team on it's toes. he then segued into the secondary after being questioned about it. "I think we've really gotten off to a good start. We talked about it as a staff this morning … Coach Jones and Coach McIntyre. We've got to get settled, Glen Williams is a good cog. We are trying to get the best four or five on the field. We are not a team that's afraid to play nickel and dime and getting our best guys in the game for we want our speed on the field."
He went on to sing the praises of Leon Wright who had a good start. He also mentioned that he wanted to become more physical and consistent at safety, then mentioning Catron Gainey.
The Blue Devil Nation will continue it's coverage of practice and we have plenty of notes and quote which we will share in the coming days. If you are a football fan, be sure to check in often and get an almost daily fix of information and analysis.
Pictures - (1) Coach Cutcliffe instructs Patrick Egboh, (2) there will be a battle foe the place kicking job. Joe Surgin looks on with freshman Paul Asack looming over his shoulder, (3) Coach Middleton is all business when running drills, (4) Vince Oghobasse shows off his quickness after trimming down in the off season. No reproductions are allowed without prior permission from BDN staff.
**- My faulty memory was off six years on Wade in the original print :)[/private]