[private]The Blue Devil Nation was on hand for media day and we secured this interview with new offensive coordinator Kurt Roper.  We will have an article daily on Duke Football leading up to the home opener against James Madison.  We will also bring you practice coverage and comments for Blue Devil Nation Premium members.  The Blue Devil Nation loves Duke Football and we will aspire to bring you the same great coverage you have seen with concerns to the basketball program.  If you are a football fan, please pay us a daily visit during the month of August.  You'll be happy you did!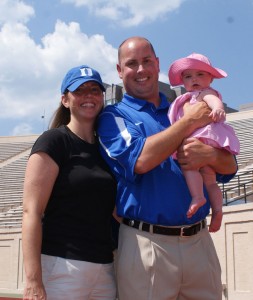 So!  Are you excited to finally get back on the field?
(Wide smile) Oh yeah!  It's like Christmas … Christmas Eve anyway.
Tell me a little bit about tomorrow.  Will you just have a walk trough?
The NCAA changed the rules a few years ago to try and help with all the heat strokes.  So, the first five days we can only practice once a day.  We will have about a two hour practice these first few days and on Saturday, we'll have our first two a days.  We'll have some intense practices this week.
Are you looking forward to seeing if any freshman can possibly help?
Sure, like I said it's like Christmas Eve and tomorrow we get to unwrap the presents which is always an interesting thing.  We will try to help them catch up.  It wasn't that long ago when you use to have two or three days of freshman where you could get out there and work specifically withthem  With all the rules changes they've taken those practices away which has been a change.   So, we've got to see who can step in and see  guys can play and possibly help right away.
So, I'm assuming the staff will get together and talk about who they might redshirt and such.  What is a realistic time line where you think you might have a feel to make the decisions?
Well, in college football is different than say the NFL, where they get four preseason games.  We schedule in three scrimmages with ACC crews … it's a daily process, but at the end of those scrimmages, you've got to make those decisions and move on.  Our last scrimmage is the 19th of August.  We'll put them out there and see who makes plays and the ones that are ready show up.
You've had a chance to get to know some of the guys here by now.  Are the players where you want them to be at this point and time?
I'm really comfortable with the players and the entire staff.  It's a day by day thing.  Obviously I know the offensive players better and I think it's a good group of guys who understand  what we want to do as an offense.  If they buy in and I think they have then that gives you a chance on Saturdays.
Is it safe to say there will be a lot of changes in your offensive schemes?
Well, there's only so many ways you're going to skin a cat.  Football is football, there's eleven on the field.  When you develop tour schemes you do it based on people or personnel as much as anything else.  We're going to be an offense that … (brief pause) … at the end of the day we want to score one more point than the opponent.  You do that by taking care of the ball and making big plays.
So, it's safe to say that there is a gray with concerns to how you may call a game?
Sure, sure!  And it changes as the game changes.  We have to find out who the guys are that are going to make plays for us and then make it so guys get the football.
Some felt that the Duke offense wasn't aggressive enough last season.  Even in the one win, they kind of scaled back the offense in the second half but still managed to hold on.  How do you make those decisions on when to go for the jugular so to speak?
I don't think anybody say let's go into the third of fourth quarter and say let's protect the lead.  But there are certain situations in the game where you don't want to put our self a bad situation and this is from years and years of position study and down and distance study.  If you take a close look at it and you get the ball within your own twenty yard line the percentages go way down.  Obviously the percentages improve as you get closer.  You have to be smart with play calling.  I learned a long time ago from some food football coaches that you beat yourself a lot more than that opponent beats you with turnovers, negative plays, penalties … before you win a football game you can't be yourself.  There is that happy median where you want to be aggressive but still be smart.  We want to be our self and be a sound football team and you want to pick up chunks of yardage on big plays.  But you don't win a game in the first three quarters.  You and I know when you play teams like North Carolina, Clemson and Virginia Tech, well you're not going to run them off the field.  That's not realistic I don't care who you are even if you are number one Georgia.  We want an opportunity to win the football game in the fourth quarter.  You want a drive at the end of the game … that's why everyone  wants a that great quarterback.  When you look at it those great ones have found a way to take that last drive and score with it just like Eli Manning did in the Super Bowl
I'm assuming you have had a chance to watch some film of last years games in getting an idea of your personal.  In the Miami game in Wade two years ago, Duke had an opportunity to score late in the game after a sustained drive, yet bogged down and turned the ball over.  The same thing pretty much happened there last season.  Have you seen that film and would you have done anything differently?
I wasn't in that situation, so It's hard to say what they were doing was the wrong em.thing.  They coached their team the way which seemed right to them.  Does that mean I would do it exactly the same?  No.  But our philosophy … we're going to be pretty multiple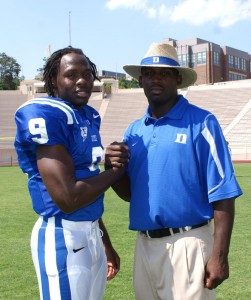 Speaking of quarterbacks, have you had a chance to look at Thad and what were your thoughts of him coming out of spring practice?  What do you like and dislike about his game?
I think he's a guy that can throw the football well,  He runs a little bit hot and cold at times but he can throw the football well.  The thing that needed improving were his fundamentals.  You can't ever take that lightly because when the fundamentals start fading are when the turnovers happen and that isn't just an interception.  It could be fumbles in the pocket, the center exchange … all those things that you have to concentrate on as a coach.  He's got to learn in our offense the fundamentals that are important.
I think it's reps, I think it's fundamentals.  It's where he sets the ball up when he finishes his drop.  I think how he keeps both hands on it before he delivers rather than panicking and separated.  In situations like that I think you get your feet too far out of whack and you are not on balance.  He has to understand the timing of plays and apply that to have himself be active.  He was at 55% last year which is okay.  But you need to be 60 and above to really be throwing well.
So what will the team have to do to help ensure his success?
We have to figure that out … how we'll protect him and how we do it best.  We have numerous protections in our package, no doubt.  So we will find the ones we are good at.  The other thing that you have to look at is that you have to build routes where he can get the ball out of his hands faster.  There are really good routes you can build up, but you will have to be able to protect a little bit longer.  If you can't protect it, then there is no reason calling it.
You say in your offense …
Our offense is different, the drop back, the run schemes, all the footwork is different and that has to appl into to how you hand the ball off, how you get back into position and set, reading the coverage … which has to apply to the way we will run our offense at Duke.
How do you feel about the time you're allowed to prepare for the home opener?
You know, when you really think about fifteen practices isn't very much.  I'm anxious to see how much carry over we had (Spring).  There needs to be carry over and then there needs to be progress.  I'll be able to tell you here in a couple of weeks exactly what I think.
Is it safe to say that Duke will be running the backs on routes and utilizing the tight ends more?
Sure.  I think last year one of our tailbacks caught 39 passes and he made a big difference in what he was doing.  Our tight ends>  We had four catch TD passes last year at Tennessee.  The goal is to get 55 to 60 percent completions their way for you really don't have to throw it that far.  You hope those guys then make plays with their feet.
The running game was atrocious last year.  WIll improved quarterback play help there?  What can you do to try and develop a running game which averaged around 50 yards a game?
It's a good question but a very long discussion when you get into it.  You have to be balanced, there is no doubt about it.  Typically an offense will go one way or the other with what they are good at.  The emphasis went more towards the passing game at Duke last year.  You've got to balance up your practice time to get good at both of them.  You've got to pick a few things and try to get good at it rather than saying okay that didn't work let's try something else.  You have to rep and rep and rep and rep until you become good at anything.  We didn't come out at Tennessee last year and try to out physical everybody and the same will apply here.  You've got to create lanes horizontally and vertically in your running game.
Coach Cut has talked a lot about the speed of the ACC defenses.  The SEC is obviously fast.  Will you approach things differently in this conference?
I don't think so.  The ACC, especially a couple of year ago was as talented as the SEC on defense.  When you are talking conferences, don't gage it on offense but on the defensive side of the ball.  Florida won the national championship a couple of years ago because you couldn't block their front four.  LSU last year won the title.  They were good on offense, but you couldn't block their front four,  When you look at the ACC you start seeing players like that.
You are the OC and coach most of that side of the ball.  How do you guys work together like with Coach Cutcliffe?
Very well.  He's done it a lot of years now  so he understands all the verbiage and all the terminology, every scheme we are running he is seen before.  If he sees something he likes or dislikes, he's going to make a comment.  He is very involved with the process.
Pictured are Coach Kurt Roper and his wife and daughter and Thad Lewis and Coach Scottie Montgomery.  All pictures are the sole property of  Blue Devil Nation and you must have permission to reprint them in any way.