[private]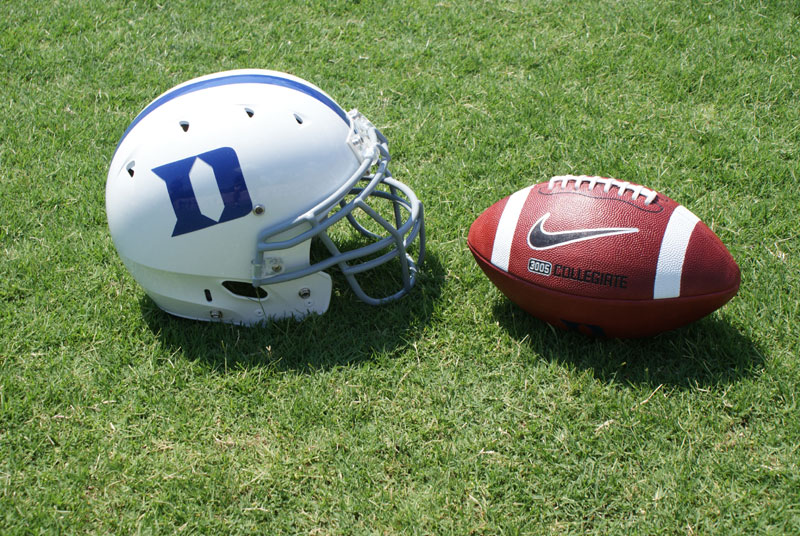 The Duke Football Staff has taken a step back and gone into a teaching mode.  "I changed our schedule to do a lot more teaching, a lot more fundamentals.  We are where we will test offense versus defense in more situations in the next two days," said Cutcliffe.
The team lined up the with DL's and LB's versus the offense early in the practice.  They were surrounded by five coaches which include Matt Luke, Kurt Roper, Zac Roper, Ron Middleton and of course Coach Cutcliffe.  It was obvious these guys had worked together and it was easy on the eyes to view the coaches at work.
Luke would bark orders just outside the trenches and Middleton stayed behind the offense, exhorting several players with Kurt Roper nearby.  Coach Cutcliffe was overseeing the whole scene with intensity, making the team run several players over.  Zac Roper, like Cutcliffe would push a linebacker in a certain direction from behind to either test the offense or to improve their skills aof perception.  In short, all the coaches were on the same page and they were trying to get the team that way.
A lot of emphasis was put on the throwing motion, stance and footwork of the quarterbacks.  The defensive linemen went one on two and one on three in drills.  Four or five players looked really good during these drills including offensive linemen, Goldberg and Roland.
The tight end position has has a lot of attention in that Brandon King has been out.  Cutcliife stated, "when we get this thing going rolling we will have two and three tight ends in the game at one  time.  We want guys who can stretch the field and are physical.  That's a special position to go and recruit.  I think the guys we have now are capable, but I don't think they are use to the versatility and what they are asked to do.
Notes- Duke will turn around and practice in the morning, for Cutcliffe has a speaking engagement at Tyler's Tap House in Durham.  Duke will wear full pads tomorrow and hold a closed scrimmage on Saturday.  Coach Cutcliffe said the team was in as good of shape as he thought they were.  He wouldn't go into individual players name but said the young guys are providing some speed and quickness.  He mentioned that his team needed to play lower which especially holds true for certain positions.  I noticed the same thing and it's as if Coach read my mind.  Coach said, "the first thing out of my mouth tomorrow is to play lower."  Coach also said his team could not afford to waste any reps.  He also mentioned that he liked seeing the stadium in the backdrop as Duke practiced.  Coach also said they have great respect for James Madison and their coaching staff, mentioning they were winners saying "we have a big challenge in front of us."  Vinnie Rey took a big hit and was taking into the Yoh Building.  It is said it was not serious.[/private]