[private]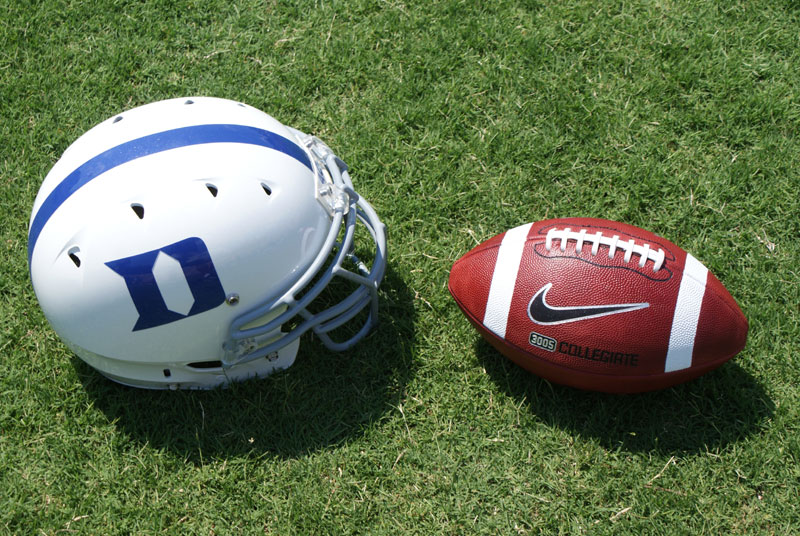 Tielor Robinson (#2) has been through a lot of changes and this season brings about another one.  He has moved to TE and will be counted on in many ways in the new offensive system.  Tielor is a six year senior and wants to leave his mark by helping the 2008 Duke Football team to some wins. The Blue Devil Nation was able to speak with Robinson after practice.
How are you coping with the position change from running back to tight end?
At first the on the line stuff was pretty hard because there is more steps.  The more you do it, the more you understand why and the process behind it and that's pretty important -- to understand the concepts of the play.
How does this enable you to take advantage of your versatility?
I think I'm pretty strong, so it helps to take advantage of that being a former full back.  That's what made the transition easier, because I was so strong.  I'm short ... I like to say I'm six foot, but I'm closer to the other side of five eleven.  But it's easy to get under people, which is necessary going against big defensive ends.  Everything else is the same.  When you catch the ball you need to know how to run routes.
Even blocking, you know what it feels like having played as a back.  I know what they want to see.  They want me to knock a guy on his back to make it easy for a back to come behind me.  When I catch the ball, I turn right back into a running back.
Obviously, there has been some backfield injuries.  Has there been any talk of moving you back?
Not to me.  I've thought about it a little bit, but I think that this team needs me more at tight end where we also have injuries.
Which position do you prefer?
It really doesn't matter to me.  If they decided to move me at center, I'd do it because they know what's best for the team.  I'm just there to do what is best for the team.
There have been some time in the past where I wanted to be involved a little more.  Being a tight end you're involved in every play.  It's good, you like to be in the game.  When the games over you want to feel like you had a big part whether we win or lose.
The Blue Devil Nation will continue to be your destination for Duke Football Practice Reports leading into the season.  We have decided to offer our analysis to all Duke fans instead of limiting it to our premium subscription section.  Our goal is to cast a bright light on the program.  We encourage all fans to turn out for the season opener on August 31st vs James Madison.  And don't forget Meet the Blue Devils Day which includes a scrimmage this Saturday in Wallace Wade at 10:30!  Further details can be found at GoDuke.com, the official site of the Duke Blue Devils.[/private]