[private]The Duke Blue Devils have the opportunity to build on their early season success when they host the Virginia Cavaliers on September 27th, at 12 noon, in Wallace Wade stadium. Specifically, the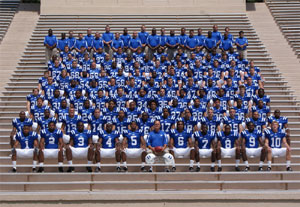 following opportunities exist:
- Duke has dropped eight straight games to Virginia with the last Duke victory being a 24-17 overtime decision on October 9, 1999, in Charlottesville. So the Blue Devils have the opportunity to stop an eight game losing streak to the Cavaliers.
- Duke has not won an ACC game since defeating Clemson, 16 – 13, on November 13, 2004. Since that victory, the Blue Devils have dropped 25 straight conference games. So the Blue Devils have the opportunity to stop a 25 game conference losing streak.
- Finally, Duke has the opportunity to improve their overall record to 3 – 1, which would be the best start to a season since Duke opened the 1994 season 7 – 0.
It is not an exaggeration to state a win over Virginia is critical for Duke's season. This is an important game for Coach David Cutcliffe in his expedition to change the culture of Duke football in that a win over an ACC opponent will validate the legitimacy of wins over a FCS team and a service academy.
The 1 – 2 Virginia Cavaliers have struggled to put points on the board so far this season. They are averaging 11 points per game, while giving up 32 points per contest. Duke's defense has held opponents to less than 21 points per game, while the Blue Devil offense has averaged just over 30 points per contest. It is important to note that one of Virginia's losses came against USC the number one team in the country. A game against USC has the potential to ruin a team's statistics, just ask Ohio State.
Statistics can be misleading this early in the season with the two teams not having played any common opponents but, a quick look at the teams in the ACC shows Duke ranked second in total offense and passing offense, while Virginia is last in total defense, last in rushing defense, and seventh in passing defense. The Blue Devils are ranked sixth in total defense, while the Cavaliers are last in total offense.
In the area of individual performances, Thaddeus Lewis is leading the ACC in total offense at 273.7 yards per game; Eron Riley is tied for second in receptions per game (6.3) and fourth in receiving yards per game (77.3), and Clifford Harris is tied for fifth in rushing with 67.7 yards per game. On the defensive side of the ball, Michael Tauiliili is tied for second in tackles with 10 per game, while Vincent Rey's nine per game has him tied for ninth place. Kevin Jones' 45.7 yards per punt has him in second place in the ACC.
Internet fan sites and message boards are buzzing with discussion of a resurgent Duke football program, and even though Duke has a ton of work and multiple steps ahead of them, a win over Virginia will be a big step toward achieving success. Success breeds success so winning games in 2008 will assist Coach Cutcliffe in recruiting top notch talent to Durham, which will result in more victorious Saturdays in the years ahead.
The next step in the resurgence of Duke football is to snap the 25 game ACC and eight game Virginia losing streaks with a victory over the Cavaliers on September 27th. The game will be telecast on ESPNU.[/private]