[private]Ryan Kelly has decided that he wants to play his college basketball for Coach Mike Krzyzewski and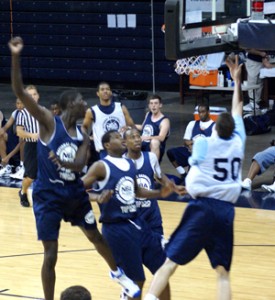 the Duke Blue Devils.  Kelly is a 6-9, 210 forward who plays his high school basketball for Raleigh Ravenscroft, under former Duke player, Kevin Billerman.
Kelly took his time with the process, making visits with all of the teams on his final list while analyzing his ability to fit in and be comfortable.  Kelly chose Duke over  Georgetown, rival North Carolina, Notre Dame, Virginia and Wake Forest.
"From the beginning, my family made it clear to me that this was going to be my decision. To that end, after gathering a great deal of information, thinking through things clearly, I am ready to announce with confidence that I will look forward to attending Duke University," said Kelly.
Kelly went to the ESPNU Studios in Charlotte, North Carolina today to announce his decision on the Recruiting Insider.
"Although I have enjoyed meeting so many terrific coaches and players at each of the schools I have considered, I am ready to move forward and focus all my efforts on finishing out my senior year at Ravenscroft," said Kelly.
During his junior campaign at Ravenscroft, Kelly averaged 23.4 PPG and 8.7 RPG to go with 4.0 blocks.  He played for Team USA U-18 team which won the silver medal this past summer and he started most of the games.  Kelly also played his AAU basketball for D-One Sports where he was teammates with one of the nations top uncommitted prospects, John Wall.  Kelly was also invited to the NBA Top 100 Camp last July.
Kelly fits the mold of past Duke big men like Danny Ferry in that he has the ability to go inside and out.  The Blue Devil Nation saw several of Kelly's games over the past two summers and he consistently improved his game during that time.  Kelly is the 12th rated  player in his class according to ESPN Scouts Inc.
The strength of his game is his face up offense, where he is a very capable perimeter shooter.  His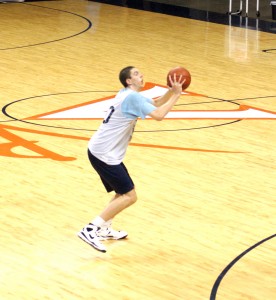 ability to draw his man out will likely loosen traffic in the paint in college.  Kelly has a cool demeanor on the court, never getting too high or low during contests.  He has a drop back fade in close making it difficult for opponents to defend him.  Kelly is also a very good ball handler for a big man and if described on one word, "versatile" would fit.
Kelly will have to work on his strength and his ability to be a force in the paint, but that should come with natural maturity.  Kelly joins Mason Plumlee as the second player in the Blue Devils class of 2009.  You can look forward to the match ups between their opposing schools Ravenscroft and Christ School of Arden the defending state champions.
Kelly has some basketball lineage in the family, where his Dad, Chris played his career at Yale.  His family is big on education as well.  In fact, Kellys Mom, Doreen is the head of his high school.  Kelly is slated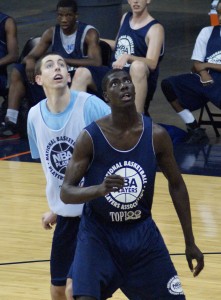 to attend next weekends Blue-White game where other Duke commitments will join him. 
Coach Krzyzewski continues to reap the benefits of leading Team USA to the Gold Medal in Beijeng, China.  Duke will now  focus on Kenny Boynton, a scoring machine from South Florida.
To read more about Ryan's commitment and Duke recruiting efforts, subscribe to BDN Premium.  You can then discuss this great news with other members in a private forum.
There is also an amazing thread at Duke Basketball Report with 28,000 plus hits and counting.

Ravenscroft Accomplishments:
·         -4.1 grade point average
·         -2,150 score on the SAT
·         -Starter for the USA Men's U18 National Team which won a silver medal in the FIBA Americas U18 Championship in Formosa, Argentina in July
·         -Triangle Independent Schools Athletic Conference Player of the Year (2007)
·         -North Carolina Association of Independent Schools 3-A All-State Selection (2007)
·        - Led team to second-straight TISAC Conference Championship
·         -Averaged 23.7 points, 8 rebounds and 4 blocks per game as a junior
·         -2007 GlaxoSmithKline All-Tournament team selection (led the tournament scoring with 78 points in three games)
·        
 Records at Ravenscroft:
-  Fourth all-time in scoring with 1,183 points (on pace to become school's all-time leading scorer)
-   Career blocks (267)
-   Made field goals, season (239)
-   Field-goal percentage, season (297-479, 62%)
-   Points, season (712)
-   Scoring average, season (23.7 ppg
All photos are property of BDN Premium.  They were taken at the NBAPA Top 100 Camp this past Summer.  In the first picture, Ryan was originally on the baseline, but made a move and used the rim to his advantage as three defenders looked on.
BDN Premium is a subscription service which covers Duke Athletics and recruiting, offering behind the scenes tips and information on current and future players.  Our members can get an idea of today's daily recruiting news before it happens.[/private]