[private]The Duke Blue Devils play host to the struggling Miami Hurricanes on October 18th. Perennial powerhouse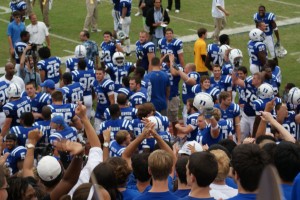 Miami enters the game at 3-3 and coming off a sloppy 20-14 victory over Central Florida. The Hurricanes turned the ball over three times and managed just 216 yards of offense in the victory. Miami is 11th in the ACC in total offense at 289.2 yards per game. Prior to the victory over Central Florida, the Canes suffered back-to-back home losses to North Carolina and Florida State.
The Blue Devils are coming off a bye week after losing at Georgia Tech 27-0 on October 4th. The 3-2 Blue Devils are averaging 24.6 points and 324.4 yards of offense per game. Duke's offense is spearheaded by Quarterback Thaddeus Lewis who has thrown seven touchdown passes against three interceptions this season. Six of those touchdown passes have gone to wide receiver Eron Riley who is third in the ACC with 5.4 receptions per game. After the Navy game, in which Lewis connected with Riley for three touchdowns, Coach David Cutcliffe stated, "They are pretty special friends. Eron - he is kind of climbing the ladder...If we can get him healthy, he could have a pretty special senior season."
At 0-2 in the ACC and with upcoming conference games against #21 Wake Forest and #18 Virginia Tech, the Duke game has developed into a must win game for the Canes. The pressure will be on Miami and they could come into the game tight. If Duke can force a turnover or execute a big play early, they could set the tone for the game and exert pressure on Miami.
Duke has struggled establishing a running game thus far this season. The Blue Devils are managing just 118.8 yards per game on the ground, and in the loss to Georgia Tech were held to 35 yards rushing. In discussing the running game, Coach Cutcliffe stated, "It's got to be fixed and get fixed quick." Miami is second in the ACC in Rushing Defense giving up just 95.7 yards per game, so Duke will need to figure out the adjustments that need to be made and execute them in order to establish a running game against the Canes.
The passing game has been the strength of Duke's offense this season. Duke is third in the ACC in Pass Offense at 205.6 yards per game. Miami's defense has yielded nine passing touchdowns this season including two in the fourth quarter against North Carolina. Look for Duke to attempt to exploit Miami's secondary in order to move the ball and establish offensive rhythm. Miami is last in the ACC with just three interceptions on the season. Thaddeus Lewis has completed passes to 14 different players this season with four receivers having double-digit receptions. The offensive line must give Lewis time to throw the ball as Miami is fifth in the ACC with 14 sacks for 123 yards.
On defense, Duke has played solid recording six interceptions and seven sacks. Linebackers Michael Tauiliiu and Vinnie Rey are number one and two in the ACC in tackles per game at 11.4 and 9.4 respectively. The Blue Devils are sixth in Scoring Defense and eigth in Total Defense in the ACC. Duke is third in the ACC, behind Virginia Tech and Florida State, in Time of Possession at 31:50 per game.
October 18th will be an exciting day in Durham. It is Homecoming Weekend and the basketball Blue-White Game will be held at 1:00 pm prior to the football game that is set to start at 3:30 pm and be televised by ESPNU. This year finds the situation in Durham a bit different as Duke fans are still excited about football even though basketball season is set to start. This coming Saturday, the Blue Devils have a legitimate opportunity to secure their second ACC victory of the season against the Hurricanes. Duke needs to execute the fundamentals: take care of the football, win the battle at the line of scrimmage, avoid penalties, and execute on special teams. If they can take care of those fundamentals, there is a very good chance Duke will send Miami back to Coral Gables with an 0-3 ACC record.[/private]