[private]Duke finished off the month of November 7-0 with a convincing 95-72 victory over Duquesne.  It was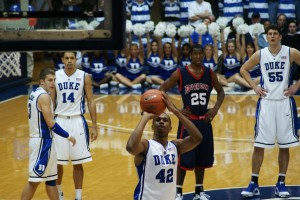 perhaps Duke's best performance of the young season in that the team played balanced team ball.  Look no further for evidence than the  box score where they had 21 assists on 35 field goals.
With the exception of the last one eighth of the game where Duquense cut the lead down 16 points, it was a complete effort.  "We're not trying to win by 30 or 40 points.  We're trying to develop as a team," said Kryzyzewski.
That's been obvious to atuned Blue Devil fans, for there have been many line ups in the early going.  Afterall, Coach doesn't want his team peaking in 2008, but in 2009 when you're eventually one and done.
One of the key reason Duke won it's 64th consecutive non conference game in Cameron was the play of Lance Thomas.  This was a day when the junior would garner a career high 21 points with his hustling play.  There were several occasions where he ignited the home crowd with three point plays or goading the opponent into an intentional foul.
"In our offense, a lot of opponents like to stop what we're doing on the perimeter, and Lance just plays off what we're doing. A lot of times, our bigs are going to be open, and with his ability to run and beat his man down the court, he was able to get a few open layups. He embraces that role; he knows that's how he's going to score, and he does that every night," said Gerald Henderson.
Kyle Singler was as steady as always with a stat line of 17 points, 7 rebounds and 4 assists.  Singler has scored in double figures in all seven wins.
"I think Singler is playing great. I'm not sure there's a kid playing in the country who loves to play more than that kid. He has so much fun playing, and he made a play at the start of the second half that was one of the
best plays I've seen in years. There was a scrum of a few rebounds, and all of a sudden he came in there with two hands, got the rebound and was fouled. It was a big-time play. You don't see a play like that. And the kid loves to play. It's such an honor to coach that kid," said Coach K
Nolan Smith was the only other double figure scorer with 11 points, but one must consider that Duke had 46 points off the bench in a balanced offensive attack.  Duke also continued it's nice shooting from the free throw stripe going 80%.
But the biggest difference was the Blue Devils defense, which suffocated the Duke's early in the contest which they never trailed.  The Duke's managed just 39% from the field and most onf those connections came in the last ten minutes of the game.
There is little doubt that the staff has let the team know it's time to come together for December and beyond.  While there will still be a learning curve with concerns to chemistry, the early onslaught of games prepared the team for some tough road games.
That first road game will be against a Purdue team which is known for their home court edge as evidenced by the few teams that are willing to travel there.  Pardon the pun, but Purdue will be boiling after a close overtime loss to Oklahoma which sent them to 5-1.
Shortly after that Duke visits Ann Arbor to take on a Michigan team they've already faced once in the Coaches for Cancer Classic.  In short, December will be yet another month where Krzyzewski will gauge his team.  And if that month is as successful as November was, then Duke will be in good shape going into the meat of their ACC schedule.
"It's a great week for us, to go to two established programs on their home courts," said Coach K.
He continued, "Purdue is, I think, the best in the Big Ten, and probably one of the five or six top teams in the country. You know their crowd will make a great setting for us. We have such an opportunity to grow. Michigan – the same thing, John [Beilein] has his team playing comfortable in their style, so I think it's another great chance for us to grow. Again, when we play Xavier in December, I like the schedule we have because it's very challenging. That's how you become a good team, by playing games like that."
[/private]