Duke managed to put away Georgia Tech last evening 70-56 to go to 3-0 in the young ACC season despite struggling from the field offensively.   With a loaded schedule that includes Clemson, North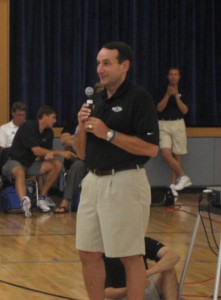 Carolina and Wake Forest twice, each win is important and you can bet that Coach K has his team trying to avoid a letdown.
While Krzyzewski will not allow his team to look too far ahead, with a big national showdown against Georgetown looming this Saturday, perhaps it couldn't help but be in the back of the players minds.  That thought likely went away after tip off against Tech in that Duke found themselves down eight early in a night where it seemed they couldn't throw the ball in the ocean in the first fifteen minutes of play.
On a night where the Blue Devils got little production from the center or anchor position, Duke depended on it's big three stars in Kyle Singler, Jon Scheyer and Gerald Henderson.  Coach K let it be known to voice of the Blue Devils Bob Harris in the post game radio show that he was not too happy with the fact that Zoubek and Thomas managed 4 points, 6 rebounds and 8 fouls.
It's vital that Thomas and Zoubek reassert themselves with a Georgetown team coming in that handled #8 Syracuse easily at home on Wednesday.  That team features former Duke prospect Greg Monroe, a freshman sensation that can pass or dish assists with the best of them, not to mention control the paint.
Kyle Singler found himself having to play much of last evenings game down low and he certainly produced against the Jackets, going for 19 points and 14 rebounds.  The thing is that he was forced to play almost the entire game and should that continue there is a possibility he'll wear down as the season progresses.
Jon Scheyer has had two miserable shooting games from the field, but he always finds ways to help with his court savvy.  He struggled with his shot early but always plays a great floor game on a consistent basis.  Last evening was no different, where he tallied 14 points and led his team in assists with 5 and grabbed 5 boards for good measure.
While Greg Paulus gave Duke a much needed lift in scoring eight points off the bench, he failed to hand out one assist.  That is not necessarily his role this season, but with Nolan Smith having an off night offensively and dishing just one assist, distribution has to be an area of concern at the moment for the Devils.
Quite simply, Duke needs two positions to be more productive on a consistent basis to continue to flourish as they have early, earning the #2 ranking in college hoops.
Despite the aforementioned concerns, Duke finds ways to win and more often than not it is with their defense.  Krzyzewski has his team playing at a very high level defensively and so far this season, they have held three conference opponents to around 53 ppg.
Another vital part of the team pushing their record to 15-1 is the play of Gerald Henderson.  "G" has adjusted as the season has gone along and has been very consistent of late.  Henderson can do things other players can't with his athleticism and versatility.  A well rounded performance against the Jackets was what the doctor ordered.  His final stat line was 19 points, 7 rebounds and 2 assists.
One has to be impressed with the results so far this season.  On a night when Duke struggled with their shooting from the field and the free throw stripe they managed a win.  If this teams offense becomes more consistent, they'll be a load for whomever they face the rest of the way.
Coach K post game comments, courtesy of Duke Sports Information -
Opening Comment:
"We won a hard-fought game tonight. We knew coming in that Georgia Tech, for the first time this season, was close to being 100 percent. They didn't start the year with Clinch, then Miller was sick, and then Peacock was sick the last game, but they had everyone tonight. Obviously those guys will still get in better shape. As a result they can hit you with different lineups now. They can start that big lineup and they can bring Miller in, and you have Shumpert, Clinch and Miller with Peacock and Lawal - they are a good team, tough to score against. I thought our defense helped win the game for us. We played very well, defensively, in the second half. I thought we played the last 10 minutes of the first half well defensively but they kind of knocked us back and we didn't do what we wanted to do on the top ball screen. And they executed well. They are a very big team. Kyle [Singler] came up with some huge plays for us, especially on the defensive boards. And then G had a really good second half offensively. Both teams had trouble scoring because we are both pretty good defensive teams. We got a big boost in the first half from Paulus and Marty [Pocius]. Greg and Marty gave us a big boost, and then Dave [McClure] was terrific in the second half, defensively. He had two big blocks and was a heck of a defensive player. And we needed that. It was hard fought, and a good win for us. Hooray for me, I'm happy. When you win a game like this, it's not an easy game. They are good."
Comment on rebounding:
"Yeah, we had a couple more. But that fact that we weren't hit hard, a lot of it had to do with Kyle. Kyle had 14 rebounds. All of a sudden on some of those misses, you saw Kyle with two hands coming up and that gives you a possession. Neither team scored quickly, so when you got a possession it meant a little bit more in this game. Dave came up - his blocks were the main thing. And then trying to stay in front of Lawal was huge. Our post defense was a lot better in the second half."
Comment on Gerald Henderson coming up big in the second half:
"He's a good player, first of all. Their defense was taking away the drive. They were really playing like zoning up, and we ended up just kind of pounding the ball in the floor. I told him to either shoot it or pass it - don't just keep dribbling it. He wants to beat you, he's a good player. In the second half our offense had a little bit more movement and we put him in a couple different places so he could do it. He lost it a couple of times, but we went to both him and Kyle. We tried to run a bunch of things through those two kids."
Comment on big men going over top of the screens:
"I thought Kyle, in particular, defended that well. We're a very good defensive team. In the first half, we did not do that well. We started switching, and then our little guy went down, instead of the big guy staying and the little guy staying up on top, which is what we practiced. I felt like the father that tells their kid, and they say that they never heard you. Well I said it, I said it a bunch - I even called a timeout. In fact, you're even IN timeout right now. But that's what happens, and to our kids' credit, they got it straight after a while."
Comment on the league:
"I think our league is the best it's been for a long time. We've got four teams in the top-10. We just played Tech and Florida State, and they can play anybody that we've played. Our league is the best league. The fact that we have 12 teams shouldn't be discriminated against. Believe me, we don't want more - I don't want more. But we have a hell of a league. It's an older league and a bigger league. We have some big teams in our league - Tech and Florida State are two of the biggest teams in the country when you put those lineups out. We've been No. 1 in the RPI, We have had the best non-conference. I've always been a cheerleader for the ACC, but this year, even more because we have a lot of good teams. And always in the league, there are always two things that bring around the differential: an injury and close losses."
Comment on strategy on defending Lawal:
"We wanted to pressure the passer. I think we were the first team this year that pressured the high post instead of dropping off. We tried to stay where we were between him and the ball. Ball pressure is key - we wanted to pressure the passer (because) the passer can see more. But he's good. He's gotten really strong, and you can tell that kid's really worked. I don't think anybody that I've seen yet, and I know I haven't seen everybody, but I don't think anyone runs the floor quicker than Lawal. He goes from the defensive end to the offensive end real fast. He's a big time player and competitor.