The following is a barrage of information was provided by Duke SID, Lindy Brown.  The Blue Devil Nation will be on hand to cover the battle and will bring you pics and opinions from the game late this evening.
Tobacco Road Showdown On Monday; No. 4 Duke At No. 8 UNC...
 In a clash of top-10 foes, the fourth-ranked Duke women's basketball team (19-2,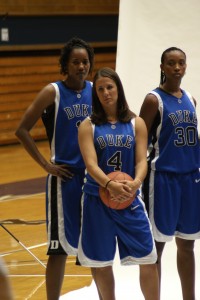 7-1 ACC) will travel to Chapel Hill, N.C., on Monday, Feb. 9 for a 7:30 p.m., contest at eighth-ranked North Carolina (20-3, 5-2).  The game will be aired live on ESPN2 with Pam Ward (PXP), Kara Lawson (Color) and Rebecca Lobo (Sideline) calling the action as part of "Big Monday." Fans can also hear the Blue Devils live on the radio on WDNC AM 620 with Steve Barnes (PXP) and Morgan Patrick (Color) on the air. 
Duke will play its second straight road game against a ranked opponent (at No. 17 last Thursday).  The Blue Devils are in a stretch where they are playing three ranked opponents out of four games.
In the rankings, Duke is listed No. 4 in the Associated Press and No. 8 in the USA Today/ESPN Coaches Polls, while North Carolina is listed No. 8 and No. 9, respectively.
MEDIA INFO
What: Duke at North Carolina
Date:  February 9, 2009
Location: Chapel Hill, N.C.
Venue:  Dean E. Smith Center
Tipoff:  7:30 p.m.
Radio:  WDNC 620 AM
Radio Talent:  Steve Barnes (PXP),  Morgan Patrick (Color)
TV:  ESPN2
TV Talent:  Pam Ward (PXP), Kara Lawson (Color), Rebecca Lobo (Sideline)
Livestats:  www.GoDuke.com
   
Noting Duke...
 Chante Black is the only player in the ACC to score double-figures in all of her team's games ... 10-of-12 Duke players have hit at least one three-pointer ... Duke had its 21-game streak with at least one three-pointer made come to an end on Thursday at Virginia going 0-of-10 ... the Blue Devils have won 55 out of their last 59 home ACC regular season contests ... senior Carrem Gay leads Duke with nine charges taken on the season and 27 for her career ... Duke holds a 772-410 points in the paint advantage on the year ... Abby Waner needs one assist for 400 in her career.
A Look At North Carolina...
 North Carolina enters Monday with a 20-3 overall and 5-2 league mark under Head Coach Sylvia Hatchell.  On the year, the Tar Heels have been led by Rashanda McCants (13.7 points, 6.5 rebounds), Jessica Breland (13.5 points, 7.5 rebounds), Italee Lucas (13.3 points, 44 treys) and Cetera DeGraffenreid (10.8 points, 97 assists).  UNC owns a 14-1 record at home and have won three straight games since losing three in a row. 
 
The Series With North Carolina...
 The Blue Devils and Tar Heels will meet for the 75th time on Monday with North Carolina leading the overall series 44-30.  Duke has won 17 of the last 26 games. 
 As of late, it has been a series of streaks since 2000 -- Duke won 12 in a row, UNC won five in a row, Duke won two in a row and UNC has won three in a row.  In games played in Chapel Hill, N.C., the Blue Devils own a 9-23 overall record and have lost three out of the last four contests. 
 Blue Devil Head Coach Joanne P. McCallie will face North Carolina for the sixth time over her 17 years as a head coach.  McCallie has a 0-5 record against the Tar Heels.  She lost two of those contests while as head coach at Maine.  McCallie's squad faced North Carolina in the 2000 NCAA Tournament in Santa Barbara, Calif., and fell 62-57 on March 18.  The Black Bears also lost, 68-52, on Dec. 28, 1996 on a neutral site.  In her first year against UNC as the Duke head coach, McCallie's squad lost all three games in 2007-08.
Duke/UNC In The Dean E. Smith Center...
 Duke and North Carolina will battle in the Dean E. Smith Center for only the fourth time in school history.  The Blue Devils own a 1-2 record in those games with the most recent contest coming on Jan. 24, 2005 with 12th-ranked North Carolina upending third-ranked Duke, 56-51.  The other games came on Feb. 14, 2004 with Duke notching an 89-79 victory and Feb. 20, 1988 with the Tar Heels winning, 68-64. 
In those three games, the Blue Devils have registered three excellent individual performances.  During the 1988 contest, Chris Moreland registered 29 points and 20 rebounds in 35 minutes for Duke.  Alana Beard had 31 points and six rebounds in 2004 and in the 2005 game, Monique Currie rang in 24 points and nine boards.
Storylines/Other Blue Devil Notes...
 • Duke and North Carolina will play for the 13th time when both squads are ranked in the top 10 nationally.   UNC leads those contests with a 7-5 record.
 • When Duke is the high-ranked team in the series with UNC, the Blue Devils own a 18-8 record (69.2 percent).  UNC owns a 19-4 record when it is ranked higher.  The higher ranked team has won 37 of 49 games.
 • Sophomore Jasmine Thomas will go up against her former AAU teammate, Chay Shegog.  Thomas is from Fairfax, Va., while Shegog is out of Stafford, Va., and they played for the Fairfax Stars.
 • Senior Abby Waner had a streak of hitting two or more three-pointers in five straight games come to an end at Virginia (0-of-5).  Her previous best was four in a row at the end of her freshman campaign.
 • Jasmine Thomas is averaging 14.0 points, 2.8 assists, 2.5 rebounds and 2.5 steals over the last four games.  She has registered double-digit scoring in three of the four games, including matching a career high with 22 points at Virginia.  She hit a career-high 10 field goals in the victory.
 • In the last game at Virginia, Chante Black became only the third player in school history to notch over 900 rebounds in her career (902).
 • Joy Cheek's father, Boris, will officiate his first NFL Pro Bowl in Hawaii over the weekend.
 • Two of the four ACC road contests this season have gone to overtime.
 • Duke ranks second nationally in steals per game 13.7, while North Carolina is fourth (13.0).
 • The Blue Devils had a streak of 21 straight games with at least one three-pointer come to an end at Virginia as Duke went 0-of-10 from downtown.
 • Duke owns an 92-10 record in ACC regular season action since the 2001-02 campaign.
 • After missing her first seven three-pointers of the season, junior Keturah Jackson hit her first of the season and third of her career against Boston College.
 • Duke registered a season-high 50.8 percent shooting at Virginia, which marked the fourth time under Coach P the Blue Devils have shot over 50.0 percent from the field in two years (2nd this season).
 • If Chante Black keeps on her current average of 8.8 rebounds a contest, she could become only the third player in ACC history to notch over 1,000 points, 1,000 rebounds and 200 blocks.  Black currently owns 1,293 points, 902 rebounds and 240 blocks.  Only UNC's Dawn Royster and Clemson's Peggy Caple have accomplished these types of numbers.
 • With Abby Waner missing the Virginia Tech contest due to an illness, she became the third Blue Devil this season to miss a game due to being sick -- Shay Selby & Kathleen Scheer missed the Quinnipiac game, while Scheer recently missed the Georgia Tech game as well. 
 • Sophomore Karima Christmas is averaging 11.0 points, 4.8 rebounds, 1.8 steals and 0.9 assists in ACC action.  She has hit 32-of-51 field goals (62.7%) and 4-of-11 treys (36.4%) from the field.  Her 62.7 field goal percentage is second in the ACC.
 •  Since kicking off ACC play, Duke's bench players have hit 12-of-26 three-pointers for a 46.2 percentage.  Seven different Blue Devils have hit treys in those games -- Jackson, Gay, Cheek, Scheer, Selby, Mitchell and Christmas.
 • With Karima Christmas scoring 21 points against Miami on Jan. 9, Duke has now registered four different players with 20+ points in a game this season.
 •  With Duke's win over No. 3 Stanford on Dec. 16, Coach P won her third contest against a top-five ranked team in just her second season with the Blue Devils.  McCallie has notched victories against Stanford while the head coach at Maine, Michigan State and Duke.
Offense Picking Up...
  Over the last four games, the Blue Devils have turned in three of the top shooting contests of the season as Duke shot a season-high 50.8 percent at Virginia, 50.0 percent against Georgia Tech and hit 49.2 percent at Florida State.  Against Boston College, Duke hit 43.3 percent from the field. 
 Duke's current stretch of four straight games shooting over 40.0 percent is a season high. 
 When looking at the numbers closer, Duke has hit 48.2 percent from the field, 16-of-48 from downtown for a 33.3 percentage, hit 71.1 percent of their free throws,  notched 12.3 steals and 7.0 blocks in the four games.
Three different Blue Devils have averaged double-figures -- Jasmine Thomas (14.0), Chante Black (13.0), and Abby Waner (11.8) in the four-game stretch.
Duke Players Vs. North Carolina...
 Over the last three games against UNC, Chante Black has averaged 15.0 points, 6.0 rebounds, 2.0 blocks and 1.0 assists, while hitting 16-of-25 field goals (64.0 percent).  In eight career games, Black has averaged 8.6 points, 5.9 rebounds and 1.4 blocks.
 Abby Waner has averaged 11.0 points, 4.2 rebounds, 3.6 assists and 3.2 steals over her last five games against North Carolina.  In seven career games, Waner has hit only 4-of-37 from downtown.
 In three games last year, Jasmine Thomas averaged 9.0 points, 2.3 rebounds, 4.0 assists and 1.3 steals.  She is coming off notching 16 points on 7-of-16 field goals in the ACC Championship. 
Gay Back In Lineup...
  Carrem Gay returned to the starting lineup on Feb. 2 against Boston College and made her presence felt early as she scored 10 of her 14 points in the first half. 
 For the game, Gay matched a season high with 14 points to go along with three assists and two rebounds.  She hit her first seven field goals and finished the game hitting 7-of-8 field goals.
 She came back and notched eight points, four rebounds, one assist and one block in a start at Virginia.
 In the two straight starts, she has hit 10-of-14 field goals.  Gay has started 61 career games and 16 this season.
Approaching 20 Wins...
 With one more victory, the Blue Devils will reach their 12th consecutive 20-win season and the 14th out of the last 15 years.  Head Coach Joanne P. McCallie is approaching her 13th different 20-win season over her 17-year coaching career and sixth straight.
 The ACC record for most consecutive 20-win seasons is 14 by Virginia and the second-best streak is Duke's current 11-year mark.  N.C. State's streak of eight ranked third.
Coach P talks to the media about UNC -
On coaching her second game against Carolina in Chapel Hill:

"I feel like I knew about that rivalry last year and I know about it this year and at the same time, as a coach, attack it the same as any other game.  I'm certainly aware of the great rivalry, I'm aware of the great opinions."
On Carolina's rebounding ability:

"North Carolina is an excellent rebounding team, they are very athletic, they have multiple people who come from multiple spots and there is no question that transition defense and rebounding will be the critical key to this game.  We practiced some of that against Virginia, transition defense and rebounding, but North Carolina has more people.  They have more depth and more ability to run and more ability to rebound."
On Abby's Waner's characterization of Carolina as "organized chaos:"

"I just think Carolina is a very good team.  I don't know if I would use that term. I think they are a good team.  They can press, they can run, they can rebound, they can shoot, they have depth and quickness.  I just think they are a very good basketball team.  Basically you tackle very good basketball teams the same way, which is you really focus on what we do well and you really focus on Duke basketball and what we want to bring to the table and try to impose that as much as possible.  But I just think they are a very good team."
On Duke's ability to fight back going into a hostile environment:

"I think this team has been pretty consistent with the ability to fight back.  If you go back to the game against Oklahoma State, our first home game, if you go back to USC, being down what seemed like a million at the time, when this team stays focused and when we stay together and really focus on what we have been doing on the floor I think that we have had really good success coming back.  But I agree with you, I think the preferred way to play the game is to dictate from the beginning all the way through.  But runs are an interesting thing in the game."
On any of Carolina's  personnel advantages which Duke must overcome:

"Well, they have got three players that are a lot alike that are so dangerous.  I don't know too many teams which have a [Rashanda] McCants, a [Jessica] Breland, and a [Iman] McFarland.  I mean, that's what you call depth.  The size of those players and the quickness of those players, and you know [Chay] Shegog is doing a great job for them to give them a bigger presence.  I think that's a concern; you've really got to find a lot of people.  Those three are some of the best rebounders out there in terms of getting to the glass really hard and they are very mobile players and I am concerned about the guards who are very good as you know, but those three are sort of the whole key to Carolina."
On the importance of tempo:

"I think tempo is always very important in any game that we play.  And I think that we did a very good job controlling the tempo last night and I think that was good to do.  We took hold of that tempo, and even though there were runs which favored Virginia, I still think we had the tempo for most of it.  I think a team that does control the tempo keeps their composure, focuses hard and just continues to play their game; I think that is a team that can be successful."
On emotions and maturity in a game like Carolina:

"I think our team knows the maturity that you need to have. I mean you can't ride emotion to victory.  You can have some emotional runs in the game, but you've got to stay composed and focused.  There is just a certain place you go, a certain inner place to keep that focus because absolutely nothing can rattle an excellent team.  You just have to stay with it, stay focused, and really stay composed with your teammates.  I think whatever we have done in the past is the past and we have learned lessons from that.  But this is the present and this is a great opportunity for us, and it's a great opportunity to bring Duke basketball.  That's really fun; bring Duke basketball to Chapel Hill.  That's what you want to do, and so you have to stay in the moment.  All that matters is the moment, which is preparation, we've got two practices, and then we go into that game and that is what matters the most."