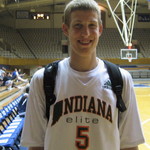 Mason Plumlee scored 19 points as Christ School won their third straight NCISAA Championship with a 62-54 victory over Ryan Kelly and Ravenscroft.
Plumlee and Kelly led their teams to the championship game. On Thursday, in the quarterfinals, Kelly scored 20 points as Ravenscroft defeated Wesleyan Christian Academy 59-36. Plumlee recorded a double-double of 12 points and 12 rebounds as Christ School defeated Charlotte Latin School 44-31.
In the semi-finals, Kelly recorded a 24 points and 12 rebounds double-double as Ravenscroft defeated Greensboro Day 57-45. Kelly also had five blocks in the contest. Mason Plumlee blocked eight shots and dished out five assists as Christ School defeated Charlotte Christian 59-47.
Andre Dawkins recorded his 2,000th career point as Atlantic Shores improved to 28-1 by defeating Denbigh Baptist 73-21 in the Metro Conference quarterfinals on Thursday. Dawkins scored 17 points in the game. In the semi-finals on Friday, Dawkins scored 30 points as Atlantic Shores defeated Hampton Christian 89-42.
Harrison Barnes scored 17 points as Ames Little Cyclones defeated Des Moines Lincoln 73-46 in sub-state semi-final action on Friday night.
Eric Bledsoe scored 17 points, grabbed nine rebounds and had five assists as Parker High School defeated LeFlore 52-39 in the Alabama 5A state semi-finals. The Championship Game is currently underway in Birmingham.
Josh Smith scored 18 points in a losing effort as Kentridge defeated Kentwood 51-41 in the West Central 4A District tournament. Smith averaged 24.3 points per game for Kentwood this season.