It was just over a week ago that many were writing the Blue Devils off after a road loss to Boston College.  Duke defeated a game Virginia Tech team 72-65 on Saturday to win their fourth consecutive game and in the process pushed their record to 24-5 overall and 10-4 in the tough Atlantic Coast Conference.  Here are some thoughts from the game and the future -
Coach K and his staff were emotional throughout the contest - Yes, Krzyzewski raised his chair before setting it down during one timeout.  While that may have seemed unusual, his intent was to get his teams attention.  Krzyzewski was at his best and his intensity has picked up of late, but he at no time lost his composure.  In fact the staff was intense, each one pushing the right buttons at the right time and each one knowing their role.  This years team is one that needs that extra push for intensity and they have adjusted to that need.  I can see tremendous growth in first year coach Nate James work as well.  James tutoring of freshman Elliot Williams is worth noting.
Duke was cool under pressure-Once again Duke committed just nine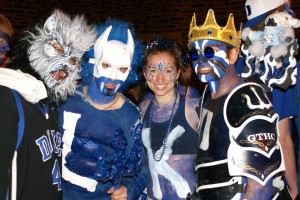 turnovers and the team effectively took the Hokie Nation out of the game after they made a comeback to tie the contest late in the second half.  At no time did Duke look shaken.  In fact, they looked like a team that was all business even when the game took a turn.
Coach K's move to get Singler involved -Coach Krzyzewski knew that it would be tough to win the game without getting his star Kyle Singler involved.  Singler had just two points at the half and Duke ran a clear out for him at the start of the second half.  Singler was fouled on the play and from that point on he was a go to guy in the game and finished with 21 points.  With Henderson held somewhat in check after the half, Singler was the glue as the game entered crunch time.
Gerald Henderson is on fire - Henderson has flat out been hard to stop down the stretch.  He's throwing down authoritative dunks with ease and knocking down his outside shots making him an opposing coaches nightmare in how to stop him.  Henderson put the Devils on his back in the first half and no player in the ACC is playing better down the stretch towards the ACC Tournament.  Henderson's most impressive stat, IMO, was his 6 assists.
Elliot Williams has become a mainstay -Williams scored just 7 points but hit a key three pointer to put Duke ahead ten.  The freshman logged 33 minutes and played solid defense.
Steady as she goes- Jon Scheyer has been a hit at the point guard spot.  He had just one assist and threw two turnovers, but that's not bad for a game high 39 minutes of play for the Blue Devils.  What I mean is that he is protecting the ball.  Scheyer was 4 of 8 from the three point stripe and his free throws helped seal the win.
Dave McClure -This seniors contributions are heard to measure in the box score.  McClure is adding some toughness and it's obvious he knows his role in the system.  He had 4 rebounds, many coming at very key moments in the contest.
Hokie Nation- Virginia Tech students filled Cassell Coliseum like a wall of fans which was impressive.  The crowd was loud and a bit more tame than I expected them to be.  With the exception of the usual flings towards Paulus, they behaved.  Still, hearing the reaction of some fans and watching Seth Greenberg melt down is proof they don't foul in their minds.  It should be noted that Set seemed to apologize for fan reactions to Greg Paulus at games end.
Speaking of fouls - The Blue Devils played the driving lanes beautifully taking multiple charges.
Hats off to Vassalio - A.D. tried to put his team on his back and found many driving lanes for dunks in the Duke defense.  But it was his three point shooting which made the game close after Duke had gained a double digit lead.
It didn't help that - The Blue Devils contained Malcolm Delaney holding him to 2 of 12 from the field.  Despite his cold shooting, Delaney had a game high 8 assists.  Many of those came in that he could not get a clean shot off.
Don't look now but -I told some folks that Duke could win the ACC outright if they won their last three games.  Well, now that they won a tough game in Blacksburg, everyone is talking about that.  Still, do not look for Duke to look ahead to Carolina game with Florida State coming in on Tuesday.
At least it's ... -Senior Day on Tuesday and that should help with added emotion.  Duke fans should salute Greg Paulus and Dave McClure for their accomplishments.  A Florida State win would jumble the standings and this is pretty much a must win for Duke with concerns to momentum and ACC Tournament seeding.  I think we all know that winning in Chapel Hill on Senior Day will take and extra ordinary effort.  Still, you think Krzyzewski will have his team ready with a championship on the line?  Okay, first things first for Duke and that means taking out a Florida State team - a program which ruined JJ Redick and Shelden Williams Senior Day.
It's hard to believe -that the season is winding down and there is but a single home game left.  It's an exciting time and the lineup changes has made for an interesting finish.  At the moment, Duke is not stumbling down the stretch like last season.  Anyhow, the ACC Tournament is around the corner and it has the makings for the best one in years.  Then there is the NCAA seeding and the "real" season begins.  It'll be fun!
I will have more photos up later -