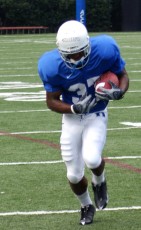 The Duke Blue Devils kick off their second season under Coach David Cutcliffe when Richmond visits Wallace Wade Stadium this Saturday evening at 7:00.  Duke will look to build on last season's four wins, but to do so will require that playmakers step up at the wide out positions.  Last season the Blue Devils leaned on Eron Riley's steady hands, but his departure opens up a huge void.
One of the players that is expected to fill the void is sophomore Johnny Williams [30 receptions, 327 yards], a speedy wideout .  Williams got his chance last season starting as a true freshman, but despite decent numbers, he didn't taste the end zone a single time.
Williams has been lauded by senior quarterback Thaddeus Lewis and is the odds on favorite to become the go to guy, but Duke's offense will most certainly spread the ball around to a solid group of tight ends and running backs.
He will be flanked by another speedster in undersized Donovan Varner.
Varner stands just under 5-9 but he has shown the ability to get open.  Varner caught 22 passes for 164 yards in his first season and he is slated to be the starter on Saturday.
The veteran of the group is junior Austin Kelly [11.7 yards per catch for career] who at 6-2 offers a solid target.  Kelly could be a guy Duke looks to as a possession reciever, which best suits his skill set.
Two true freshman have earned the backup spots to Williams and Varner but there is a good chance one of these kids will make their way into the starting line up by mid season.
Conner Vernon [6-0, 185 freshman] has shined in pre season practices showing that he has consistent hands on the team.  Vernon, a teammate of Varner's at Gulliver Prep in Miami, FL looks like he'll get a lot of time right out of the gate.  Vernon has earned the praise of Cutcliffe for good reason and he'll have a bright future in Durham.
Another freshman, Tyree Watkins [6-1, 195] will see his share of time alongside Vernon.  Watkins is a speedy four year letterman from Camden, New Jersey where he earned the ranking of the 15th best prospect in the Garden State from Rivals.  Like Vernon, Watkins has had his moments in the pre season.
There are other wide outs that'll get some looks, but the aforementioned players will get an opportunity to feel the large gap left by Eron Riley.  So, come Saturday, a lot of eyes will be on Scottie Mongomery's [Duke WR Coach] young men.  With the top four players on the depth chart being true freshman and sophomores there will be a lot of growing up to do on the field, but maybe there is a playmaker in the bunch ready to break out.
Stay tuned to BDN for game week and game day coverage.