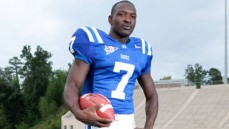 DURHAM, N.C. -- Duke senior cornerback Leon Wright has earned ACC Defensive Back of the Week honors as announced by the league office on Monday afternoon.
A native of St. Petersburg, Fla., Wright helped the Blue Devils to a 35-19 win over Army by returning two interceptions for touchdowns in a 16-second span late in the fourth quarter.  The touchdowns covered 51 and 33 yards, respectively, as Wright became the first player in Duke football history to have two interception returns for touchdowns in a single game.
Wright added four tackles, one fumble recovery and one pass breakup in the win over the Black Knights as Duke rallied from a 10-7 halftime deficit for the victory.  Coupled with a 24-yard fumble return against Georgia Tech in 2007, he now has scored three defensive touchdowns in his career to rank tied for first on Duke's all-time list.  In addition, Wright also was named the National Defensive Performer of the Week by the College Football Performance Awards.
Other weekly award winners include Wake Forest's Riley Skinner (Offensive Back), Florida State's Caz Piurowski (Offensive Lineman), Georgia Tech's Derrick Morgan (Defensive Lineman), Georgia Tech's Scott Blair (Specialist) and Clemson's Kyle Parker (Rookie).