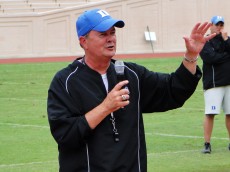 It's the eve of  Duke Football's opening day game against Richmond and you can bet that David Cutcliffe and his staff have done everything they can to prepare their troops for battle.
Going into the game there is some natural concern as to whether Duke's offense will execute what they have been taught.  "I stayed up thinking about the game some  last night.  I could see us making some good plays and I could see some dropped balls," said Cutcliffe during Tuesdays media gathering.
"Anything can happen in opening day games," said Cutcliffe as he walked away from the podium after the press conference.
And he's right in that anything can indeed happen.  Just last night the N.C. State Wolfpack sputtered offensively for the second straight year against South Carolina, yet they were supposed to be laying in wait for revenge the entire off season.
Throw the favorites out the door some may say while others will get a taste of reality the second the kickoff takes place.  The bottom line is that despite playing the opening game over and over in your minds eye before hand means little once the whistle blows.  Listen all you want to talking head experts tell you whats going to happen on TV or radio, but know all of that chatter is just that once that ball is in the air around 7:04.
Just four years ago in 2005 who would have thought Richmond would come into Wallace Wade and beat Duke?  Okay, maybe there were a few, but for those who went to the opener with high expectations, did you think Duke would be shut out?
Can anyone remember thr 1994 opener when first year head coach Fred Goldsmith took over a team that went 3-8 the year before?  That team came out of the gate on fire posting a 49-16 shellacking  of Maryland.  Nobody was expecting to see Duke walk over the Terp's that day.
But then again, who thought Duke would give up 70 points to Florida State to start off the very next season.
What if Duke won 3-0 on Saturday?  Odd score you say?  Well, one of Cutcliffes Mississippi teams won an opener over Memphis by that score.
Even last year, James Madison was expected to come into Wade and give the Devils all they could handle, but Duke took advantage of several opportunities and won easily 31-7 to start the Cutcliffe era
This seasons opening day  opponent is the defending FCS National Champion Richmond Spiders.
While we in no way advocate gambling, we do like to use the lines for entertainment purposes and one might note that Sagarin ratings has Richmond a few percentage points the favorite, making the game a virtual toss up in their eyes.  Off shore sites have Duke just a two point favorite.
On paper the Richmond defense looks deep and tough begging the question, will Duke's offense click or will there be some untimely dropped balls.  Or maybe big catches will be made and Duke rolls to a win, but then again ...
Like Cutcliffe, Duke fans are playing this one over and over in their minds eyes, but who knows what will happen?  That's why you need to be there in royal blue, to see for yourself the anwers to the many questions.