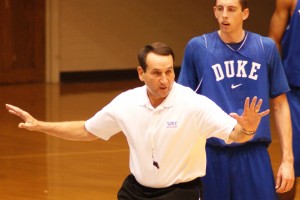 Durham, N.C. -A lot of Duke fans were not around when current Duke Coach Mike Krzyzewski was first named the basketball coach at Duke University.  Thirty years ago, Tom Butters interviewed the then Army coach at the bequest of Bobby Knight and the rest is glorious history for the Duke program.
Krzyzewski didn't inherit a lot save two seniors Gene Banks and Kenny Dennard from previous coach Bill Foster and that meant a few lean years before Duke turned into the perennial national power it is today.  I have been around since the very first day Kryzewski came aboard and remember well him being introduced along with his family on the concourse in between Cameron Indoor Stadium and Card Gymnasium.
Practices were fairly open back then and on a few occasions I'd drop by to see how Krzyzewski handled his program.  It was on a pre season day in his third year that it became oh-s0 clear to me what he was trying to do, that being develop a system.  I knew then that it was simply a matter of him getting a few top notch players before his man to man would work.
A few years later, he made up for some early misses when Jay Bilas, Mark Alarie, Johnny Dawkins and David Henderson came aboard.  Oddly, just before that happened Duke had some disgruntled fans who couldn't see the foundation being laid, but that's a story for another day.
Several key words describe the Duke program.  The word family is the first that comes to mind, but character goes hand in hand with that.  During ACC Operation Basketball I had a chance to confer with Krzyzewski about many things.  When I asked about playing zone defense, that allowed him to segue into how his man to man defense and principles build character.
Why not hear what he said for your self by pressing play below -