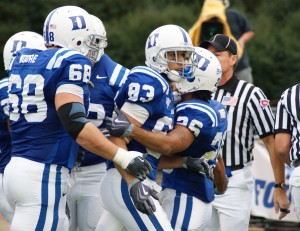 Don't miss Duke Football (5-4 overall, 3-2 in the ACC) as they take on #7 ranked Georgia Tech (9-1 overall, 6-1 in the ACC) this Saturday at Wallace Wade Stadium. BDN previews this battle for first place in the ACC Coastal Division, which will be televised on ESPN2 at noon ET. Tickets are still available through the Duke Ticket Office at 877-375-DUKE (3853) or www.goduke.com.
Scouting the Blue Devils
Last time out
Duke was defeated by North Carolina in Chapel Hill last Saturday, 19-6. Thad Lewis completed just 16/33 passes for only 113 yards with 1 interception. Austin Kelly led the Duke receiving corps with 4 catches for 22 yards. Duke's 6 points came on two first half field goals by Nick Maggio, filling in for Will Snyderwine, who was injured in pre-game warm-ups. The Duke offense was dominated by a physical Carolina defense throughout the game, converting just 2/13 on third down.
The Duke defense put up a valiant effort in the loss, holding North Carolina to just 9 points through the first 3 ½ quarters. In fact, a fourth quarter interception by senior CB Leon Wright gave Duke the ball in North Carolina territory with an opportunity to take a fourth quarter lead. However, the Duke offense turned the ball back over to the Tar Heels, who rode the strong legs of Ryan Houston the length of the field to take a 16-6 lead with under 7 minutes to play. Houston finished the day with 164 yards on 37 carries.
Season
The Duke offense is led by senior QB Thad Lewis, who ranks second in the ACC with 269.8 passing yards per game and 15 TDs. Duke's receiving corps of freshman Conner Vernon, sophomore Donovan Varner, and junior Austin Kelly all rank in the top 10 in the ACC in receiving, along with the big play potential of sophomore Johnny Williams. The Blue Devils have struggled to run the ball, ranking last in the conference.
The Duke defense ranks 4th in overall yards, allowing just 323 total yards and 23.6 points per game with a +3 turnover margin. Duke has struggled to pressure opposing quarterbacks, registering just 15 sacks on the season. Special teams has been much improved during Coach Ron Middleton's tenure, including 13/16 in field goals and a perfect 27/27 extra points.
Scouting the Yellow Jackets
Last time out
Georgia Tech held off Wake Forest in overtime at home last Saturday, 30-27. The Yellow Jackets trailed 17-10 at halftime, but rallied in the second half to take a 24-17 fourth quarter lead. The Demon Deacons, led by senior QB Riley Skinner, tied the game with an 11-yard touchdown pass to Devon Brown with just under 5 minutes remaining in regulation. In overtime, the Demon Deacons scored first with a 34-yard field goal. On the ensuing Georgia Tech drive, Coach Paul Johnson elected to go for it on 4th and 1 at the 5 yard line, and was successful with a 2 yard run by QB Josh Nesbitt. Nesbitt ran into the end zone on the next play, giving Georgia Tech the 30-27 victory.
The Georgia Tech triple-option attack ran for 412 yards in the OT victory, led by Jonathan Dwyer's 189 yards on 23 carries. The Yellow Jacket defense stymied the Demon Deacon rushing game, holding them to just 28 yards on 25 carries. The Demon Deacons were successful moving the ball through the air, completing 26/40 passes for 263 yards.
Season
In just his second year as head coach, Paul Johnson has turned the Yellow Jackets into one of the ACC's top teams, led by RB Jonathan Dwyer, QB Josh Nesbitt, and WR Demaryius Thomas. Georgia Tech is 9-1 on the year, with key wins coming at home against Clemson, North Carolina, and Virginia Tech. The Yellow Jacket's lone loss was a 33-17 defeat at Miami on a Thursday night in September.
Georgia Tech boasts the ACC's leading offense, averaging 34.7 points per game and 314.9 rushing yards. Despite the emphasis on running the ball in the triple-option offense, WR Demaryius Thomas leads the ACC in receiving yards per game at 86.1. When the Yellow Jackets do look to throw the ball, Thomas is a dangerous weapon. On the defensive side of the ball, the Yellow Jackets rank 5th in rush defense, allowing 126.4 yards per game, but rank 10th in pass defense, allowing 226.7 yards per game and 19 touchdowns through the air.
Injuries
Coming off a crushing defeat to a physical North Carolina team, the Blue Devils may be as physically and emotionally bruised as they have been all season. The Duke defense will be limited if both DT Vince Oghobaase and leading tackler LB Vincent Rey are unable to play. On offense, QB Thad Lewis, WR Conner Vernon, and WR Donovan Varner are all injured but expected to play. K Will Snyderwine remains questionable with a leg injury suffered last week during pre-game warm-ups in Chapel Hill. With key players nursing injuries on both sides of the ball, Duke's lack of depth may be exposed on Saturday.
On the other hand, Georgia Tech is relatively healthy, with none of their key playmakers listed on the injury report.
Closing Thoughts
First place in the ACC Coastal Division is on the line this Saturday at Wallace Wade Stadium. A win for the Yellow Jackets will clinch a berth in the ACC Championship game December 5 in Tampa, FL. A win for the Blue Devils will bring them one win away from bowl eligibility, a feat the program has not accomplished since 1994.
The Blue Devil defense ranks 7th in the ACC, yielding 139 yards per game. In an early season contest against a similar option-style offense at Army, Duke prevailed with a 35-19 win, giving up 266 yards on the ground (4.6 yards per carry). Duke is a more confident team now than against Army, having won 5 games overall, including 3 conference games. The Duke passing offense will need to get off to a fast start against a suspect Georgia Tech secondary. Georgia Tech DE Derrick Morgan leads the ACC in sacks with 11.5; if he is able to pressure Thad Lewis, it will be a short day for the Blue Devil offense. The Yellow Jackets will attempt to control the game with their option-style offense; the Blue Devils will need to counter this with well-executed offensive drives and key defensive stands on 3rd downs.
Georgia Tech will be a formidable opponent for Duke on Saturday; Duke fans will need to fill Wallace Wade Stadium to create a winning atmosphere for the football program. If Thad Lewis and his exciting receiving corps can get back on track, and if the defensive can make a few key stands, the Blue Devils are more than capable of pulling off the upset.