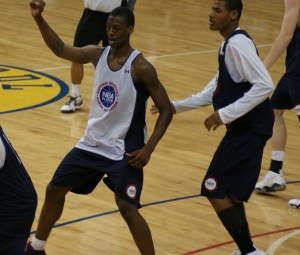 Well, if you have followed this or any other Duke site closely, you know that the nation's top rated prospect Harrison Barnes will make his collegiate choice this Friday.  In this week's Monday Musings we take a look at his pending decision, Duke Football and the start of the regular basketball season -
Devils no match for Tar Heels - Make no mistake that Duke Football has been a pleasant surprise this season, but losing to your rival is always painful.  Despite paltry offensive production, Duke was in the game in the fourth quarter against UNC and a couple of better thrown passes and a stop or two late in the game and Duke could have stole a win.
It's really tough to see any positives from the 19-6 loss to the team eight miles down the road.  On the way to the game, the Duke buses came in just behind me on US 15-501 and got stalled in traffic.  The irony is that Duke's offense stalled as well just over two hours later and the hopes of going to 4-1 in the conference were suddenly gone.
It does't get any easier for Duke Football - After getting beat up in the game, Duke must regroup in order to face the nation's seventh ranked team in the Georgia Tech Yellow Jackets.  Last season, Duke's offense looked just as bad against the Jacket's front, so all eyes will be looking to see if they can move the ball.  Georgia Tech Coach Paul Johnson turned down the Duke job despite being offered more money, but Duke got the right fit in David Cutcliffe.  Still, there is no secret that Johnson has little respect for the Duke program and that he will turn his wishbone loose in an effort to squash Duke's hopes of a post season invitation.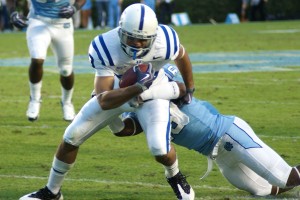 The basketball season officially gets under way - The countdown to tip off ends this Friday as the Duke Men's Basketball team will open their season against UNC-Greensboro in Cameron Indoor Stadium.  This is without a doubt one of the most curious teams Krzyzewski has had in his thirty years.  There is little guard depth, yet lots of front court bodies to work with and yes, take it to the bank, you'll see some zone defense this season.
Duke will be led by senior Jon Scheyer and All American selection, junior Kyle Singler this season.  But it's the production they receive elsewhere that will be watched.  You can certainly depend on Nolan Smith to have his best season in a Duke uniform, but there are some questions as to who will be fourth, fifth and sixth offensive options.
Harrison Barnes set to make his collegiate choice - BDN has been following the Harrison Barnes recruitment closer than any other Duke site on the Internet.  We were there from the start when Barnes first received his offer shortly after the 2008 NBAPA Top 100 Camp.  This past season alone our staff has seen Harrison Barnes play in 23 games, so we have more than just a little grip on what he can do.
All this week, we'll recap Barnes past and bring it up to the day of his decision.  We'll kick it all off with a detailed scouting report and will of course re-visit our many interviews we've had with Barnes.  Our premium boards have been hopping and rumors about his recruitment are a dime a dozen.
So, stay tuned to BDN for the latest on Barnes and the best analysis available.