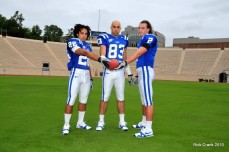 In preparation for kickoff Saturday night against Elon, BDN provides a  guide to the 2010 Blue Devils. Hop on the Duke Football bandwagon now and join Blue Devil Nation as we cover the Duke Football beat all season long.  We're ready for some football! 
Gameday
Blue Devil Walk: Coach Cutcliffe has adapted this pregame ritual to Duke. Two and a half hours prior to kickoff, the entire team gathers in front of Duke Chapel for a moment of reflection and prayer. The team is led by the marching band on their procession across West Campus and into Wallace Wade Stadium. Fans line the sidewalk to offer encouragement and support. Arrive early to find your spot.
Blue Devil Alley: On football gamedays, the area commonly known as Krzyzewskiville during basketball season is transformed into Blue Devil Alley. Blue Devil Alley is an area of games, music, and concessions for all ages and opens two and a half hours prior to kickoff.
Gameday updates: Visit Duke's A to Z guide for information on parking, traffic, and other stadium policies. New for 2010 will be text message and Twitter updates.  And of course BDN's twitter site has long been a popular destination on gameday for updates.  We'll have same day/evening post game interviews as well on Blue Devil Nation.
Coaching Staff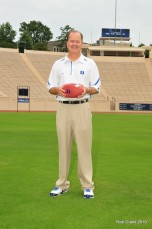 Coach David Cutcliffe is in his third season as head coach of the Blue Devils, having turned down the opportunity to coach at the University of Tennessee this past offseason. Coach Cutcliffe is best known for having coached several great quarterbacks at Tennessee and Mississippi, including both Peyton and Eli Manning. Coach Cutcliffe's teams feature a no huddle offense and prolific passing attack. In his two seasons at Duke, Coach Cutcliffe has a record of 9-15, having won 4 games in 2008 and 5 games in 2009. Kurt Roper serves as Duke's offensive coordinator and quarterbacks coach. Marion Hobby takes over as defensive coordinator in 2010, after the offseason departure of Mike MacIntyre to become the head coach at San Jose State.
2010 Blue Devils
Duke returns 18 starters from last year's team that finished 4th in the Coastal Division of the ACC. The Blue Devils will play 7 home games in 2010 against Elon, Alabama, Army, Miami, Virginia, Boston College, and North Carolina. Duke's 5 road contests will take place at Wake Forest, Maryland, Virginia Tech, Navy, and Georgia Tech. This represents the third most difficult schedule in the ACC, based on 2009 records ; Duke's opponents were a combined 94-60 overall. Season tickets have sold out, but individual game tickets and ACC 3-packs are still available at GoDuke.com
Returning Players to Watch
#19 Sean Renfree QB, redshirt-sophomore: Renfree takes over at starting quarterback in his third season with the Duke program. In 2009, Renfree played in 5 games, throwing for 4 touchdowns with 2 interceptions and completing 68% of his passes. Renfree suffered a torn ACL against Georgia Tech and missed the remainder of the 2009 season and 2010 spring practice. He was a full participant in fall training camp and has impressed his coaches and teammates with his grasp of the offense. A highly-ranked recruit out of high school, Duke expects big things from Sean's arm in 2010 and beyond.
#26 Donovan Varner WR, junior: Varner's 2009 campaign earned him first team All-ACC honors, as he posted team-high 65 catches, 1,047 yards, and 8 touchdowns. Despite the graduation of QB Thaddeus Lewis, analysts expect Varner to maintain his high level of performance, selecting him to the preseason All-ACC first team and preseason All-American honorable mention. Varner joins a dangerous receiving corps for the Blue Devils with senior Austin Kelly (#83) and sophomore Conner Vernon (#2).
#33 Desmond Scott RB, sophomore: After leading the Blue Devils in rushing as a true freshman in 2009, Scott won the starting running back job during fall training camp. His 2009 campaign included a breakout 100 yard game against North Carolina Central, followed by mixed success. Coach Cutcliffe has praised Scott's ability as a "complete back," being able to excel in running the ball, catching the ball out of the backfield, and pass-blocking.
#62 Bryan Morgan C, senior: Morgan was elected a permanent team captain in 2010 by his teammates, and for good reason. The senior center leads the team with 24 consecutive starts and over 2,000 career snaps. Though undersized for an offensive lineman, Morgan is one of the strongest linemen on the team and consistently battles on every snap. His musical gifts and community service are also well-documented. He is a true leader for the team on the field, in the classroom, and in the community.
#8 Abraham Kromah LB, redshirt-senior: Kromah was also elected a permanent team captain in 2010 by his teammates and is the vocal leader of the defense. After battling injuries in 2009, Kromah is one of the strongest players on Duke's defense and should become one of the team's leading tacklers.
#56 Damian Thornton LB, senior: Thornton is Duke's strongest player on defense and will line up in several different formations at linebacker. Having played over 1,100 snaps in his career, Thornton is one of Duke's defensive leaders and hardest hitters. Thornton will use his strength and speed to bring pressure on opposing quarterbacks.
#40 Matt Daniels S, junior: Daniels is one of Duke's most talented defenders and is also the active leader in career tackles with 105. An Academic All-ACC selection, Daniels started all 12 games for Duke in 2009 and showed flashes of his playmaking ability. Duke will call upon Daniels to be a consistent playmaker in the secondary in 2010.
#16 Chris Rwabukamba (RUB-uh-COME-buh) CB, redshirt-senior: Rwabukamba is Duke's senior leader in the secondary and is the third permanent team captain elected by his teammates. A fourth-round selection in the 2010 Canadian Football League draft, the Ontario native is Duke's active leader in pass break-ups, including a game-saving interception at the 1-yard line at Vanderbilt in 2008.
#3 Johnny Williams CB/WR/PR, junior: Just call him Johnny-on-the-spot. Williams transitioned from WR to CB during spring and fall practice, but will be on the field in all phases of the game. As one of the best athletes and playmakers on the team, Williams will line up at cornerback, wide receiver, and punt return for the 2010 Blue Devils.
New Players to Watch
#81 Cooper Helfet TE, junior: the junior college transfer is an explosive receiver and will line up in several different positions in Duke's potent passing attack. At 6'4" and the fastest of Duke's tight ends, Helfet will help the Blue Devils stretch opposing defenses downfield.
#9 Josh Snead RB, freshman: From nearby Smithfield, NC, Snead enrolled at Duke in January and hit the ground running, leading the Blue Devils in rushing in the 2010 spring game. Snead will use his dynamic speed to break open runs on offense and special teams.
#23 Juwan Thompson RB, freshman: Another speedy freshmen who has earned playing time with his play during training camp.
#5 Brandon Braxton WR, freshman: Even with Duke's depth at wide receiver, Braxton has earned playing time already as a true freshman. His big-play ability brings a new weapon for QB Sean Renfree.
#18 Brandon Connette QB, freshman: Another January enrollee, Connette beat out returner Sean Schroeder (#12) for the backup quarterback job. He will receive snaps as a true freshman and will utilize his ability to run the ball to help Duke move the chains.