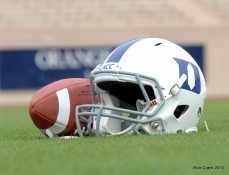 Today is senior day at Wallace Wade Stadium, where the Blue Devils will recognize 19 players and their families. Blue Devil Nation joins with Duke University and Duke Athletics in thanking this year's senior class for their dedication and hard work to Duke football. These young men have left the Duke football program in a much better place than where they found it.
Flash back four years, to when these players joined the Duke program. This was prior to Coach Cutcliffe's hire, and in the middle of a period when Duke had lost 25 consecutive ACC games. In 2006, the team finished 0-12 overall. There was little reason for optimism around Duke football, but these players embraced the program, and with the hire of Coach Cutcliffe, have changed the culture of Duke football. Over the past four years, the program has won 13 football games, including 5 ACC victories.  
"It's a tribute to our seniors, who have continued to fight," Coach Cutcliffe said last week. "They've changed the game. Our seniors have been a part of changing an expectation at Duke. We can compete with anybody, regardless of what anybody thinks. And we're ready for that next step, because of this group of young men that have committed themselves to being the best that they can be." 
As these players run through the tunnel into Wallace Wade Stadium for the final time today, fans should take a moment to recognize the hard work and dedication that this group of players have put into Duke football. They have become great young men, and will be great representatives of Duke University and Duke football in all that they do. 
Thank you, seniors! 
#8 Abraham Kromah
Linebacker
Staten Island, NY 
#10 Matt Pridemore
Wide Receiver
Gainesville, GA 
#16 Chris Rwabukamba
Cornerback
Windsor, Ontario 
#22 Brandon King
Tight End
Doylestown, PA 
#39 Adam Banks
Linebacker
Asheville, NC 
#41 Eriks Reks
Linebacker
Wrentham, MA 
#47 Nick Maggio
Kicker
Leawood, KS 
#49 Kevin Jones
Punter
Austin, TX 
#55 Brandon Harper
Offensive Guard
Alpharetta, GA 
#56 Damian Thornton
Linebacker
Lenoir, NC 
#62 Bryan Morgan
Center
Hoover, AL 
#63 Chris Shannon
Offensive Tackle
Andover, MA 
#67 Mitchell Lederman
Offensive Guard
Brodhead, WI 
#83 Austin Kelly
Wide Receiver
Mableton, GA 
#87 Brett Huffman
Tight End
Massillon, OH 
#88 Danny Parker
Tight End
Rockville, MD 
#90 Patrick Egboh
Defensive End
Mesquite, TX 
#99 Wesley Oglesby
Defensive End
Arlington, TX 
Mike Cappetto
Undergraduate Assistant
Troy, MI 
Garrett Utt
Undergraduate Assistant
Atlanta, GA