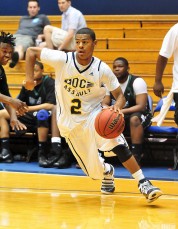 Oak Hill senior Quinn Cook committed to Duke University today over finalist UCLA on ESPNU this afternoon. The poised 6'1" point guard, who visited Duke twice in the past six weeks, brings excellent court vision, can hit both the mid-range and three-point shot, and handles the ball like a string. He's just as comfortable running the break as he is executing a half-court set.
After leading DeMatha, the Hyattsville stalwart, to the the Washington Catholic Athletic Conference Championship, which was arguably the toughest high school league in the nation last year, and the D.C. City Title, Cook was named the Washington Post's Metro Player of the Year, a rare feat for a junior, averaging twenty points and six assists per game. The Prince George's County product then guided the United States to a gold medal at the FIBA Under-17 World Basketball Championship in Hamburg, Germany this past July, leading a loaded US team in assists, including eleven in the Championship game against Poland.
Quinn came back from Germany and immediately solidified an improved D.C. Assault squad in the remaining July events. In the closing moments of the Elite 24 game in Venice Beach, California, the personable point guard landed awkwardly, partially tearing ligaments in his right knee. Cook had surgery on September 3 and is expected to make a complete recovery.
This, however, wasn't the first major setback in the young man's life. Just over two and a half years ago, Ted Cook, Quinn's charismatic father, died unexpectedly from a cardiac arrest. The young man persevered through internal strength, help from his mother Janet, a vibrant New York transplant, as well as his coaches and friends at DeMatha and D.C. Assault. Among his support staff was Duke guard and D.C. Assault alumnus Nolan Smith. Smith shared a lot of things in common with the younger Cook, but the most notable one was the tragic experience of losing a father at far too young an age. Looking back, Quinn has referred to Smith and Minnesota Timberwolves forward Mike "Beas" Beasley, a fellow D.C. Assault alumnus, as his "Godbrothers," for their guidance and support during his darkest hours.
This recent injury, which was initially feared to cost Quinn his entire senior season, has proven to be a temporary setback. On October 21, the Maryland native graced the court in a scrimmage against fellow prep power Hargrave Military Academy.
Through his relationship with Nolan Smith, Quinn had visited the Duke campus on several occasions over the past few years and remained on the program's radar, but their mutual interest picked up significantly over the past six months, as fellow D.C. area native Nate James evaluated and pursued the steady point guard from Oak Hill. Following a day of USA practices in Las Vegas, Coach Krzyzewski observed Cook