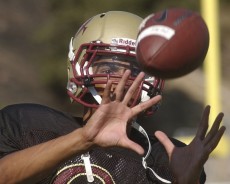 As signing day approaches, Head Coach David Cutcliffe and the Duke coaching staff are looking to hold onto each of their 20 current verbal commitments and hoping to add another impact player or two to the class of 2011. This past weekend, the Blue Devils hosted four of their current verbal commitments in Lucas Patrick, Blair Holliday, David Helton, and Jamison Crowder. BDN checked in with the visitors to get their thoughts on the visit to Durham and the Duke program.
In recent years, Duke has had a lot of success in recruiting and developing talented wide receivers in Durham, most notably All-ACC performers Eron Riley, Donovan Varner, and Conner Vernon. Current wide receivers coach Matt Lubick hopes to continue that trend, and secured a commitment back in August from Blair Holliday, a 6'3" wide receiver from Westlake Village, California. We last spoke with Blair just before his California sectional championship game in early December, and since that time, several PAC-10 programs have come calling, including UCLA.
BDN: I think since we last talked you played in a pretty exciting football game. Can you tell us a little about the game and the wild finish?
I guess it just lived up to all the hype. With them [Westlake] being so close, with them beating us the first game, the bragging rights that they thought that they had, and we got that redemption to play them again a second time for the championship. We were fired up and I'll probably say that was the most exciting game of my life, biggest play I've ever made, biggest thing I've ever really done in my life was making that play. It was actually supposed to be a pass, but our guy was covered up so I just decided to take off and run it, and I got in. I guess the rest is history.
BDN: Can you talk a little bit about how your official visit went to Duke and let us hear your thoughts on your trip to Durham?
It was great. Like I said, when I first went there I felt like I belonged there and like it was home. That was just from – I wouldn't say an outsider's perspective on the school, but that's the closest thing I can say to it. But going there and taking the official, meeting the guys on the team, going out with them – it just clicked that that was where I needed to be. I found the guy I want to room with when I go out there. It was a really great time, like I said, I talked to the guys, told me how it is being there, how practices go, how school life goes, just how everything goes. I just felt like I fit perfectly in that situation, that place, that environment.
BDN: Who were some of the players that you were able to spend time with?
My host was Brandon Braxton. I don't know many of the last names. Dezmond Johnson, I hung out with him. Again I don't know last names, but I remember Isaac [Blakeney], Braxton [Deaver], and a lot of different guys. When I was there, David Helton was on the trip too and we hung out. He's a fun guy so we talked about rooming and by the end of the trip we felt like we wanted to room together when school started or when we get out there and practice started.
BDN: I know some other schools have been recruiting you and with signing day coming up, can you clarify what your plans are?
I'm 100% on Duke. As soon as the letter is sent, I'll be signing it.
BDN: That's great. I really appreciate your call and getting to catch up with you. Best of luck with basketball season and the rest of your senior year.
Yeah, I appreciate it. Thanks a lot.
Blair's game-winning two-point conversion in the final minute of the championship game was awarded the 2010 Play of the Year by calihighsports.com.
Click here for a recap of the play.
Click here for a video highlight of the championship game.