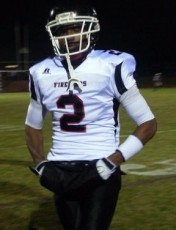 Since Head Coach David Cutcliffe's arrival in Durham, there are two areas where Duke has performed particularly well. First, the Blue Devils' prolific passing offenses have featured a group of All-ACC caliber receivers, led by players like Donovan Varner and Conner Vernon. Second, Duke has started to recruit well in Tennessee, signing players such as Conor Irwin and Dez Johnson. The Blue Devils hope these trends continue in 2011, and 6'2" Nick Hill, a 2010 TSWA All-State receiver from Nashville, TN seems to fit the bill. A physical receiver who runs a 4.5 second 40-yard dash, Hill has the speed and skills that should thrive in Cutcliffe's pass-oriented offense. Hill committed to Duke in July after attending several college camps and receiving interest from multiple FBS programs. With signing day quickly approaching, BDN checked in with the talented receiver to get his thoughts on his senior season and the Duke program.
BDN: Can you give us a brief recap of your senior season?
This year, my senior year, it went pretty good. We made it to the quarterfinals. I think we had a lot shorter, well we probably should have made it to state, but we kind of got robbed. As far as an individual standpoint, I feel I did the best I could for the team. I had maybe 26 catches for about 600 or 650 yards and 7 touchdowns. I helped develop the other receiver, helped him get a lot better this year. I was receiving a lot of double and triple coverage and that helped him get on his road so hopefully he can do his thing next year. And that's about it for this year.
BDN: What were some of the things you worked on this season to help prepare you for college?
Well, really, going hard in practice, we as receivers, because my junior year, a friend of mine that played on the football team with us passed away. Really now in practice we just go all out because you never know when it's going to be your last play. We just tried to work hard every day in practice and give it all we had.
BDN: I know you've had a chance to visit Duke a couple times now. What are your thoughts on the Duke program and the season they had?
I think the coaching staff – well I really like them, that's the first thing that stood out to me was the coaching staff. They're real down to earth and family oriented. When I first met Coach Cutcliffe, I felt like he was a straightforward guy. He wasn't just trying to feed me what I wanted to hear, but he was telling me the truth about how he felt about things and I really admire him for that.
BDN: You mentioned that Coach Roper recently visited you; what have you talked about with the coaching staff and what do you expect your role to be at Duke?
They see me as a big addition. They said that I'll be able to help them win ball games. That's the main thing. I want to help Duke win ball games and help out the passing game a little bit. Basically, I want to do whatever I can, whatever they need me to do to help the team win.
BDN: What are your plans between now and when you enroll at Duke next summer?
I'll probably run track. We're two-time state champions in that, so I'll probably run track again this year.
BDN: That sounds great. Thanks a lot for your time, Nick. Enjoy the rest of your senior year and good luck in Durham.
Thanks a lot, you too.
Nick's highlight video can be viewed here.