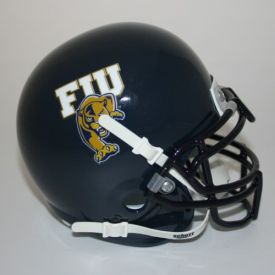 On October 1st, Head Coach David Cutcliffe and the Blue Devils will take their first (of two) trips to Miami to take on the Florida International Golden Panthers. The Blue Devils and Golden Panthers will play a home-and-home series, with FIU traveling to Durham in 2012. When Duke first scheduled the home-and-home with FIU, the youngest program in the FBS, many fans questioned the agreement, but one look at the high school football talent in South Florida should silence the critics. The October 1st matchup will kickoff at 6 PM ET on ESPN3 and will serve as FIU's Homecoming Game.
Of course, for the Blue Devils' trip to Miami to pay off in the long run, Duke must come away with a victory, a task easier said than done. The Golden Panthers enter 2011 as the defending Sun Belt co-Champions and winners of the 2010 Little Caesars Bowl. Led by reigning Sun Belt Player of the Year TY Hilton, the Golden Panthers feature a dynamic offense that returns 8 starters. Defensively, the Golden Panthers lose senior leader Anthony Gaitor, but return leading tackler DB Jonathan Cyprian to anchor the secondary. Florida International is the consensus pick to defend their Sun Belt title, and the Blue Devils will certainly have their hands full under the lights in FIU Stadium.
As the youngest program in the FBS, it's no surprise that Duke fans may be unfamiliar with the 2010 Sun Belt Co-Champions. To fill us in on the Golden Panthers, BDN welcomes Andres Garcia, administrator for www.FIUGoldenPanthers.com.
BDN: After taking over an 0-12 team in 2007, Head Coach Mario Cristobal led Florida International to their first bowl game in 2010, a 34-32 win over Toledo in the Little Caesars Bowl. What are some of the reasons for his success in building the youngest program in the FBS into one of the top teams in the Sun Belt?
Coach Cristobal inherited a mess when he got to FIU, as you mention the team was coming off an 0-12 season which included that now infamous brawl with the University of Miami.  In addition to that, the team had just been hit with NCAA violations which reduced the number of scholarships for future years.  The main reason behind Coach Cristobal's success is his ability to recruit and sell a dream to local kids.  One of the first to come on board was Anthony Gaitor (a 7th round NFL draft pick in last year's draft) and TY Hilton who chose FIU over an offer from West Virginia.  FIU's recruiting rankings have improved steadily over Coach Cristobal's 4 years at the helm.  In addition, the team for the first time is able to field a full complement of scholarship players which has led to an improvement in the depth that FIU fields.  Often times in the early years, FIU would be able to hang on with teams for the first 2 quarters and then fade at the end due to lack of depth, this is no longer the case as was seen last year when FIU was able to compete against the likes of Rutgers, Maryland, Texas A&M and Pitt for an entire game.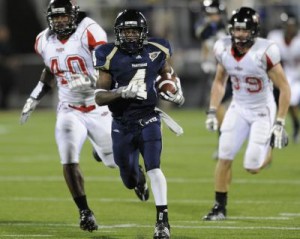 BDN: Sun Belt Player of the Year TY Hilton may be the best college football player most fans have never heard of. Can you give us a quick scouting report on Hilton and describe his impact on the FIU program?
TY Hilton is quick, has great hands and is very elusive.  He is Mr. Everything at FIU on offense and of course he's our most dangerous kick returner.  As I mentioned before, TY opened the door for other quality South Florida recruits to at least consider coming to FIU.  In addition, he is the face of the program and has been a fantastic ambassador in the community.  His impact will be felt for a long time at FIU and we were very relieved that he chose to stay in school for his senior season.
BDN: Offensively, FIU returns 8 starters in 2011, including a deep group of players at quarterback and running back, along with the aforementioned Hilton at receiver. After outgaining Rutgers and Maryland and nearly upsetting Texas A&M in 2010, how good is this unit expected to be this season and what questions still need to be answered?
FIU loses 2 very important pieces to last year's offense in Brad Serini (starting Center) and Greg Ellingson (6'4" starting receiver) from last year's team, however, the coaches expect their replacements to be able to pick up some of that slack.  One of FIU's question marks is the continued improvement of the OL.  The Golden Panthers have 4 quality running backs which they rotate and which as a unit were very effective last year, while TY is a great weapon, it was the team's ability to run the ball which allowed Wesley Carroll to take advantage of TY.  Speaking of Carroll his improvement is also a key cog in the development of the offense.  He needs to cut down on his interceptions and improve his accuracy.  FIU has plenty of weapons on offense, the questions are whether the OL can create the holes and give the QB the time to find and exploit those weapons.
BDN: The Golden Panthers will have a young, but experienced defense this fall. With only one projected senior starter, who is expected to step up and assume a leadership role? What are the key position battles heading into training camp?
Last year's defensive star was Anthony Gaitor who graduated and will hopefully move on to the NFL.  This year, everyone is looking towards Jonathan Cyprien (DB) to take over the leadership role and explode on to the scene for the defense.  Cyprien is joined as a Pre-Season all conference player by Tourek Williams (DL) and Winston Fraser (LB) so the Coaches feel they have established leaders for all 3 units in the defense.  The big defensive battles will be along the DL and the CB positions.  FIU returns several contributors from last year's team as well as a couple of new freshmen which could see some playing time.  The LB corps is stacked with quick backers that can get to the ball in a second.  This defense is built on South Florida speed.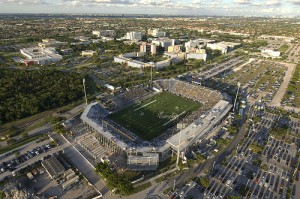 BDN: With FIU in just its eighth year of FBS football, it's no surprise that this will be the first meeting between the Blue Devils and Golden Panthers. What will be the keys to the game for FIU to pull out a Homecoming victory on October 1st?
The key for FIU will be to control time of posession with its ground game and eliminate turnovers.  This will limit the exposure of the talented but young FIU defense against the potent Blue Devil offense.  On defense, FIU needs to contain the Duke passing game which is easier said than done.  FIU needs to create pressure up front in order to force some turnovers and make sure to capitalize on those opportunities.
FIU fans are looking forward to this game possibly being our first win versus a team from an AQ conference.  After coming so close last year, we are hoping the momentum continues and we cross that threshold.
BDN: Thanks for your insight, Andres!
Previous week: September 24, Tulane at Duke
Next week: October 8, Off Week
Next game: October 15, Florida State at Duke