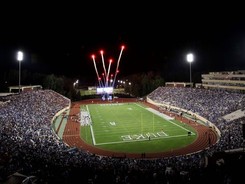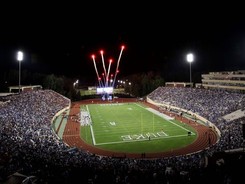 Even on a holiday weekend, it's still time for BDN's Football Friday, a weekly look inside the world of Duke Football. If you enjoy this weekly column, please consider becoming a BDN Premium Member and joining our growing community of Duke Football fans. As we say goodbye to the month of June, it's time to look back at an eventful month in Duke Football, and look ahead to the 2011 season, which kicks off in just 63 days!!! Of course, it's always football season at Football Friday.
It's finally here!
Next week kicks off the release of college football's preseason award lists. What, you thought I was talking about Harry Potter? Oh, please. Starting on Tuesday, the College Football Awards Association will release their preseason award watch lists. While Duke still has a long way to go in regards to earning the respect of the national college football community, there are a few Duke players who should be nominated. On Wednesday, the Biletnikoff (top WR) and Mackey Award (top TE) watch lists will be announced, and Duke's Conner Vernon, Donovan Varner, and Cooper Helfet are certainly deserving of consideration. As a 2010 semi-finalist, Duke's Will Snyderwine should be named to the Lou Groza Award watch list on Thursday. Of course, the awards will ultimately be earned on the field, but it's important for Duke players to receive the preseason recognition they deserve.
Changing of the guard
Head Coach David Cutcliffe announced a few changes to his football staff today. "We are very excited with our recent hires and adjustments to the staff," Cutcliffe stated.  "I have either coached or fostered long term relationships with each of these young people and their families.  It is great to surround yourself with people you deeply care for and know are winners on and off the field.  We approach the 2011 season with great enthusiasm." Among the changes, the staff welcomes back former Blue Devil All-American defensive lineman Vince Oghobaase as a staff assistant. John Russell, a former NFL and Wake Forest linebacker, joins the staff as a graduate assistant, and current recruiting assistant Ben Loebner has been promoted to a graduate assistant. Former Duke All-ACC cornerback Leon Wright has been named a Defensive Operations assistant and Jomar Wright switches his title from graduate assistant to recruiting assistant. Marcus Johnson, a former NFL and All-SEC offensive lineman, joins the Duke strength and conditioning staff. Welcome to all the new coaches, and good luck this fall!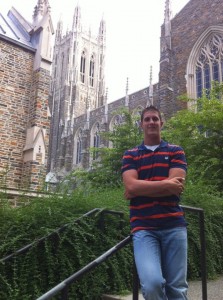 Boy, that escalated quickly…
Duke entered the month of June with four verbal commitments in the class of 2012: TE Erich Schneider, DE Allen Jackson, SAF Dwayne Norman, and LB Deion Williams. We now leave the month of June with twelve verbal commitments, capped off by a big week, in which the Blue Devils added their QB of the future in Thomas Sirk and one of the top TEs in the state in Dan Beilinson. BDN members were the first to hear about these commitments, and we'll continue to bring you the best Duke Football recruiting coverage around.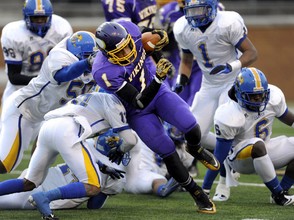 Get 'em while they're hot…
With only a handful of scholarships remaining in the class of 2012, Duke is hoping to land a few impact players over the next several weeks. As we've mentioned earlier, the Blue Devils will need to add a RB in this class, and Tarboro's Todd Gurley, along with Charlotte's Jela Duncan, remain the coaching staff's top two priorities. Gurley recently won a national championship in track and will represent the US in France later this summer. The Duke staff continues to work hard on the recruiting trail, hoping to cap off the class of 2012 with a program-changer or two like WR Drae Bowles or DT Korren Kirven. A quick look at the 2011 Duke roster shows that Duke will graduate 18 players this season. Duke is certainly hopeful that the group of redshirt-juniors will stay with the program for their final year of eligibility in 2012, meaning that scholarships are getting tight in the class of 2012. For those remaining prospects considering Duke offers, the smart move would be to act quickly.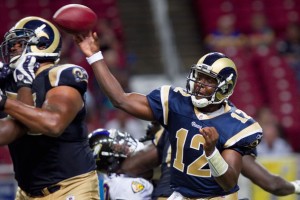 "I'm going to go out on a limb and say they'll go bowling…"
With the NFL lockout dragging on, Duke has been fortunate to have former QB Thad Lewis around campus for most of the summer. BDN caught up with the Blue Devil record-holder earlier this summer, and GoDuke featured an interview earlier this week. Thad has big expectations for Sean Renfree and the Blue Devils in 2011, and after leading Duke to 5 wins in his senior year, he knows what it takes to win in the ACC.
Reasons for optimism
Overall, there is tremendous optimism around the Duke Football program, and many fans (with a few outspoken exceptions) have high hopes for the 2011 season. Starting next week, BDN will take an in-depth look at each of Duke's 2011 opponents, beginning with the Richmond Spiders. We're fortunate to have been able to team up with some great writers from other schools to give us an inside look at Duke's competition. In general, though, we know Duke faces a tough schedule this fall, and after a 3-win season in 2010, why all the optimism? Before we start analyzing Duke's opponents, let's take a brief look at some 2010 statistics, and a 2011 position group assessment.
In 2010, Duke lost 4 games by 6 points or less.
Duke had 43 trips to the redzone in 2010, but found the end zone only 22 times, barely 50% of the time. Luckily, pre-season All-ACC kicker Will Snyderwine was able to add 16 field goals to help keep the Blue Devils in games.
The 3rd quarter was unkind to the 2010 Blue Devils. Duke either had a lead, or were within 1 score at halftime in 8 of their 12 games, but only won 3 games.
Finishing games was also difficult for the 2010 Duke team, as they had a lead or were within 1 score entering the 4th quarter in 6 of their 12 games, but again, only won 3 games.
Turnover margin may have been the key statistic to Duke's 2010 season, but there is reason for optimism. Over the first 7 games, Duke had a turnover margin of -12 (21 to 9), but a turnover margin of +1 in their final 5 games (7 to 8).
The much-maligned Duke defense had difficult pressuring the quarterback all season, but again, there was subtle improvement. With just 4 sacks through their first 6 games, Duke finished with 8 sacks in their final 6 games. Five of Duke's final six opponents were bowl teams.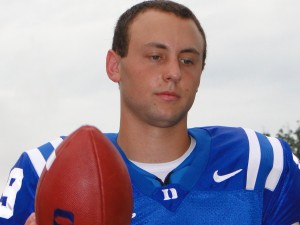 QB: Duke returns their top two quarterbacks in 2011 in starting redshirt-junior Sean Renfree and sophomore backup Brandon Connette. With a year of starting experience under his belt, the expectations are sky-high for Renfree, who Coach Cutcliffe described as having a "great" spring. Anthony Boone will add depth to the position after redshirting in 2010.
RB: Duke returns all five of their running backs from 2010, led by junior Desmond Scott, who has paced the Blue Devils in rushing as both a freshman and a sophomore. Duke improved their rushing yards by 46.5 yards per game from 2009 to 2010, and scored 13 more touchdowns on the ground. With all of their top rushers and blockers returning, there is no reason not to expect similar improvement in 2011.
WR: Duke loses Austin Kelly, who had been a solid receiver for the program in his four years in Durham, but brings back All-ACC receivers Donovan Varner and Conner Vernon. Sophomore Brandon Braxton, after catching 14 passes in 2010, is expected to see an increased role as he fills in for Kelly. Tyree Watkins and Corey Gattis are two more underclassmen expected to fill out the depth chart at receiver in 2011.
TE: By the end of the 2011 season, junior college transfer Cooper Helfet established himself as one of Renfree's favorite targets, and one of the top tight ends in the ACC. After a slow start and a nagging ankle injury, Helfet finished with at least 4 catches in his final 5 games, including a 122-yard game against Virginia. Redshirt-senior Danny Parker rejoins the tight end corps after the graduation of Brett Huffman and Brandon King. Redshirt-freshman Braxton Deaver is expected to compete for a starting spot this fall, and true freshman David Reeves is one of the top prospects in Duke's class of 2011.
OL: Duke will return four of five starters in 2011, the lone loss being center Bryan Morgan. With Brian Moore sliding over to center from right guard, Duke's entire offensive line should weigh in at 275 pounds or greater; redshirt-freshman Takoby Cofield and Laken Tomlinson both eclipse 300 pounds and are expected to compete for snaps.
DL: This position is the big question mark on the 2011 Duke team, but there are plenty of reasons to expect improvement over 2010. Despite losing starters Patrick Egboh and Wes Oglesby, Duke will add seven (7!) redshirt-freshmen to the depth chart along the defensive line in 2011. The Blue Devils return redshirt-senior Charlie Hatcher, along with redshirt-junior Kenny Anunike, redshirt-sophomore Justin Foxx, and redshirt-sophomore Sydney Sarmiento. This spring, however, it was the redshirt-freshmen who earned the highest accolades from the Duke coaching staff, led by DE Jordan DeWalt-Ondijo and DT Jamal Bruce. With the coaching of Rick Petri, athleticism of the young redshirt-freshmen, and overall increased depth, this is a unit that should improve week-to-week in 2011 and give the Blue Devils a chance to win ball games.
LB: While most fans are concerned about the Blue Devils' defensive line, the linebackers are another area that needs to improve from 2010, but has significant losses. Leading tackler Abraham Kromah has graduated along with Damian Thornton and Adam Banks. Standout freshman Kelby Brown returns after knee surgery, but is expected to be a full participant in fall camp. Duke has to hope that junior Austin Gamble and redshirt-sophomore Kevin Rojas, who have shown flashes of potential in the past, are ready for a breakout season in 2011. Coach Jim Collins has developed some great linebackers at Duke, and he will need to work his magic this year, as outside of those top three, the depth chart will be filled with first-year players in redshirt-freshman C.J. France, freshman Kyler Brown, freshman Britton Grier, freshman David Helton, and freshman Jon Woodruff.
CB: The loss of senior Chris Rwabukamba will be sorely missed within the Duke secondary, but the coaching staff believes the Blue Devils have several athletes ready to step up at cornerback, led by redshirt-sophomore Ross Cockrell. Despite an inconsistent freshman year as a starter, Cockrell finished 6th on the team with 60 tackles, and led the Blue Devils with 3 interceptions and was 2nd with 7 pass break-ups. Cockrell should take a step forward, as will senior Johnny Williams, in his second full year at cornerback. Zach Greene, Tony Foster, and Lex Butler will fill out the depth chart, but they may be pushed by freshmen Jared Boyd and Tim Burton.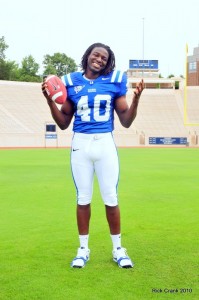 SAF: The strongest positon group on Duke's defense is safety, and the new 4-2-5 defense is designed to exploit that strength. Senior Matt Daniels should be poised for an All-ACC caliber year alongside fellow senior Lee Butler. The Duke staff has high expectations for redshirt-sophomore August Campbell and redshirt-freshman Issac Blakeney.
ST: Duke's special teams has developed into a strength in recent years, and with Will Snyderwine handling the placekicking, it should remain a strength in 2011. Freshman Will Monday is expected to come in and compete with senior Alex King for the starting punter job, and it should be a good competition to watch in August.
Next week
Man, I thought it was going to be a short column this week. That never works out. If you've missed any of our recruiting coverage over the past month, be sure to catch up, as it is sure to be a sprint to the finish here in July. The entire class of 2011 will be on campus starting this weekend, and on behalf of all of us in the Blue Devil Nation, welcome to Duke! We have big expectations for this class, and we know they'll have great success in Durham.
Some upcoming highlights to note – we will kickoff our 2011 previews next week with Richmond and Stanford, so be sure to check back for those. We'll also run an in-depth interview with one of Duke's top running back prospects this weekend, so check back in between fireworks shows. Be sure to join our Facebook group and follow us on Twitter. Have a great holiday weekend! Until next week, WE ARE DUKE.
Questions? Comments? Let us know!