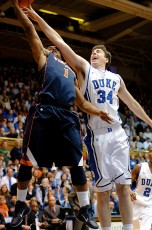 DURHAM, N.C. – Senior Miles Plumlee and junior Ryan Kelly were named team captains for the 2011-12 men's basketball season, head coach Mike Krzyzewski announced on Tuesday. Both players are first-time team captains. "Miles and Ryan have really grown in our program and worked hard to put themselves in this position," Krzyzewski said. "They have both been able to develop under some outstanding captains over the past couple of years and have prepared themselves to lead this year's team. We are looking forward to watching them continue to emerge as leaders on and off the court." Plumlee has played in 101 games with 41 starting assignments in his three seasons at Duke.
He is averaging 4.2 points, 4.1 rebounds and 0.5 blocks per game with a .532 field goal percentage (173-of-325). The Warsaw, Ind., native averaged 4.8 points and 4.9 rebounds a year ago while helping the Blue Devils to a 32-5 record and a third straight ACC Championship. Plumlee was named second team All-ACC Tournament after averaging 8.7 points and 6.7 rebounds per game in Charlotte. He had 14 offensive rebounds in Duke's three wins, while also shooting .579 (11-of-19) from the field. "Being named co-captain is something really special to me," Plumlee said.
"I have played under a lot of great leaders, I've seen what they've done for me and now it's my turn. I want to really step up and do that for the young guys this year. It just commemorates a lot of hard work for me. I'm really proud of the accomplishment and I want to make the most of it." Kelly, a two-time ACC All-Academic Team selection, is averaging 4.0 points, 2.4 rebounds and 0.9 blocks in 72 career games (27 starts) for the Blue Devils. He came into his own last season, contributing 6.6 points, 3.7 rebounds and 1.4 blocks per game while playing in all 37 contests and making 27 starts. Kelly, a native of Raleigh, had nine double-figure scoring games and tied for ninth in the ACC in blocks as a sophomore. He made 18 consecutive field goal attempts, including seven straight three-pointers, in a four-game stretch (Jan. 15 - Jan. 27), with the 18 straight made field goals ranking as the second-most in Duke history. "It's a huge honor to be voted to this position by my teammates and the coaching staff," Kelly said. "It's something I aspired to be when I came to Duke. I'm going to use it to help my team and do whatever I can to lead. We're obviously going to ask for leadership from all the players on the team, but I look to be somebody who all of my teammates can look to and say 'He's always playing his hardest, and we can always count on him.'" The Blue Devils open the season on Friday, Oct. 14 with Countdown to Craziness. Duke will then play exhibition games against Bellarmine (Oct. 29) and Shaw (Nov. 2 ) before opening the regular season on Friday, Nov. 11 against Belmont.