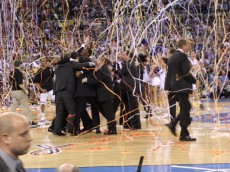 Well, most of the students are at home for the Holidays but a few remain and I will be joining them in about eight hours in Cameron Indoor Stadium when Duke takes on UNC-Greensboro.  Before I go into to this weeks Monday Musings, I sincerely wish all of you the best Holidays ever, be it Merry Christmas or what ever way you celebrate.  Be safe and happy and think about all around you and their hopes and needs as we all say thanks to the many blessings bestowed upon us.
It's Hammer time!
Oh, relax already!  We're not bringing M.C. and his baggy pants back anytime soon but I do feel that tonight's opponent, UNC-Greensboro may feel hammered at times.  Many of the Duke players are fresh off exams and like all of us are preparing to be home for the holidaze, but first things first.  The Blue Devils take to the court this evening to take on the Spartans who hail from an hour down the road.  Duke will either look a little rusty or they'll be ready to inflict mass destruction.  These are the games when the guys on then bench are extra supportive of the starters for they want a big lead where they get plenty of burn.  I expect Duke will go to their bench early and often and they'll cruise in this game which should allow Krzyzewski and his troops to try out a lot of combinations and fine tuning before things pick up in January when the conference schedule starts.
Comical articles and talking head goofs abound
Many of my old school journalism friends cringe at today's media and how loose it has become with concern to fact checking, decorum and pretty much anything else you want to mention.  Duke haters abound and they sure like to try and get hits or attention by saying things like Austin Rivers is overrated or Jon Scheyer was held back at Duke.  My friend Al Feathertson wrote a lengthy retort to some ESPN criticism of Rivers where he simply stated black and white facts to make his case and that article can be found at Duke Basketball Report.  Look!  I too said Rivers would have to adjust his game after being the man throughout his career coming in, but after ten games, I am very happy with where he sits.  And you know what?  You ain't seen nothing yet!  Austin is good, exceptionally good and he is getting better each time he steps on the court.  Folks, Coach Mike Krzyzewski and his staff are pleased with Austin as are any rational Duke or college hoop fans.  He is still learning and that is the scary part.  He will be the ACC Rookie of the Year and it will not be close, nuff said on that.  But the one which shocked me was a pithy piece which said Duke ruined Jon Scheyer and his shot at the pro game.  Yep, the same Jon Scheyer that Coach K played from the word go and the same one he put the ball in his hands with trust which led to a national title.  This article is so off the cuff that I refuse to link it, but no worries, for the haters will always be around.  That said, where had Gregg Doyel been of late?  Greg has so much company these days that he's fell out of the top five and that's no joke.
Records, honers and can you hold on a second while I catch my breath?
Last year at this time a jam packed Greensboro Coliseum saw Duke defeat the Spartans and Coach Krzyzewski pass Dean Smith at UNC on the all time NCAA wins list.  Since that time, Coach has become the man and counting, been named Sports Illustrated Sportsman of the Year and .... well, the list is getting to be too much to handle.   At some point, probably summer, I will sit down in a lounge chair on a beach somewhere and reflect on all that has happened.  All I can say for now is that when you see Coach on the sidelines, you are looking at a living legend and one people will read about long after all of us have moved on.
It's surreal
I sometimes have to pinch myself when I realize all that I have witnessed from Duke Basketball over the years.  Having been here the day Coach K sat foot on campus, I've seen it all up close and personal.  From season tickets on the same row as former AD Tom Butters who hired the aforementioned legend during the late 80's through mid 90's (like I can afford to have kept those, lol) to press row and beyond, I have seen the program in a most personal way.  Let's put it this way, I challenge all comers to a Duke BB trivia contest in that I have seen every game televised or at home and when they were not I listened to Bob Harris and some of those absolute classic match ups with Cremins and Georgia Tech and Valvano and Pack and such.  Heck, one of the greatest games I ever attended was a loss to North Carolina where Dean Smith bashed the scorers clock out of frustration for a young Duke team was serving eternal notice that there is a new sheriff was in town and that Duke Basketball was back.  Michael Jordan and company barely escaped that evening and Duke would exact revenge in the ACC Tournament but the point is, you had to be there to have seen all that happened for this game was inexplicably not televised and it was the last Duke-UNC game that fell upon that fate to this day.  Yep, surreal it has been and I'm glad to have been able to take the ride which is still going and may it go on until I am on my death bed
Support BDN efforts by joining BDN Premium
A great Christmas or Holiday gift to any Duke fan is the gift of information.  Blue Devil Nation Premium is our extended access subscription service that runs 100 buck for the year and has now has a month option to go with 3 and 6 month memberships.  We never ask for money without giving something in return here at BDN and our staff works oh-so hard to bring you the best inside information available and our dedication is unmatched.  But we need to pay the bills to do all that we do  and by joining you help us accomplish that.  What you get for your money is access to a private message board where you speak with insiders and like minded fans in a controlled and friendly environment.  You get timely recruiting prospect interviews and we cover the AAU season like no other site out there.  BDN has become well respected in the national community and in Duke circles and we offer dependable inside information on the team you covet.  So, please help support BDN by joining today and we'll give you some good stuff back for doing so. (Discount available, see below)
Speaking of BDN Premium
While I am at the Duke-UNC G game tonight, we'll be represented at the City of Palms, a stellar high school basketball event in Florida.  There you will get reports and interviews with the likes of Tony Parker, Ricardo Gathers, Shabazz Muhammad and Julius Randle, all major Duke prospects and three holding offers.  And the new year will bring some long awaited changes, so it is a great time to join or give the gift of BDN Premium.
We'll give you 20 bucks back on a yearly membership through Christmas Day
Join for one year at 100.00 and we'll send you 20 bucks back through paypal.  Yep, 80 bucks for a full year of BDN Premium is our lowest ever offered price!  Take advantage of 20% off now and come inside and join the rest of our members talking Duke Athletics.