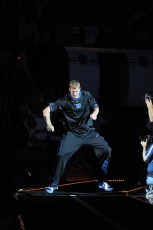 A busy week lies ahead for Duke Athletics and BDN Monday Musings takes a look at the many events that will take place starting with tonight's UConn at Duke Women's game.  The Blue Devils have two men's games as well one on the road and one at home and national signing day for football.
UConn at Duke - the ultimate measuring stick for the progrm on "Big Monday"
In a nationally televised game, the 5th Duke women (17-2) host the traditionally strong and 3rd ranked UConn women (19-2) led by their enigmatic coach Gino Auriemma.  The Huskies lost to the top two rated teams in the country Baylor and Notre Dame before going on a monster roll, where they demolished the Blue Devils arch rival, North Carolina by a score of 86-35 and all other comers as well.  The key to the game for the Blue Devils will be for their guards, Chelsea Gray and Tricia Liston to slow the Huskies backcourt of Tiffany Hayes and Bria Hartley.    As we've said in a past column, Duke freshman Elizabeth Williams is as advertised and tonight she'll be on the big stage with the rest of this young Blue Devil squad.  There are still a few tickets left for the game and they're very reasonably priced, so turn out tonight for this heavyweight bout and cheer the young Blue Devils to victory.
Rest for the men's team
The Duke Men's team returned to the practice courts today after taking off time to rest after their lack luster victory over St. John's.  The Blue Devils will travel to Blacksburg on Thursday to take on a wounded in wait Hokies team that would love to make their season with an upset win.  One of the things happening is this years squad is getting accustomed to taking other teams best shot as some of the players grow into their roles.
Speaking of roles ... who will step up?
Before the season Coach Krzyzewski said that different players would step up on different evenings on this years team.  And that's what has happened to date and the Blue Devils are a not too shabby 18-3 from it.  But will any of the players have that light go off down the stretch and take over their roles in a consistent manner?  Mason Plumlee has pretty much been the star of this team and or the most consistent player.  Austin Rivers is on a learning curve, but his numbers are decent as well.  I mean, the kid will likely be named the ACC's Top Rookie.  But are juniors Seth Curry, Ryan Kelly and Andre Dawkins ready to break out?  Duke needs more consistency from the group, but make no mistake, each of them have already played key roles in major victories as has sophomore Tyler Thornton in Maui.  This is also the final go round for senior Miles Plumlee and can he become a force as the season enters it's grind?  And this folks, this is why we watch the games, to see how it all will unfold.
Just a reminder ... March 16th and 18th NCAA Tournament in the 'Boro
Get your tickets for Greensboro now Blue Devil fans!  Duke will almost assuredly be in Greensboro for two games and the kicker is that North Carolina will share that pod.  That said, get your tickets to the event as soon as possible.
The last ten games
It's hard to believe that there are just ten regular season basketball games left this season and just five of them home games in Cameron.  Breaking it down for you, there are two games each with Virginia Tech and North Carolina, Miles senior day being the last regular season and home game.  Then road trips to Boston College, Florida State and Wake Forest and home games with Miami, Maryland and N.C. State.   So, how do you think the Blue Devils will fare?  I have heard 6-4 to 8-2 most often from those who cover the team.
National Signing Day for Football
On Wednesday, BDN will be on hand at Duke to hear the latest on the new group of Blue Devils from Coach Cutcliffe and staff.  We're talking national signing day here and it is a big deal around the nation.  Several prospects are taking their decision to the midnight hour and in our premium section, Patrick Cacchio talks of that and how things are shaking out with the likes of RB hopeful, Jela Duncan.  Also, mark down March 31st on your calendar, for it is the date of the annual spring game where Duke returns 17 starters from a season ago.
 Just do it!
I am not going to open the can of worms known at the decline in attendance for the Cameron Crazies at this time.  There are five home games left and this is a team that needs the support in a big way, so no lecture or speculation from me other than this suggestion - Just do it!  Sorry for the overuse of that Nike trademark, but it's what I'd tell them to do down the stretch if asked what should be done.  Prove the critics wrong and show them you are not the weak bunch many think you to be.  Man, was that a challenge or what?  Crazies means getting crazy, so let go of yourselves, have fun and all will play out.  I have faith that the many who follow this site can get it done.  And for what it is worth many of the ones there are the best and if their leadership spreads, you will hear few complaints by seasons end.