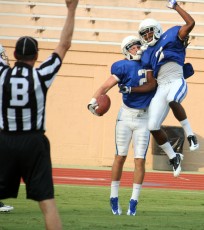 The Duke Blue Devils had a strong first scrimmage of the 2012 training camp on Monday evening in Wallace Wade Stadium. First and foremost, as Coach David Cutcliffe pointed out after practice, the Blue Devils finished with the same number of players as they started with. For a program that at times has seemed snakebit by injuries in recent seasons, that's always a good thing to see and hear.
When you have multiple talented and experienced quarterbacks on a roster, some might call it a controversy, but the Blue Devils consider it to be a strength. On Monday, all three of Duke's returning QBs looked strong, led by redshirt senior Sean Renfree. The veteran came out guns-ablazing in his first series, leading an impressive drive that was capped by a long 43-yard strike to All-ACC WR Conner Vernon, who appeared in mid-season form despite missing practice time earlier this spring. Redshirt sophomore QB Anthony Boone was equally impressive in his first series, hooking up with redshirt sophomore TE Issac Blakeney on a deep route to set up a Brandon Connette TD run. Speaking of Connette, the redshirt sophomore looks to be a jack-of-all-trades for the Blue Devil offense, making plays from multiple positions. Similarly, senior Desmond Scott has seen his role expand this fall as he transitions to wide receiver, where he showcased his playmaking ability when he was able to find open space. Scott also lined up at tailback a few times, and admitted to BDN that he's still working on his confidence at receiver. Sophomore Jamison Crowder was another receiver who stood out, using his speed to separate from defenders and make plays downfield. Younger players such as TE David Reeves, TE Dan Beilinson, WR Anthony Nash, and WR Max McCaffrey all showed flashes of their abilities, but as would be expected this early in their careers, will need to show more consistency to become big contributors.
To say that the Duke offense played well is not necessarily indicative of a poor defensive performance. Duke's running backs, including freshmen Shaq Powell and Jela Duncan, found a few holes, but were also fairly well contained by the Blue Devil defenders. In particular, redshirt freshman LB Kyler Brown made some nice stops against the run. True freshman safety Dwayne Norman made the defensive play of the game, returning a tipped pass for a 55-yard touchdown. As a group, the Blue Devil safeties are capable of a better effort than they showed on Monday, but there is plenty of talent and they are bolstered by the strong play of newcomer Brandon Braxton. At cornerback, Lee Butler made an impressive interception, while his counterpart Ross Cockrell also came up with a couple of big plays. The veteran duo of Butler and Cockrell should be the best pair of cornerbacks Coach Cutcliffe has had in his time at Duke. Up front, Duke was able to get a lot of snaps for freshmen Carlos Wray, Keilin Rayner, and A.J. Wolf; with their lack of depth up the middle, a lot of players were rotated in and out, and that experience can only help in the long run for this team. That being said, the defensive line remains a work in progress. Though they were able to bring pressure occasionally and came up with a few stops, they will need to become much stronger in short yardage situations.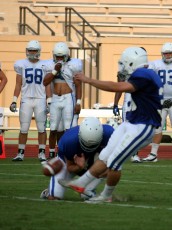 And for Duke fans, maybe the best is saved for last. The Blue Devils made plays in the kicking game. Duke showcased a handful of elusive return men, and punter Will Monday displayed a big leg. After the Devils' placekickers struggled last year, it was a pleasure to see that true freshman Ross Martin appears poised to win the starting job after connecting on field goals of 40 and 48 yards.
For a team that hasn't had a lot of live game work so far this training camp, the overall impression from the first scrimmage has to be a positive. After a spring game that saw the first team defense outplay the offense, the Blue Devil offense appears ahead of the defense in fall training camp. Duke showcased a number of playmakers on both sides of the ball on Monday, and they'll be back to work on Tuesday. Duke training camp has no days off, and the team will work all week to improve before the next scrimmage on Friday evening.
Coach Cutcliffe spoke with BDN after Monday's scrimmage. Check back with BDN for more from Desmond Scott, Brandon Connette, and Issac Blakeney. For the official recap and video highlights, be sure to visit GoDuke.com.