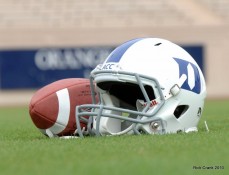 Welcome back to another edition of Friday Night Lights as Blue Devil Nation takes you on a tour around the United States, checking on gridiron performances of future Blue Devils. This edition starts in Northern Virginia as we check in with Defensive Back Evrett Edwards.
Edwards had three receptions for 63 yards and a touchdown as Woodbridge defeated Gar-Field 48-20. After the game, Edwards stated, "It went well. We had almost 500 yards rushing, a great rivalry game." On the defensive side of the ball, Edwards was credited with four tackles.
In North Carolina, after Statesville defeated North Iredell 42-0, cornerback Breon Borders exclaimed, "We dominated the whole game...but me individually, there isn't really much to say. I didn't let my receiver off the line the whole game. They didn't pass to my side one time!"  Borders recorded four solo tackles in the win.
In California, running back Joseph Ajeigbe rushed for 127 yards in Norco's 39-16 victory over previously undefeated La Serna. La Serna built a 16-6 lead in the first quarter, but Norco responded by reeling off 33 straight points. Discussing his role in the victory, Ajeigbe declared, "I was more a decoy this game. They were loading eight in the box in preparation for the run."
Looking toward next week, Ajeigbe stated, "This week we have a big game coming up. We're playing nationally ranked Mission Hills Alemany. It should be a good test for us as a team as we prepare to go into league play."
In Georgia, defensive tackle Mike Ramsay described The Walker School's victory, "We won a tough one 21-14 over Mt. Zion. We are now 4-0 for the first time in Walker School history."
Heading to Texas, offensive lineman Austin Davis commented on Mansfield's loss to South Grand Prairie, "We lost on a game-winning field goal 21-23. We rushed for 200 yards and had an average game. I did a good job and handled my opponent."
This week's edition closes out by checking in with three prospects in Florida.
Dual threat quarterback Parker Boehme passed for 148 yards (10-18-0) and rushed for 81 more but Sandalwood came out on the short end of a 23-21 decision against Fletcher. Here is a video clip.
T.J. Douglas ran for 94 yards on 12 carries, including a 69-yard touchdown and tossed a 31-yard touchdown pass as Fort Myers defeated Riverdale 15-0 to improve to 4-0 on the season. Douglas is number 10 in green in the video clip.
Wide Receiver Johnell Barnes scored a touchdown on a four yard run as Ft. Myers Dunbar blasted Lake Placid 49-0.