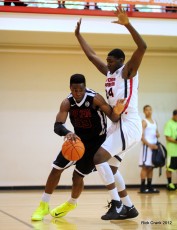 We are what we repeatedly do. Excellence, therefore is not an act, but a habit.
-Aristotle
Semi Ojeleye was born in Overland Park, Kansas and his family's tale is one of the American Dream. His father, Victor, arrived in Kansas from Nigeria, looking to do an internship and residency at the University of Kansas Medical Center. Dr. Ojeleye now operates as a family physician in Ottawa, Kansas, roughly fifty miles south of Kansas City, Kansas, with his wife, Joy, a registered nurse.
The Ojeleyes had two boys, Victor and Semi. Victor, the oldest, was heavily involved in community service, became Ottawa High School's all-time leading scorer, and was valedictorian of his graduating class. After not receiving much basketball interest coming out of Ottawa high school, he opted to do a postgraduate year in North Carolina, where he played under veteran coach, Chris Chaney. It was there that then Kansas St. assistant coach, Dalonte Hill spotted the 6'5″ Ojeleye and ultimately convinced him to walk-on for his home state Kansas State Wildcats. Victor wound up being a reserve player for the Wildcats, led his teammates in Bible studies, and was an All-Academic Big XII winner in each of his three seasons, culminating in this season's inaugural Dr. Loge Award for the Big XII Conference's highest academic honor. Last May, he received his degree in Finance and Accounting before joining Koch Industries.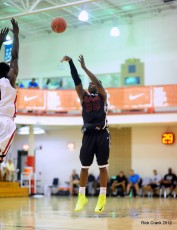 Semi Ojeleye was blessed with the same genetics and work ethic as Victor. He's been a 4.0 student, but will shatter Victor's basketball records for the Ottawa Cyclones. The 6'6″ wing averaged nearly nine rebounds and thirty-three points per game this season, never scoring below twenty-five in a single game, while leading Ottawa (KS) to a third consecutive Class 4A State Title game. The high water scoring mark for this season came when he knocked down eight three-pointers and hit all ten of his free throws for a fifty point game and a win in front of Missouri Coach Frank Haith.
Last season, Semi, a devout Christian, played all five positions for Coach Jon McKowen's Cyclones and knocked down seventy-eight three pointers at nearly a forty percent clip on the season. In the state semi-final game, Ojeyele grabbed fourteen rebounds and scored thirty-two points. In, ultimately, a close 56-52 loss to Basehor-Linwood in the Championship game, Ojeleye, who has tried to slowly convert himself from more of a post player to a perimeter force, scored thirty-two points and snagged twelve rebounds. For his efforts, the 6'6″ senior, who now has 1,811 career points and helped his team to a 24-2 final record, earned an All-State distinction.
This AAU season, the versatile wing first caught the eye of the Duke staff for a half of a single game at the Nike EYBL Minneapolis, but it was his performance at the EYBL Boo Williams that was a turning point. According to Semi, Coach K felt he saw a lot of his untapped potential at this event. Rather than get satisfied, Semi continued to improve, mesh with his Mo-Kan Elite teammates, and was, without any college coaches in attendance, the critical player for a run of EYBL wins in Oakland that enabled his AAU squad to earn a trip to the coveted Peach Jam in July.
When June began, Semi and his family came to the Gothic Wonderland in Durham for an unofficial visit. The trip was meant to provide a bit of due diligence and gauge his comfort level with the staff, program, and University. It coincided with the Coach K Academy, a fantasy camp for charity that pairs former Duke players with fans looking to experience a taste of what it's like to play at Duke. By the end of the weekend, Semi was offered a full scholarship to Duke.
Over the next few weeks, Ojeleye played at the NBAPA Top 100 Camp in Virginia and competed alongside fellow Duke recruits Austin Nichols, Julius Randle, Matt Jones, and Theo Pinson at the elite LeBron James Skills Academy in Las Vegas.
At the Peach Jam, which collects twenty-four of the best AAU teams in the country, Semilore Ojeleye elevated his undermanned team to new heights, catapulting his squad to the semi-finals of the ultra-competitive July tournament. His standout Peach Jam game was against Detroit's The Family AAU program, which featured a consensus top ten player in 6'6" James Young. After holding Young, a talented wing, to a woeful five for twenty shooting game by "bodying him up" in a win over The Family in Oakland, Semi once again out-dueled the well-promoted wing in a win at the Peach Jam. In this playoff game, Ojeleye would score a whopping thirty-three points in twenty-nine minutes on a highly efficient ten of thirteen shooting (four of six from beyond the arc) and a perfect nine for nine at the charity stripe, grab eight rebounds, and hold Young to seventeen points.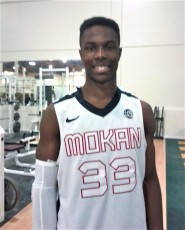 Semi Ojeleye was the first person that Coach Mike Krzyzewski of Duke was scheduled to make an in-home visit with. Yesterday, shortly after the visit with Coach K and Coach Steve "Wojo" Wojciechowski, Ojeleye told the staff that he would like to join Duke's program. There were some efficiently placed phone calls and texts to various services, but none of the three-hat monte, self-indulgent forty minute speeches, dancing cheerleaders, awkward satellite interviews with cable services, or amateurish "off-broadway" productions with teammates that have become somewhat customary amongst elite-level players.  This "old school" way of handling your recruitment was not surprising for a player that is concerned more with the collective measure of success, wins, than his individual game totals.
Duke is getting a cerebral, physical 6'6" wing who has the versatility to defend tall shooting guards, athletic small forwards, and even undersized college power forwards. Offensively, unlike some wings, he brings a comfort level with playing on the inside that speaks to his natural and earned strength, former responsibility as an interior player as a younger player, and fearlessness to the physicality that is relatively commonplace among interior players. He's got good elevation on his jump shot and, although streaky, has improved his three-point shooting to the point that he must be guarded at all times. As a hard worker on and off the court, Semi undoubtedly will continue to work on conditioning as well as skill development, including improving his mid-range game, his left hand, and making his three-point shooting more consistent.