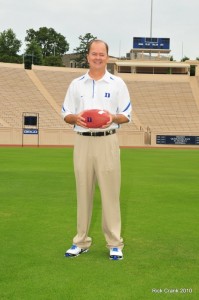 2013 will mark the Duke Blue Devils' sixth season under the leadership of Coach David Cutcliffe. Equaling the three ACC victories the team achieved in 2012 should be enough to ensure a trip to a second consecutive bowl game, but for the program to post a winning record and take the next stride toward returning to real prominence, four or more ACC wins will be necessary. Duke's eight conference games conveniently break down into four two game mini-seasons.
The first mini-season consists of two home games in September, against Georgia Tech on the 14th and Pittsburgh on the 21st. The second mini-season consists of two road games in October, at Virginia on the 19th and at Virginia Tech on the 26th. The third mini-season is back at home in November when Duke hosts N.C. State on the 9th and Miami on the 16th. Finally, Duke heads back on the road, traveling to Wake Forest on the 23rd of November and finishing the regular season at Carolina on the 30th.
Duke is 4-4 in its most recent matchups against those eight teams on the 2013 conference schedule, with wins over Virginia, Wake Forest and North Carolina last season and over N.C. State in 2009. The losses to Georgia Tech, Virginia Tech and Miami were last season, with the loss to Pittsburgh occurring in 1976. So that 37 year-old loss may be a little less likely to provide any useful information about this year's prospects.
One path to the four necessary conference victories is winning one game per mini-season. Securing a second victory in one of the four would set the Blue Devils up to achieve a 5-3 mark, which would be a superb achievement for Coach Cutcliffe and the Blue Devils, but it was Cutcliffe who commented this spring, "We're capable of beating everybody on our schedule."
Prior to taking a game-by-game look at the conference schedule, let's take a quick look at the 2013 Duke Blue Devils:
Duke's defense will be led by senior Ross Cockrell at cornerback and sixth year senior Kenny Anunike at defensive end, but the return of Kelby Brown at linebacker and having nose tackle Jamal Bruce healthy could be the two most important ingredients for improvements on defense. Duke has had difficulty pressuring opponent's quarterbacks in recent years, which naturally has left the secondary vulnerable, and the defensive line has also had problems stopping the run. Too many tackles have been made by defensive backs the past few seasons. Who else can help along the D-line? In addition to the aforementioned Anunike and Bruce, senior Sydney Sarmiento, senior Justin Foxx, junior Jordan DeWalt-Ondijo, junior Dezmond Johnson, junior Jamal Wallace, junior Jonathan Woodruff and junior Steve Ingram are players who will be counted on to use their experience to produce this season. Sophomore Carlos Wray plus redshirt freshmen A.J. Wolf and Keilin Rayner are players who also will have the opportunity to make an impact along the defensive line.
The secondary will be young, especially at cornerback opposite Cockrell, so look for redshirt freshman DeVon Edwards or even a true freshman such as Evrett Edwards or Quay Mann to start. All three will most likely see meaningful minutes throughout the season.
Jeremy Cash, a transfer from Ohio State, had an excellent spring and is ready to assume duties at bandit safety, a position where Walt Canty in 2012 and Matt Daniels in 2011 earned All-ACC honors.
Sophomore Dwayne Norman and redshirt freshman Corbin McCarthy will be leaned on heavily to produce at safety. Norman was solid in the secondary last year as a true freshman.
After the Spring Game, Coach Cutcliffe commented, "I like where we're headed. We're building some depth. I think we can be a more energetic defense."
On offense, Sean Renfree, Conner Vernon and Desmond Scott are gone, so the attack will have to feature some different players. Fortunately for Duke, those players already have significant playing experience. Leading the way are junior quarterback Anthony Boone and junior wide receiver Jamison Crowder, as well as a trio of running backs: senior Juwan Thompson, junior Josh Snead and sophomore Jela Duncan. Duncan and Snead both averaged five yards per carry in 2012, while Thompson checked in at 4.7.
Braxton Deaver return to action this year at tight end after missing the entire 2012 season with a leg injury. Deaver is talented, with the ability to both catch passes and block for the running game. With Deaver out for the season in 2012, David Reeves started 12 games, catching 18 passes including three touchdown receptions. Nick Sink moved from the defensive line to tight end prior to last season's Belk Bowl. Redshirt freshman Dan Beilinson will provide depth.With this talent and experience at tight end, fans should not be surprised when Duke lines up in two tight end formations at times.
Wide receiver is a position where the team will need somebody to step up and excel opposite Crowder. Crowder will draw coverage from the opponents top defensive back this season so it is critical that a viable option emerge to test the opposite side of the defense, or opponents will double cover Crowder all year long. Leading candidates include senior Brandon Braxton, sophomore Max McCaffrey, and redshirt freshman Anthony Nash. A couple of true freshmen, Johnell Barnes and Terrance Alls, may figure into the mix as well. Issac Blakeney and Erich Schneider will man the slot receiver position. Blakeney recorded 32 receptions for 290 yards in 2012.
But at long last, a big and experienced line is set to be the backbone of the offense. Starters project to be left tackle junior Takoby Cofield (6'4" 305); left guard senior Dave Harding (6'4" 285); center sophomore Matt Skura (6'4" 290); right guard junior Laken Tomlinson (6'3" 320); and right tackle senior Perry Simmons (6'5" 300). Sophomore guard Lucas Patrick (6'4" 310) is another quality lineman who will see significant action. His development last season was limited due to off season surgery on a fractured left ankle. Redshirt senior John Coleman, redshirt sophomore Carson Ginn, redshirt sophomore Cody Robinson, redshirt sophomore Marcus Aprahamian, redshirt freshman Casey Blaser and redshirt freshman Tanner Stone will provide significant depth on the line, permitting Duke to play the fast-paced offense Coach Cutcliffe intends to implement. Coach Cut has stated explicitly that the line is going to be a big key this season as Duke turns to a more run-oriented offense featuring a read-option attack. Quarterback Boone will have two running backs lined up in the backfield, as opposed to the "pistol" formation Duke featured the past several years.
Special teams will be an area of strength. Kicker Ross Martin and punter Will Monday were Freshman All-Americans and All-ACC performers in 2012. Kick and punt return specialist assignments are unclear, but identifying candidates with explosiveness has to be a priority for the staff.
Let's move on to the ACC schedule:
The Georgia Tech game will serve as an early litmus test for the defense. Can the Blue Devils stop the Yellow Jackets' formidable rushing attack? Improved performance by the defensive line and at linebacker will be required to prevent the Yellow Jackets from running the ball down Duke's throat. In last year's 42-24 win, Georgia Tech rushed 72 times for 331 yards. Yes, that is not a misprint - - 72 rushing attempts!
But Georgia Tech has question marks too heading into the season, with the defense being first and foremost. The Yellow Jackets' defense yielded over 28 points per game last season, which resulted in the mid-year firing of defensive coordinator Al Groh. Defensive improvement is at the top of the Jackets' 2013 to-do list. With three-year starter Tevin Washington gone, consistent quarterback play is another concern.
In Week 4, Pittsburgh rolls into Wallace Wade Stadium for the first time since 1976. There are multiple question marks at the skill positions on a Panthers squad which went 6-7 in 2012 and lost to Ole Miss in the Compass Bowl.
The heir apparent at quarterback is 5th year senior Tom Savage. Savage, who started out at Rutgers before transferring to Arizona, and then transferring again to Pittsburgh, has never played a down at Pittsburgh. Moreover, Rushel Shell, who with 641 yards in 2012 was to be the leading returning rusher, opted to transfer out of the program, so the Panthers have question marks at both quarterback and running back.
Looking at the passing game, three of the top four in pass receptions are gone from last year's squad. Only Devin Street, who hauled in 73 receptions for 975 yards and five touchdowns, is back. The question is who will line up opposite him to provide a second option.
On October 19th, Duke travels to Charlottesville for their first ACC road game against the Virginia Cavaliers, a team Duke is 4-1 against in the Cutcliffe era. There is much uncertainty surrounding the quarterback situation at Virginia, with the transfer of Michael Rocco to Richmond and Phillip Sims being declared academically ineligible. In 2012, Rocco started eight games, with Sims starting the other four. Now neither will suit up for the Cavaliers. Sophomore David Watford took snaps with the 1st Team during the spring. Watford redshirted last season after completing 30 passes for 346 yards with three touchdowns and four interceptions as a freshman in 2011.
Head Coach Mike London also shook up his staff after the 2012 season ended, and the new additions include former Boston College and N.C. State head coach Tom O'Brien. It appears the changes were mandated from above, and a layman's view of the situation says London's seat is getting hot in Charlottesville.
Duke jumped out to a 20-0 lead over Virginia Tech in Blacksburg before falling to the Hokies 41-20 in 2012. Due to conference schedule tweaking which was required to accommodate the inclusion of newcomers Pittsburgh and Syracuse, Duke will once again travel to Blacksburg in 2013.
Logan Thomas is a gifted and experienced quarterback who will lead an offense that has struggled to consistently move the ball and score points. Virginia Tech was ranked 9th in the ACC in Total Offense in 2012, with Thomas throwing 16 interceptions and being sacked 25 times. Virginia Tech also struggled to establish a prominent running back last season.
Under coordinator Bud Foster, the Hokies defense is projected to be the team's strength.
N.C. State will have a new head coach and a new quarterback in 2013. The head coach will be Dave Doeren; the new quarterback is, well, we don't know. The candidates are Pete Thomas, Manny Stoecker or transfer Brandon Mitchell, who graduated from Arkansas and transferred to State, so he is eligible to play immediately. Two freshmen QB's will also be on the roster and Coach Doeren has the option to platoon the position to take advantage of the skill sets of multiple quarterbacks.
Whoever ends up running the offense will have an uphill battle learning a new offense amidst a shortage of experienced talent in Raleigh. The Wolfpack have holes on the offensive line and at the skill positions. The opportunity is available for a freshman or two to step up and make an immediate impact.
When Miami arrives at Wallace Wade Stadium on November 16, Duke will have their hands full. Miami is predicted to win the Coastal Division by most preview magizines and that viewpoint is shared here at Blue Devil Nation. Miami's defense ranked 116th out of 120 in 2012, yielding over 500 yards of offense and 30 points per game. However, their offense produced 440 yards of offense and 31 points per game to propel the Hurricanes to seven victories. Their 52-45 victory over Duke on November 24 is a perfect example of how Miami had to outscore teams in 2012.
If the Hurricanes' defense is improved in 2012, and many analysts believe it will be, Miami will be the favorite to represent the Coastal Division in the ACC Championship come December.
On offense, senior quarterback Stephen Morris, sophomore running back Duke Johnson and junior wide receiver Phillip Dorsett ensure the Hurricane offense is again a high octane attack. The offensive line will be one of the most experienced in the conference.
Duke's long losing streak to Wake Forest was broken in 2012 with a 34-27 victory in Winston-Salem on September 29, 2012. Duke will look to secure back-to-back road wins over the Demon Deacons when they once again travel to Winston-Salem on November 23, 2013. All indications are Coach Jim Grobe intends to return to a run-oriented offense after having relied on the pass in recent seasons. The question which must be answered is whether or not the offensive line will be talented and healthy enough to win enough battles in the trenches to provide tailback Josh Harris room to operate. Harris rushed for 608 yards last season.
Quarterback Tanner Price is a talented passer with enough running skills to hurt a defense with his legs if left unchecked. His primary receiving target will be Michael Campanaro, whose numbers could benefit from the emergence of a downfield threat capable of stretching the defense.
Undersized but talented (two time All-ACC selection) Nikita Whitlock will once again anchor the middle of Wake Forest's talented defense. In contrast to the Demon Deacon offense, which will have a new look, the defense is stable with eight of 11 starters returning to execute their familiar 3-4 set.
One certainty is Coach Grobe will have his team ready to play week in and week out. Wake Forest is not a team which beats itself with mistakes and penalties.
The 2013 NFL Draft saw five North Carolina Tar Heels selected, including two in the first round, which results in some significant holes for Coach Fedora to fill this coming season, especially in the trenches. Moreover, two time 1st Team All-ACC running back Gio Bernard became the first running back selected when taken in the 2nd round.
However, senior Bryn Renner is back at quarterback; senior A.J. Blue, sophomore Romar Morris and freshman Khris Francis are three talented running backs; and sophomore Quinshad Davis is a potential star at wide receiver. The talent pool in Chapel Hill has plenty of stock. Moreover, Renner has a year's experience under his belt running Coach Fedora's offense.
On defense, the players also have a year under their belt adjusting to the 4-2-5 scheme, but two big questions remain to be answered. First, will the secondary be improved; second, who will step up and replace the departed Kevin Reddick and Sylvester Williams?  Those questions will have been answered by the time Duke travels to Chapel Hill in late November.
In 2013, Duke will look to build off the successful 2012 season, including the Belk Bowl appearance.  The ACC schedule, which does not include Clemson or Florida State, is conducive to achieving four or five wins and taking the next step in the rebuilding process.