Duke fans will get the opportunity to see some big time Duke Basketball prospects on TV this week. ESPNU will carry the Minnesota based Howard Pulley Panthers versus Massachusetts-based BABC at the AAU Super Showcase in Orlando in a game slated to start at 7:00 on Wednesday.
Howard Pulley features top Blue Devils target Tyus Jones, a PG who is quite simply the best at his position. But recent stellar play from Reid Travis now has him on the radar in what has the makings for an outstanding class.
On Thursday evening in a game that will also start 7:00, the Houston Hoops AAU team which features another big timer in Justise Winslow will take on Each One Teach One.
The Each One Teach One team will have the home edge being from Florida and Grayson Allen plays for this organization, who is the only commit in the 2014 class to date.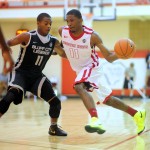 Each One Teach One also produced recent Dukie Austin Rivers and Houston Hoops produced current Blue Devil starter Rasheed Sulaimon.
Fans can also scout future rivals in North Carolina verbal commitment PG Joel Barry and the smooth wing forward Justise Jackson.
It is worth noting that Allen has played sparingly at times since joining his AAU team this season but he has been showing off his skills of late, including some nice one hand throw down dunks.
In Reid and Jones, you will see as good a two-man show on the AAU circuit and players who benefit from said chemistry.
Jones has long been one of the Blue Devils top targets alongside Jahlil Okafor and Justise Winslow. And there are plenty of other kids right there as well including Kevon Looney.
Read more about Duke Basketball recruiting by becoming a BDN Premium member for there are sure to be some major moves in the coming months and we look forward to bring members word from our top prospects in Disney land.