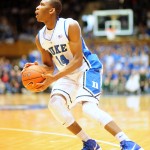 Thornton and Hood named as Captains
Duke Coach Mike Krzyzewski joked that he voted for Rodney Hood as a captain but the reality is the team votes and they chose senior Tyler Thornton and Rodney Hood.  It is clear that Krzyzewski is showing Hood that he is depending on his play and leadership.  As for Thornton, he was a no brainer in my opinion in that he shows toughness and leadership and is willing to do what it takes for his team to succeed.  He hinted that seniors need to understand their roles and it is not necessarily about minutes but more about maturity and understanding needs.
New Team, New Strategy
Coach Krzyzewski said that the goal in the seasons first full practice is to implement a system that is personalized for an athletic team.  Versatility is the keyword with this seasons team and they'll have to use that to their advantage to off set the lack of post depth.  Duke will ask their players to guard multiple positions and the reason is simple, look for a team full of wings to play a lot of switching defense and up tempo on the offensive end.  "I think it will be a team we will play more guys in a game and not just blowouts," said Krzyzewski.  In the past, some would have thought that to be coach speak, but there is reason toe believe that not to be true in that the talent level is more balanced this season and as always Duke will play to match ups, meaning different players will flourish in different games.  In short, the hot hand or hot play will earn you burn.
The Core
It starts with true freshman Jabari Parker and transfer Rodney Hood, two players who have never played in a game for Duke.  But rookies?  I think not.  These are seriously talented and versatile players and Krzyzewski will try to blend the rest of his team with them.  Amile Jefferson drew high praise in todays press conference and Krzyzewski said he would start if the season were to begin today.  Jefferson is cerebral on the court and or allows the game to come to him where many players try to force things or think too much.  Quinn Cook was also slated as a probable started by Krzyzewski but he left that fifth spot open hinting that he is looking for somebody to separate themselves in the coming practices.
More on Jabari
Krzyzewski mentioned that Parker never got fully back into shape but that he was still going through a growth process, on the court and physically.  "I think who he is right now is not who he will be a month from now.  I think he has a chance to get a lot better as he learns to play defense and he has this freedom of movement all over the court," sais Krzyzewski.  It is clear that Duke will allow Parker the freedom they did to say a Luol Deng in his freshman season.  The team wants him to grow into a well-rounded role and quick and they will give him every opportunity to do so. "Whether he (Jabari) measures up to the level you (media) want, I don't know.  But he's measured up to the level I have and I think he can improve a lot," said Krzyzewski.  He went on to say Parker did not have any demons and that he had a desire to be really good.
Amile Jefferson earns praise
Krzyzewski alluded to good summer work with Amile Jefferson where the team could work out players more and said he compliments Parker and Hood well.  Again. the core has been set with Hood and Parker and he is looking for players to adjust around them.
What does that adjustment mean?
It's hard to say with certain clarity what Krzyzewski means when he talks of other players fitting in, but he hinted that Quinn Cook would not be a traditional bring it up point guard nor would his team have a traditional position look.  My guess is that he is looking for versatility and interchangeable roles in is lineup and it may take players like Rasheed Sulaimon a little bit more time to adjust than it did a season ago.  how much of a luxury does Coach K have in that he barely mentioned a few of his talented players?
Man and a half
One of the things the long time Duke coach said was that he expected other teams to have to guard or concentrate on Hood and Parker.  "They'll be guarded by a man and a half," said Krzyzewski.  What this means is that he will have other players open when this happens.
Excitement clear to see in Krzyzewski
Make no mistake, Coach K seems really excited to get the season underway.  He had his usual high energy and was getting in his last little jokes and such before he goes into his annual very serious mode.  He obviously likes his team and the challenges ahead.  "There is going to be a lot of transition stuff with our team," said Krzyzewski and fans a certainly waiting to see just what he is talking about.
Duke will hold an open practice free to the public at 10:00 tomorrow morning.