Every Duke Basketball fan in America knows that some of the nation's finest prospects will visit campus this weekend. The nation's top point guard Tyus Jones, the nation's top center Jahlil Okafor, and a well-rounded wing in Justise Winslow will make their official visits, including taking in Saturday's exhibition game with Bowie State.
All three recruits have visited Duke before, but this is it:  it is the last visit on their schedules, and that means a lot.  I mean, how often do we save the best for last in life?  Of course, having them on campus means the Blue Devils will have an additional chance to show off their facilities and their dedication to basketball.
There has been plenty of worry amongst the fan base.  Just last week people were trying to say that Jones wearing Kansas gear while on his visit there must be a sign. Oh no! Let the panic begin!
But the reality is that he wore their gear out of respect, just as Harrison Barnes did in one of our more famous pictures, which has now been turned into a constant meme on the World Wide Web.
Just recently, some have said, Jones would not like playing second fiddle to current point guard Quinn Cook, but didn't Jay Williams and Chris Duhon fare quite well together?  And have you seen how many wins an undermanned Howard Pulley AAU team pulled off under his leadership?
You can find a rumor or unwanted speculation on any message board, but having been through many of these recruiting decisions before, the fan in me is pretty relaxed.  Why?  First off, as I said, the last visit means more than some think. In my opinion it makes the prospects more the Blue Devils' to lose.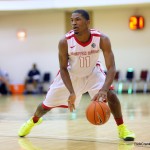 Second, as good as Kansas is and as much respect as I have for their program and what Bill Self has done, the ACC compared to the Big Twelve these days, well, there is no comparison.
Would you rather play UNC, Syracuse, Notre Dame, Louisville and go down Tobacco Road, or would you want your primary rival to be Kansas State or whichever team happens to pop up next year to have a good season in a conference where Oklahome and Texas could bolt for the Pacific coast at any time?
My contention here is that the ACC is prime time in every way, and you will play on what will be an amazing stage. The education and campus are top notch in Durham, as is the location. You're right in the midst of the Triangle area, which is one of the top places to live in America, and you have the beach and mountains on either side.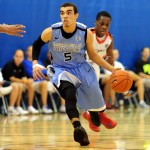 Then there is the court time Duke offers. Tyus Jones will sit for nobody, and he's a consummate winner on the court. Jahlil Okafor has a wide open spot to walk right into and he's sure to talk with fellow Chicago native Jabari Parker while on campus, and Jabari will surely mention the freedom the Duke system is allowing him.
As for Justise Winslow, a solid baller in every aspect of the game, Duke offers elite basketball and a top-notch education.
In my opinion, it is down to Kansas and Duke for Jones and Okafor, and Arizona and Duke for Winslow.  I for one like the odds of Duke getting the stellar class they are seeking.
If you had a child presented with the opportunities Duke offers, to play for the Olympic coach and a living legend, what would you do?  When the Cameron Crazies cheer their names and the team plays together as an excited crowd urges them on tomorrow, odds are good that I will not be the only one realizing the opportunity at hand.