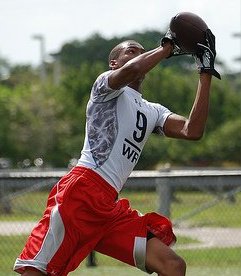 Cardinal Gibbons star WR Trevon Lee committed to Duke over Vanderbilt on Monday evening. His decision was announced live on South Florida High School Sports and WQAM 560 in the Miami area. The 5'11" 175 pound playmaker has elite speed (sub-4.5 second 40-yard time), and will be expected to compete for immediate playing time in Durham this fall. He was ranked as a 4-star prospect by ESPN, and a member of the prestigious ESPN300.
As a senior, the speedy wideout finished with 53 catches for over 700 yards and 7 touchdowns. Scouts have praised him for his strong hands, route-running, and overall play-making ability. Lee received well over 20 scholarship offers, including programs such as South Carolina, USC, Oregon and Stanford, but the Blue Devils were felt to be in a strong position throughout his recruitment. An official visit to Durham this past weekend helped to seal the deal.
When it comes to wide receivers, South Florida has been good to the Blue Devils under Coach Cutcliffe. Miami-area natives Donovan Varner and Conner Vernon thrived in recent years in the Duke offense, with Vernon becoming the ACC's all-time leading receiver in 2012. The recruiting class of 2013 brought in a trio of highly-touted Florida receivers in T.J. Douglas, Terrence Alls, and Johnell Barnes. Lee joins another South Florida receiver, Chris Taylor, in the class of 2014, which may just be Cutcliffe's best since he arrived in Durham. He becomes the 18th and final commitment in this year's class, and the 4th 4-star recruit, joining fellow Miami QB Nico Pierre, Mobile S Zavier Carmichael, and Charlotte RB Shaun Wilson.
The Blue Devils will host a Signing Day reception at the Washington Duke Inn on Wednesday at 5:30PM. Tickets are available at GoDuke.com/tickets.
Coming off an ACC Coastal Division Championship and the program's first 10-win season, Duke opens spring practice this Friday, with the annual spring game scheduled for Saturday, March 1st.