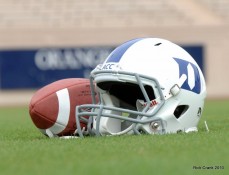 Welcome back Blue Devil faithful to another edition of Friday Night Lights where Blue Devil Nation keeps its readers informed on high school performances of future Blue Devils and Duke recruiting targets!
This week's update is a quick hitter so let's dive straight into the performance recaps:
California Tight end Tyler Petite caught two passes for 84 yards including a 47 yard touchdown as Campolindo outscored Heritage 56-31.
Staying with the California commits, Murietta Valley defeated Temescal Canyon 46-20 with wide receiver Aaron Young catching a touchdown pass. Complete statistics and a game recap were not located but here is a nice picture of Young's scoring reception. Young is 6'5" and the picture shows him using his height to beat a shorter defender.
Nyheim Hines rambled for 183 yards and four touchdowns as Garner defeated Cleveland 44-21 on Thursday night. Hines fourth touchdown was a 96 yard run. His earlier scores covered 12, 10 and two yards. Hines now has 350 yards rushing with five touchdowns on the season. These are numbers which will grow week by week.
Reggie Gallaspy rushed for 241 yards and four touchdowns as Southern Guilford rolled over Grimsley 43-7. Gallaspy's first touchdown was a 53 yard run in the 1st Quarter. His other three scoring runs were for one, three and three yards. Gallaspy now has 487 yards and seven touchdowns on the season.
Ruben Garnett scored four touchdowns, two rushing and two receiving, as Aquinas topped Prince Avenue 33-18. Garnett rushed 32 times for 230 yards and caught two passes for 72 yards in the victory. Garnett now has 411 yards and six rushing touchdowns on the season.
Trai Sharp rushed for 186 yards and three touchdowns as Carrboro defeated East Chapel Hill 45-12. On Carrboro's first play from scrimmage, Sharp ran 71 yards for a touchdown. His other two touchdown runs covered 25 and 21 yards.
Duke is looking to add a running back to their 2015 recruiting class and the performances of the players listed above shows there is talent still available. Be sure and check back next week for another edition of Friday Night Lights at Blue Devil Nation.