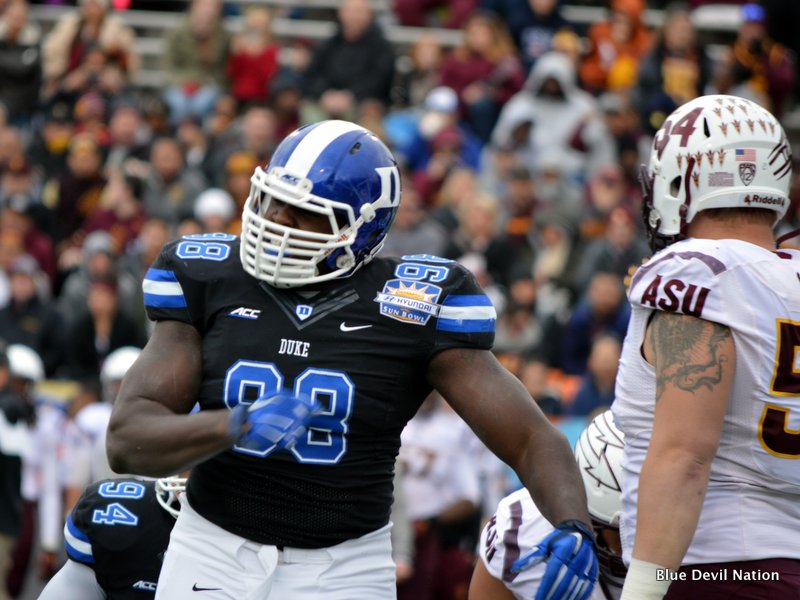 A youth movement will have to take place in 2015 if the defensive front six is going to show significant improvement this season. The good news is there are some experienced players back to lead the way. Senior Carlos Wray and redshirt junior A.J. Wolf at defensive tackle, redshirt seniors Kyler Brown and Britton Grier at defensive end.
Wray started all 13 games in 2014, while Wolf was recognized as the Co-Most Improved Defensive player following Spring practice.
Seniors Dwayne Norman at linebacker and Deion Williams at defensive end can also be included on the list of experienced players; however, Norman and Williams are moving to new positions in 2015 so their experience level must be marked with an asterisk.
Redshirt junior Allen Jackson is finally healthy at defensive end and is a player who could have a breakout season in 2015. He has good size at 6'5" 260 but it remains to be seen if he has the requisite skill set as he has only played 39 snaps in his career to date.
The bad news is that's the end of the list for experienced upper classmen so freshmen and sophomores must step up now and be productive in order for Duke to field a championship quality defense. The offense is replacing key players at quarterback, wide receiver and on the offensive line so it will be imperative the defense minimizes opponent's scoring to reduce pressure on the offense.
The Blue Devils defense yielded 21.8 points per game in 2014, which was an improvement over the 26.6 points per game yielded in 2013. In order to compete for an ACC Championship in 2015, and make no mistake competing for championships is this team's goal, the defense must once again decrease the amount of points per game yielded.
The defensive line's job is to control the line of scrimmage and create a pass rush. If the Blue Devils are going to field an improved defense this season, the front six is going to have to be more productive controlling the line of scrimmage and pressuring the quarterback. In order for the front six to produce at the level required, multiple underclassmen are going to have to significantly contribute to the total effort.
Who are the young players on the defensive line?
Defensive Tackle: Mike Ramsay, Edgar Cerenord and Quaven Ferguson.
Defensive End: Taariq Shabazz.
Ramsay played 228 snaps in 2014, while Cerenord and Shabazz are both players who were rated 3 stars coming out of high school. Shabazz struggled with injuries as a high school senior and in his redshirt year at Duke. Reports coming out of Pinehurst this week indicate he is healthy.
The linebackers are tasked with being multidimensional players who must be able to defend the run, drop into pass coverage and blitz the quarterback. Middle Linebacker is the defensive quarterback who is tasked with calling out alignments and shifts.
Who are the young linebackers? Zavier Carmichael, Chris Holmes, Dominic McDonald and Tinashe Bere. Carmichael was rated 4 stars by ESPN, while Holmes, McDonald and Bere were all 3 star recruits. Both Carmichael and Holmes played significant snaps during the 2014 season so while young they are not raw. Carmichael is the leading candidate to step in and fill the MLB position.
Up to this point, the preview has not included discussion on any true freshmen because it is difficult to predict which ones will or will not earn playing time in their first season. However, defensive end is a position ripe for a true freshman seeing immediate playing time and the Blue Devils have two youngsters who could compete for immediate playing time: Marquies Price and Trevon McSwain.
Price (6'6" 240) was an early enrollee so he participated in Spring Practice and was impressive. McSwain (6'6" 265) is 25 pounds heavier and was rated slightly higher by the various recruiting services. Both of these guys have the potential to play as true freshmen and make an impact.
As stated in the preview of the secondary, expectations for 2015 include seeing a Duke defense, which will bend a little less, while refusing to break. With the front six, defensive coaches Jim Knowles, Jim Collins and Clayton McGrath will mix players who are older and more experienced with youngsters who have arrived in Durham higher rated than the players they replaced to create a unit capable of propelling the team toward an ACC Championship.
Finally, coaching changes have taken place in the off season. Former defensive line Coach Rich Petri has moved on to the same position at Louisiana Tech. In 2015, coaching duties for the front six are split as follows:
Inside Linebackers - Jim Knowles
Outside Linebackers and Defensive Ends - Jim Collins
Defensive Tackles - Clayton McGrath
The new coaching assignments combined with an infusion of youth into the 2-Deep rotation has the potential to produce result up front analogous to what took place in the secondary two seasons ago. It should not be a surprise when the defensive front six show a significant uptick in production in 2015. It is the natural next step in program development in Durham.
Behind the leadership of veterans Carlos Wray, A.J. Wolf, Kyler Brown and Dwayne Norman, and capitalizing on the young talent of Zavier Carmichael, Edgar Cerenord, Mike Ramsay, Taariq Shabazz and company, the defensive line and linebackers are ready to step up and make a statement.
Football Friday: Previewing the Front Six