Here are some notes from the Blue Devils victory over Baylor and a look ahead.
The Passing Game Failed to Find Wideouts
The Duke offense struggled a bit with the passing game where the top two running backs on the depth chart in Shaun Wilson and Brittain Brown led the team in both receptions and yardage.  While this is not ideal there are reasons.
Duke was forced to take what the defense gave them as Baylor was constantly shifting and having their defensive backs drop back just before snaps.  This in turn will prove to be a valuable lesson for Daniel Jones with concern to his game management and staying within the system despite multiple or unexpected looks.

The Run Game Filled the Void
The beauty of the win for Duke is how well they ran the ball.  Shaun Wilson had two explosive TD runs of 65 and 50 yards.  He rushed for 176 yards on the day which is the best of any Blue Devil back this season.  Duke was also aided by the physical running style of Brittain Brown.  The redshirt freshman tallied 86 yards on the ground which included a 34 yard scamper for a score where he shook off two defenders.  Keep in mind that the Blue Devils total of 246  net rushing yards included minus 56 yards on sacks.
Big Play Blue Devils
On a day when Duke left some points on the field, they were aided by star players who would rise to the occasion.  The linebacking tandem of Joe Giles-Harris and Ben Humphreys were sensational. The two Duke roommates each made plenty of big tackles and plays. Giles-Harris led the team with 6 tackles and 6 assists and had a drive stopping interception.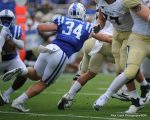 Humprehys sealed the win for the Blue Devils with his interception and 22 yard return for a touchdown which put the Blue Devils up 31-20 early in the 4th quarter.  The defense then held Baylor on downs and tacked on a field goal from Austin Parker which was his second on the day.  In fact, Duke now has as many made field goals as it had all of last season.
David Cutcliffe Pleased With Defense
Going unnoticed to a degree is the fact that Duke held Baylor to just 57 net rushing yards.  This, of course, was helped by the teams 3 sacks.  Duke was right there on a lot of plays with quarterback pressure which forced Zach Smith to rush his passes.  Cutcliffe thought his defense played well past the explosive plays.
Cutcliffe's Message to Daniel Jones and the Team
One thing you have to like about this years team is their ability to look forward to the task at hand.  Per Cutcliffe, he told Daniel Jones that they stakes have gone up as they move forward into their ACC schedule.   Duke will look to play their system this weekend against arch rival North Carolina in what is sure to be a physical and emotional game.  The long time Duke coach can notch his 100th career win with a victory at Chapel Hill.  Cutcliffe briefly commented on UNC today, saying they were a talented team and program.  He is still implementing some changes from the film study he does each Sunday and will likely start to develop his game plan for the Tar Heels tonight.
Closing Words
There were times when Duke was not as crisp as they were in their first two wins, but wins are the key.  Being 3-0 to start the season paints a beautiful picture and the team gave Cutcliffe a birthday present by fighting past some adversity versus the Bears.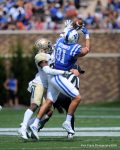 The Blue Devils are 35th and 39th in voting for this weeks polls and that is a testament to solid coaching.  But the Blue Devils staff knows that they must still shore some things up and remain consistent for their surge to continue.
The Blue Devils have been fortunate on the injury front so far this season.  No major injuries were recorded in the teams 34-20 win over Baylor.
Duke will face an unusually early ACC road game with North Carolina in Chapel Hill this week.  The game will be a good measuring stick for where the team will be heading into the conference season.
The Victory Bell is at stake, as is pride and going 1-0 or 0-1 in the conference this week.  It should be a fun time in Kenan Stadium and I urge Duke fans to try to make it over for the affair and to turn out for a Friday night game with nationally ranked Miami in two weeks.