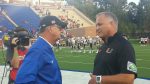 DAVE CUTCLIFFE: All right. The first thing that comes to my mind is I guess this is the last teleconference I will be doing with Mike Finn.
Mike, just appreciate your professionalism, your leadership, and commitment to the ACC. It's coming on a Tuesday of Thanksgiving week, so I just want to let you know and all those listening, how thankful I am of the ten years I've had to work with you in the ACC.
So I'm talking about I'm not so thankful about having to play Wake Forest who may be as hot a football team as there is. Just really playing at a high level, a very talented team. They've got a nice blend of experience, leadership, with some young players that are playing at a high level. They're extremely well-coached in all three phases. They are a huge challenge for us, and particularly with Jeremy McDuffie we announced today will be facing knee surgery Monday. So we lost he and Ben Humphreys over the last few weeks. That's been a difficult challenge.
So along with Wake being as good as they are, we've got to rally and refocus and be ready. I'll take your questions.
Q. To look at your team, and I know you said you're not thankful for having to play Wake Forest. But the six-game losing streak your team got back against Georgia Tech, and you control your own destiny in this last game to move forward and get into the bowl season. Just what you can say about the importance of this game? And despite the skid that you had, the fact that the team got back to winning, just what that showed you with the resiliency of your team to not end the way things had been going?
DAVE CUTCLIFFE: Well, we had Senior Day here, 21 seniors, counting our scholarship and walk-on players. We've got seven senior starters, and their leadership throughout the difficult time has been outstanding, as well as the staff keeping it together. If you're not able to do that, you will never come out of it. So it's been a lot of hard work and it's difficult. But proud of their approach.
The thing that we face this weekend, it's Wake Forest to us, which is a rival. It's an hour and 15 minutes down the road, and really that's where your focus lies. There are things that can come good from this if we can go play well enough to win the game. But I'm hoping, what I want to see and we did it today, is to kind of practice and focus the intensity that we can play, and we did better than a week ago, and that's always to go.
Q. Coach, with a decade at Duke, just what you can say you have learned from your time there, and you've taken away from your time there? Longevity is something you don't see a lot in college football anymore. Just what you can say about the last ten years that you've taken from Duke?
DAVE CUTCLIFFE: I think the way longevity works, and I believe this about college football, you have an opportunity to win if you surround yourself with really good people. It's been a lot of combinations of good people. We've had coaches go on to be head coaches and we've had some coaches go on to the NFL. But we've kept our support group intact.
You don't want to use the term family if it's not real. But we've been able to develop a Duke football family here, and we all care enough about each other to make this thing go. That is a carry over to your players, because they sense those types of people around them. So I think that's the most important part of what we do, to be honest with you. I know that I've learned that here.
Q. I know the numbers maybe don't necessarily reflect his performance, but how would you kind of view where year two has gone for Daniel in terms of his progression as a quarterback?
DAVE CUTCLIFFE: Yeah, he has had some spots where it's been tough. Some of that he would accept and probably all of it he would accept. But as his coach, it's some of the things that are going on around him, and it's not been any one thing. Sometimes protection has been an issue. Sometimes the route running or drop balls, the inconsistency of a run game at times is never friendly to a quarterback.
So, what I can tell you is this about him, and I sat down with him Sunday about this. His growth is far beyond the numbers. Difficulty is when we find ourselves gaining the most growth, and that's really a fact of life. It's not a very pleasant fact of life. But he's accepted the role that he's been given. He's better today for it, and I know that he is looking forward to another big challenge this week but he's also really hungry to try to do something special. So I like where he is mentally. I think he understands the circumstances that he's dealt with right now.
Q. In ten years of doing this, do you have a good Mike Finn story to share? Your memory of Mike Finn?
DAVE CUTCLIFFE: Well, I can tell you my early memories of Mike Finn are how quickly he got tired of me bringing up anything we did in the SEC, you know? And now I'm such a long-term ACC member, that I clearly understand that.
Mike doesn't say much. He just looks at you, so he's burned me a few times with his eyes in the early days. I mean that respectfully, Mike. But you can burn people pretty good with your eyes when you want to. So that's quickly what bounced into my mind when you asked.
Q. I will take my moment to say thank you to Mike for all of us on this side of the line as well. I appreciate all the terrible questions he's probably listened to over the years.
DAVE CUTCLIFFE: Well, I tell you, Mike's pretty special, David. I appreciate you saying that myself.
Q. Offensively, what changed for you last week? What do you need to tell your team that they need to recapture and keep that on that same level offensively this week?
DAVE CUTCLIFFE: Well, I think you always look at your preparation. The consistency of your preparation or inconsistency of it is real, and you are trying to win the game every rep out there at practice. And if you don't approach it that way -- this isn't coach talk. I can show them on tape, and I have. If you are in that mode that you think you can overcome practice, you're rarely right. So some of the inconsistencies that we've seen, I could, during games, I could show our guys, and I did on practice tape. When we've played extremely well, counter to that, I can show them what it's supposed to look like at practice. So that's kind of the focus that we've maintained, and we put a big value in how we work at practice.
Q. Coach, obviously William Holmquist had a pretty special moment kicking that extra point the other day. I was just wondering maybe your thoughts a few days after, and if it's been a special couple days for him?
DAVE CUTCLIFFE: You know, if I could have physically done a back flip at that moment, I would have on the sideline. That's how much I think of Willie Holmquist. He is a fine, fine young man.
His opportunity, and first thing I said to him, I said, you're in the books, buddy. You've scored at Duke. But he's overcome what some people might view as a disability, he doesn't. But his lack of hearing has brought a focus to that young man that I think is special. I'm not just talking about a football field. Anybody that wants to have a good conversation with Willie Holmquist, he is locked in. We had one today.
So I'm very happy he's here. His value has gone beyond the field. He's a great teammate. He's a great person. I think Duke is going to be very fortunate to have a great grad student leave here and represent Duke University as well as tufts very well.
Q. Dave, I asked Dave Clawson this question a little while ago. We went a generation or more without Duke or Wake having any success at all on the football field. It looked at times like maybe that just wasn't possible, and you've done what you've done at Duke. You've seen what he's done at Wake. It's a unique rivalry. But could you talk about how hard it is to win in a private school in today's NCAA climate?
DAVE CUTCLIFFE: Well, I will say this: Coming in here I may have thought I knew what I needed to do, and I don't know that we really did. What we did was we wrote down everything on a board, our staff at that time, and it was a lot of things of reasons we couldn't win. After looking at them and we erased a few and we kept the ones up there that we thought we could do something about. So I think that's the key, and it may -- we might want to use the term hard or we might want to use the term different.
I think it's not easy to win anywhere, and I think that's a misnomer. That's what I told our people here. I didn't want to hear anybody talk about how hard it was going to be to win here. It's not easy anywhere that I've ever been. I've been to the University of Alabama and Tennessee and Ole Miss. So I think the bottom line is you have to learn a place. And certainly know that Dave Clawson and his staff has done that at Wake. He's done it everywhere he's been. I think we've learned through time here that there is a way that I've got to be true to that path and true to that way is the one thing you've learned.
So I really don't like, and I'm not being gracious, I don't like the term it's hard here. It's different here, and you have to learn kind of how you go about it.