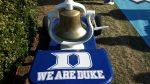 The wait is finally over.  After a long offseason, the Duke Blue Devils are set to take to Brooks Field in Wallace Wade Stadium to take on Army this Friday night.
Blue Devil Nation will address what we feel are the key factors in the contest while also giving you an idea of what to expect this season via changes in the depth chart.
About Army
A season ago, Army defeated the Blue Devils on a cold and windy day at West Point by a 21-16 score.  In fact, that was the last time the program has lost and was just four games ago.  The Army defense tallied three key sacks on Daniel Jones.  The Cadets also blocked a punt for a score and that was the difference.
The Army had a stellar season a year ago winning a bowl game on their way to a recently historic finish.  Army head coach Jeff Monkan has rebuilt the program which remains on a solid foundation.
The strength of this years team will be their defense which returns 8 starters from a season ago.  It is also worth noting that Army has held Duke to just 29 points in the last two seasons. Their top players on the defensive side of the ball are DL Kenneth Brinson, LB Cole Christensen, DB Gibby Gibson leading a veteran unit.
The offense will be breaking in 8 new starters but is anchored by a solid center in Bryce Holland and running backs Darnell Woolfork and Kell Walken.
Changes for Duke
Here is a quick look at the changes for Duke Football going into the game.  Robert Kraeleng earned the LT spot and will Christian Harris mans the RT spot.  Duke has settled on young backups in true freshman Casey Holmon and soph Jayson Miller.
There are two other true freshmen to watch out for on offense in WR, Jake Bobo and RB Mario Durant.  Ideally, redshirts would be in order, but both of these kids have made it hard to sit them in the preseason.
Derrick Tangelo has beaten out Trevor McSwain on the DL, for now, Drew Jordan gets the nod over Tre Hornbuckle at the DE spot.  Duke will play a lot of players up front.
Josh Blackwell has earned the starting spot at CB to go with returning starter and standout Mark Gilbert.  Marquis Waters earned the starting job at one safety.
The keys to win for Duke
The first and most important is to keep Daniel Jones upright.  Teams will attack Duke on the corner of their offensive line and three Army sacks a year ago killed momentum.
The second and equally important factor is to get off to a good start.  Army is big on momentum.  A few years back they scored early on a Sean Renfree miscue and handled Duke in Wade.  The Cadets are not built for a comeback, so a couple of early scores could help Duke to the win.
Limit big plays is always a factor for Duke.  Army will not pass much, but when they do (maybe three times) they can go for big plays.  Duke must also play tight on special teams, namely in the punting game.
How will the game go
Pardon me while I grab the crystal ball and polish it off for a view.  I think Duke will score early and never look back.  I would think that the Duke defensive front and linebackers should handle an inexperienced Army offensive line and maybe cause a turnover for a score.  In fact, if there are no breakdowns, I think Army will be held to a single score.  The Duke offense will not show all their tricks with really tough road games with Northwestern and Baylor ahead, but I think we will see a crisp effort on most downs.
If Duke stays within the scheme on defense, matches the Army's physicality, and stays focussed, I see a nice result.
Duke 37 Army 8
Tidbits -
Tickets are available for the 7:00 kickoff in Wallace Wade via GoDuke.com.  -
Duke has won just one time on Friday night way back in 1954 over SMU and they stand 1-4 overall.
Duke is 8-2 under David Cutcliffe in season openers
Duke is 3-0 in August under David Cutcliffe
Mike Krzyzewski is a 1969 graduate from Army.  In his pre-Canadian tour, he expected a Duke win over his former school.
21 power 5 schools have two bowl wins in their last three season and that list includes the Blue Devils.
Duke is a 13.5 point favorite per ESPN.  This game will be telecast on ESPNU
Traffic will be intense on a Friday Triangle rush hour start, so be there early for an air show starts around 6:45