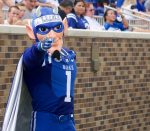 Duke football will face their biggest test of the season when they take on Virginia Tech at 7:00 Saturday on Brooks Field in Wallace Wade Stadium.
The Hokies are sure to have their ears pinned back after being upset by Old Dominion a week ago.  While fans may disregard how dangerous a wounded Virginia Tech team can be, the same cannot be said for Cutcliffe and the Blue Devils.
During both of his press conferences Cutcliffe pointed to the fact that the upset loss was an anomaly, going as far as to say that if the two teams played tens times, the Hokies would lose one of them.
A week ago, Virginia Tech was rated 13th in the country while Duke broke into the top 25 this week.  The game which will be nationally televised by ESPN2 still features two ranked team in the coaches poll.
But the Blue Devils are now the slight favorite over a team they have not beaten since 2015.  And the bottom line is with a win they remain ranked going into the bye week, yet a loss would certainly take them out of the poll for a while.
The importance of this game cannot be underestimated and the fact both teams need a win should make for a spirited affair.  One of these teams will be 1-0 in the oh-so important Coastal Division standings, while the other will enter the cellar at 0-1.
The Hokies lost their starting quarterback a week ago, but the Blue Devils have been playing theirs of late in Quentin Harris who replaced Daniel Jones.
Both quarterbacks will face a good defensive effort.  The Blue Devils despite injuries have been solid on defense and Virginia Tech is coached by perhaps the best assistant in the country in Bud Foster.
Duke will have to be careful of the Hokies special teams efforts where they are notorious for picking up scores.  They must also be aware of big plays downfield for Virginia Tech will take their shots.
Another important factor will be the battle of turnovers.  In a game which is projected to be close, the team which capitalizes in that area will hold an edge.
As for Duke, they just need to execute for four quarters and be resilient.  The Blue Devils need to protect their home turf remaining aggressive the entire game.
If those things happen, I will have some good things to say for the only thing standing in the way of a joyous bye week are the Hokies, a team that has for the most part had the Blue Devils number.