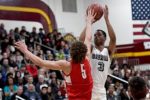 The Duke Blue Devils solidify their 2019-20 recruiting class with highly ranked shooting guard Cassius Stanley giving the program the nations top-rated class.
Stanley chose Duke over Kansas, Oregon and UCLA.
His announcement came at his Sierra Canyon High School in Chatsworth, California.
The newest Blue Devil averaged 17.8 points, 6.2 rebounds and 2.9 assists per game in 2018-19 for a star-studded team.
Stanley joins fellow Californian, Boogie Ellis, Matthew Hurt, Vernon Carey Jr., and Wendell Moore Jr.
An elite athlete, Stanley hopes to be an immediate factor early at Duke, where three starters are NBA bound.
Standing at 6-5 with solid length and he is aggressive on the offensive end driving the ball downcourt while also being a willing defender.
Stanley is a little older than some freshman so that has allowed him to develop physically as well.  He will look to gain a more consistent outside shot at Duke while getting stronger.
His high school is 22 miles from the Hollywood Walk of Fame, so there is little chance Stanley will be star-struck at Duke.
Several former NBA players send their kids to Sierra Canyon including Scottie Pippen,  Duane "Pearl" Washington, Kenyon Martin to name a few.
His high school alum list includes kids from Berry Gordy. Sean Combs, Kevin Hart, the Jenner's and Jamie Fox to name a few.  Elite level kids attend the school system near Los Angeles from kindergarten through high school.
Another recent Duke product from Sierra Valley was none other than Marvin Bagley III.
So, Stanley is more than a little accustomed to stars being around, so that should help him fit in with a program full of them and the stands always having somebody famous nearby.
His Dad, Jerome, was a successful sports agent who broke down some barriers along the way,  He represented the likes of Baron Davis and Keyshaun Johnson.
Stanley once worked out with Oklahoma City standout Paul George.
It will be fin for Duke fans to watch the athletic Stanley add polish to his game while in Durham.  There is no reason he should not push for immediate playing time if he puts in the work.
Stanley added Duke to his list in early August and visited the school the weekend after that news came out.  It was obviously a good visit.
Duke assistant coaches Nate James and Chris Carrawell took lead roles in the recruiting process recognizing the talent Stanley possessed.
"It was a lot of pressure," said Stanley after his decision. "Initially I had three schools, UCLA, Kansas and Oregon. Coach Alford got fired and around the same time Duke slid in. I was skeptical at first because I wanted to stay loyal to the programs that were recruiting me earlier, but I felt Duke had the best to offer."
The Blue Devils wanted to add a shooting guard to this class and more backcourt help, so the addition of Stanley afford them backcourt depth.
Cassius Stanley commits to DUKE 😈 @cassius_stanley @DukeMBB pic.twitter.com/uBdkoxqrnE

— Overtime (@overtime) April 22, 2019