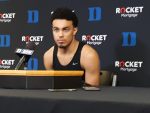 DURHAM, N.C. – Duke men's basketball head coach Mike Krzyzewski has announced that sophomore Tre Jones and seniors Javin DeLaurier and Jack White will serve as the team's captains for the 2019-20 season.
DeLaurier and White are repeating as captains after leading the Blue Devils to a 32-6 record, an ACC Championship and the Elite Eight in 2018-19. Jones, an All-ACC guard and the team's leading returning scorer from last season, is serving for the first time.
"I am thrilled to have Jack, Javin and Tre as our captains for this season," said Krzyzewski, who enters his 40th season as Duke's head coach in 2019-20. "Javin and Jack did an incredible job last year leading our team. To have them back with that experience as seniors, and to add our point guard, is important. They are each great leaders in their own way and I'm confident our team is in good hands."
Since 1998, DeLaurier and White are the 13th and 14th repeat captains at Duke -- a list which includes current associate head coaches Nate James (2000 and 2001) and Jon Scheyer (2009 and 2010).
DeLaurier averaged 3.8 points and 4.4 rebounds per game last year, finishing the year with his first career double-double against Michigan State in the Elite Eight. The Shipman, Va., native played in all 38 contests and started 16 while blocking 50 shots, good for third-best on the team.
White, from Traralagon, Australia, appeared in 35 contests a season ago, averaging 4.1 points, 4.7 rebounds while registering 37 blocks. An All-ACC Academic selection, White helped lead Australia to the bronze medal at this past summer's World University Games.
Jones enjoyed a prolific year as Duke's freshman point guard. recording the best assist-to-turnover for a season in program history of 3.62. The previous record of 3.03 was set by Steve Wojciechowski in 1997. The All-ACC and ACC All-Defensive Team pick finished last year averaging 9.4 points, 3.8 rebounds and 5.4 assists per contest while pocketing 68 steals in 36 games.
Duke opens the season versus Kansas in the State Farm Champions Classic at Madison Square Garden on Tuesday, Nov. 5.