[private]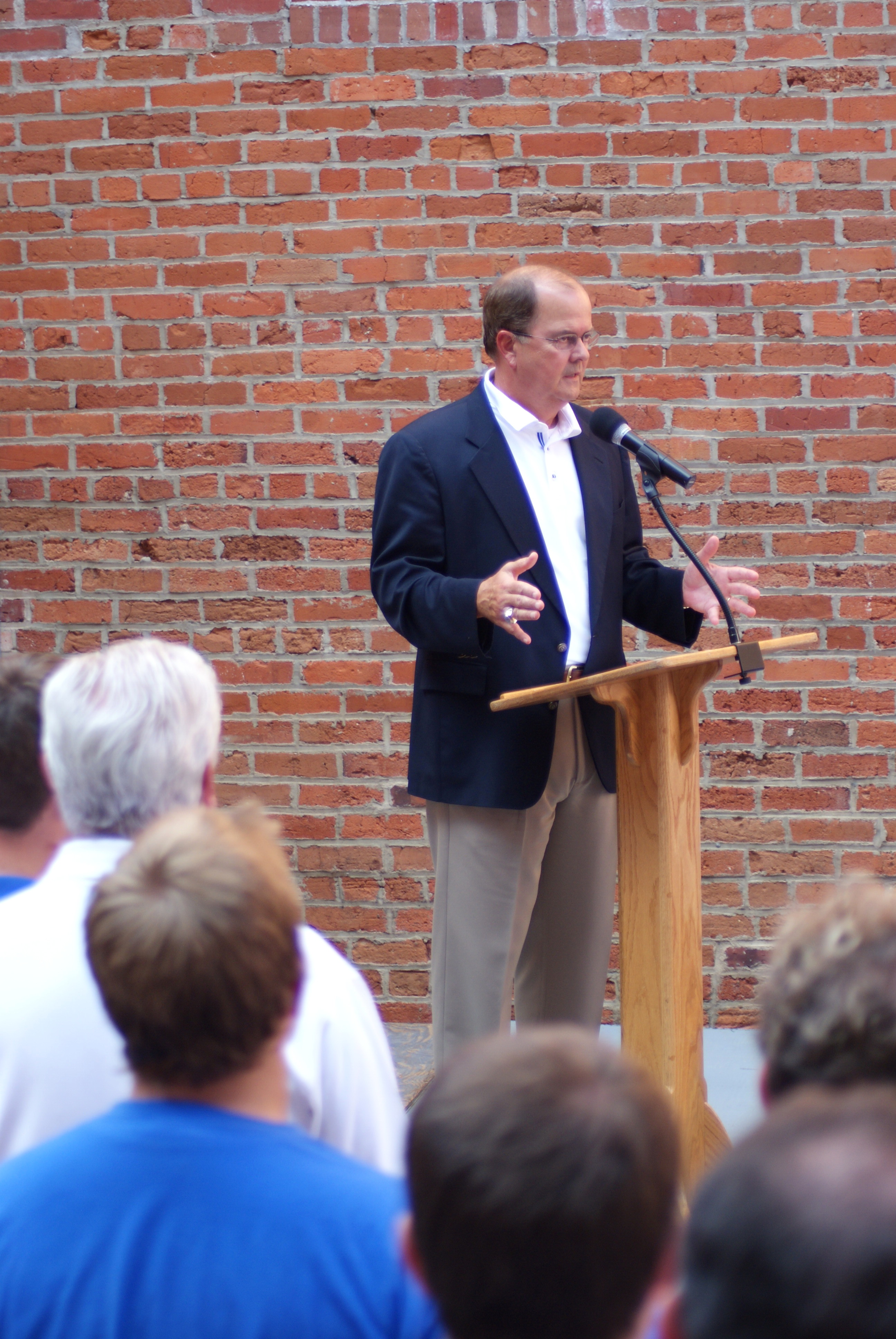 The final tour stop on the Cutcliffe Express stopped at Tyler's Tap House where Coach  Cutcliffe addressed aproximately 250 Iron Dukes.  He  later threw out the first pitch during the Durham Bulls game.  We'll have an in depth article up tomorrow where you will hear all the positive things said. So be sure to check back.   During the event, I was able to talk to some Duke players and fans.  Here is what they had to say about David Cutcliffe -
Hal McElhaney (Former Duke Football Great)- I've been to practice sessions all spring and observed his coaching style.  There is so much familiarity in the ways he does things to Coach (Bill) Murray that it's scary.  I think Coach Cutcliffe is what I term a throwback.  He grew up under the Bear Bryant regime and there is a lot of style in him.  I know we are going to improve.  I will guarantee you we will improve.  He's such a methodical well planned thinker.  He's demanding, he's tough, he's kind of ornery, but he also puts his arms around a player.  I have a tough time tempering my excitement.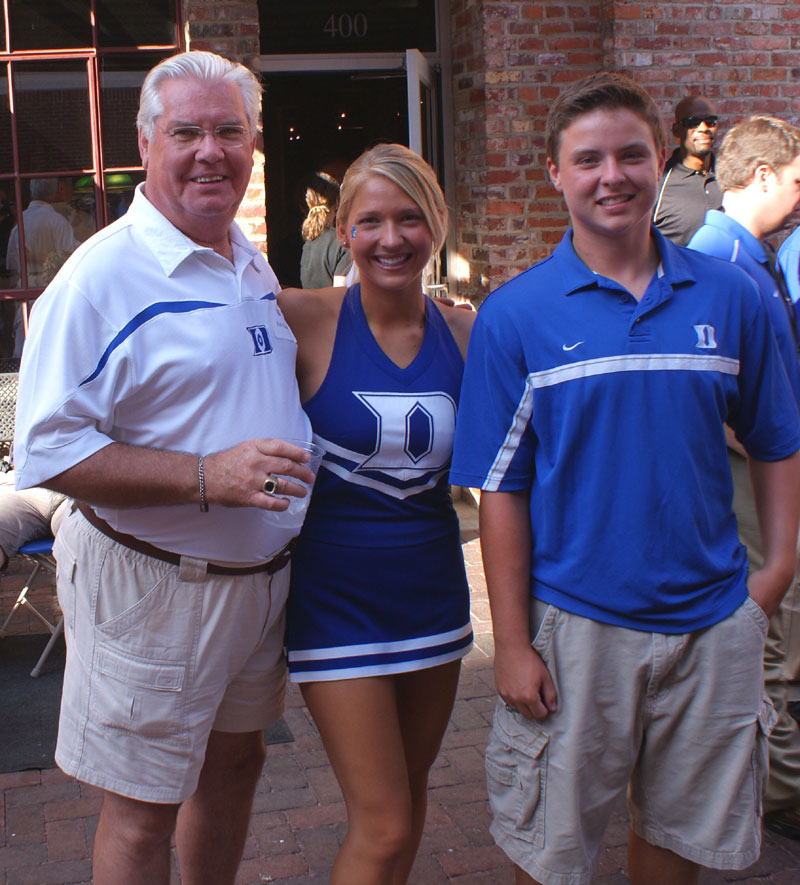 Bob Harris (Voice of the Blue Devils) - I have been on the tour with Coach Cutcliffe and he's got people interested and excited about Duke Football again.  Listening to him talk, you can see just how committed he is and how much he believes they're going to win.  He's the ninth head coach that I've worked with and only two others have been a head coach prior to coming to Duke.  David brings a pedigree that none of the others can touch.  The job he did at Mississippi, going to four straight bowl games which is phenomenal.  I'm not predicting anything like that for Duke but he will have them much better quicker some might think.  I'm excited about the way he does things, the way he conducts himself and the changes within the team in the short time he has been here.
Roger Neighborgall (Former Duke Quarterback 72-75)- Coach Cutcliffe is going to focus the kids priorities.  That's very important at Duke.  In the past they have put their focus in a lot of different directions.  These kids are going to know they have a proven winner.  I liked that he mentioned faith and family as two of the key points.  What Coach Cutcliffe was saying is that he is going to respect which ever faith you may bring to the table or encourage you to have some kind.
Don Fowler (Former Duke Baseball Player)- What has most impressed me is that Coach Cutcliffe has figured out that there are kids in North Carolina that can play.  As a North Carolina native that played at Duke I know the importance of having in state kids.  I like that he said he was going to be out there visiting every town and getting to know the coaches.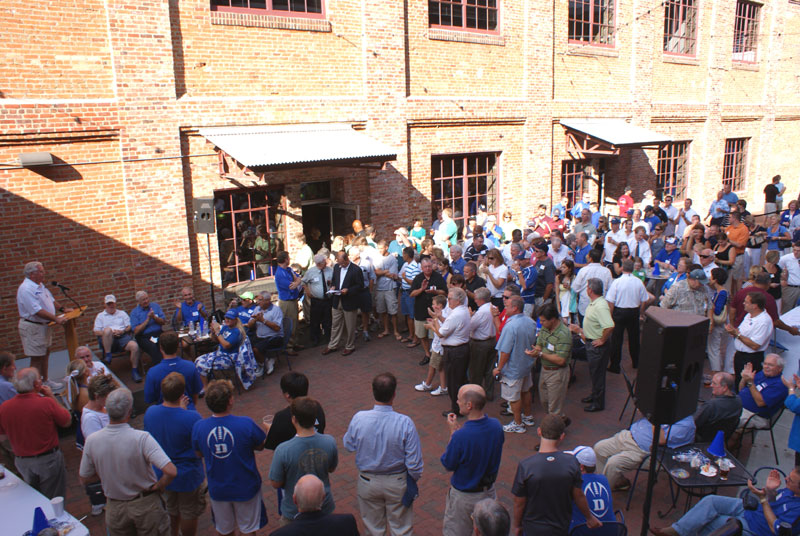 Don McClintock (Fan from Durham)-  He's doing exactly what I think needs to happen.  There has to be a change of culture and that's exactly what he is trying to instill.  We're excited ... all of my family has tickets and we are looking forward to go watch Duke play.  Obviously, the Duke fans want to win, but they really just want to see a good brand of Duke Football.  If they win they're going to be really excited.  If they don't win and play a good brand of football, that'll be okay in that they understand it's going to take a little while to get it turned around.
Stan Ellis (A fan from Durham)- I think its great having Coach Cutliffe at the helm.  It's motivating and that's something that Duke has lacked for a long time.  I've been going to Duke Football games all my life and it's good to see someone come in that can motivate and get them back to where they use to be.  I invite all Duke fans to "Charlies," a Duke friendly place.
Check back in for the best Duke Football coverage on the web. Oh! And since Charlie's was mentioned I have to plug my bud Gene Devines place, Devines.[/private]