[private]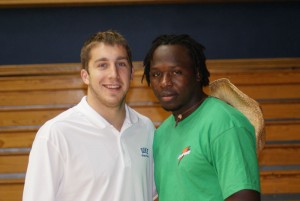 It's always nice when Duke Student Athletes support one another.  Just ask Duke quarterback Thaddeus Lewis who recently told BDN, "When you sign on the dotted line to attend Duke University you are embracing a family whether you are a student or student athlete."
He went onto say, "I want them (athletes) to support me, so I go out and support them."  Lewis could be seen at the Coach K Academy this summer checking out all of the former Duke players while stopping to talk to a couple of current players like Greg Paulus.  "I wish I could get out there on the court," said Lewis during that event.  He went on to say he played basketball in high school.
Almost all athletes at Duke played multiple sports at one time.  The aforementioned Paulus was one of the top rated quarterbacks in the nation out of high school.  In a twist of irony, Paulus could be found at a recent football practice peering on much like Lewis did in Cameron, wondering what if.
Lewis and Paulus are two perfect examples of the kind of special athlete Duke produces both on and off the court or field respectively.  Both could be seen at various Duke sporting events last year and both are willing to put in the work for their university of choice.
I mean, talk about being selfless!  Lewis could be field on the field handing out water to prospects during the Duke Football Camps.  Paulus could be found  atop the hill in the new practice facility waiting to give attendees to the Coach K Academy rides to and from their motel.  Just take a second and imagine Lewis handing you a gatorade and Paulus saying "where to," as his van loads.
"Greg Paulus is one of the nicest guys you'll ever meet.  He'll do anything for his school," said recently retired Frank Dascenzo of the Herald Sun while the two of us sat in the new practice facility during the K Academy.
Lewis also supported the basketball Blue Devils at the recent SJC Pro Am event at NC Central University.  It's kind of nice when Singler, Williams or Smith can look up and see Duke's starting quaterback in the stands.
There is one bond that ties the two together besides being the engine to their respective teams.  That being each one is throughly enjoying their Duke experience.  "Duke is somewhere you can be comfortable at.  It's somewhere where you want to be and it's somewhere where they want you," said Lewis.  He went on, "It's family oriented around here and I'm enjoying every mintue of every day.
So, if you happen upon Paulus or Lewis around campus or in any environment, you will see two Duke student athletes who strive to not only give their best, but to support one another.  Perhaps more importantly, they are enjoying their Duke experience.[/private]