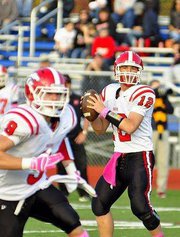 Head Coach David Cutcliffe is known for his ability to develop quarterbacks, thanks to his work with Thad Lewis and Sean Renfree at Duke, and Peyton and Eli Manning at Tennessee and Ole Miss. In the class of 2012, Duke has already been in contact with many of the top quarterback prospects around the country, including Casey Cochran of Connecticut. Cochran is a 6'1" 205 pound pro-style quarterback from Masuk High School in Monroe, CT. As a junior, Cochran led the top offense in the state to a championship, earning himself the state Gatorade Player of the Year award. Highlights of his junior season, during which he threw 2,670 yards and 36 touchdowns, can be viewed here.
BDN: Can you start off by describing your strengths as a quarterback?
Some of my strengths are, I think, are accuracy in all throws, moving in the pocket, arm strength, and reading coverages.
BDN: What are some of the things you have been working on this offseason?
I've been working on depth and quickness of my drops, footwork.  Every day I've been working on footwork.  Throwing on the run was a big thing to work on; I didn't do it much this year, but work on that a lot.
BDN: Are there any quarterbacks in the NFL or college game that you have studied or modeled your game after?
Definitely, I've been watching a lot of Aaron Rodgers this year, he has like impeccable form.  It's perfect.  Same thing with Tom Brady.  He holds the ball a little low, but I love watching him.  They're 2 great quarterbacks I love watching, as well as Peyton Manning, just how he runs offense is awesome.
BDN: What are your goals for your senior season?
Definitely want to win the championship again, go undefeated, we did that this year, and I definitely want to repeat, go out with a bang.  I want to be the number one offense in the state, and just do better than last year.
BDN: What are the most important factors you're considering when looking at colleges?
First of all, academics.  Academics are the strongest thing I'm looking for.  Also facilities and academic support, as well as the type of offense run there.
BDN: Is there a specific academic field you think you would like to study in college?
Yes, sports medicine, I'd like to get into physical therapy or personal training.
BDN: Do you have a preference for a particular offensive style?
Yeah, I'm looking for pro-style, with a mix-up of spread too.
BDN: What schools have you had the most contact with so far and who were the first schools to contact you?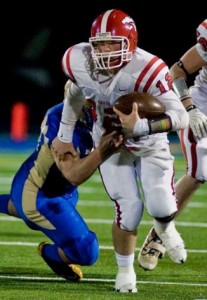 The first – I have an offer from BC, and they were the strongest at first.  I have – I went to the UConn and Rutgers Junior Day, and I am scheduled to go to Virginia, Duke, and NC State Junior Days, as well as Penn State this spring.
BDN: Have any schools stood out to you at this point in the process, either on your visits or through your contact with coaches?
Not necessarily yet, no, it's still pretty early.
BDN: Do you know what camps you plan on attending this summer?
Not yet, but I'm definitely going to UConn and Rutgers.  We haven't planned every camp out yet, but definitely UConn and Rutgers and BC.
BDN: At this point in the process, do you have an idea when you would like to make your college decision?
No, I'm taking my time now, but I am scheduled to graduate January of my senior year, so I'm trying to take my time, but before then I would definitely make my decision.