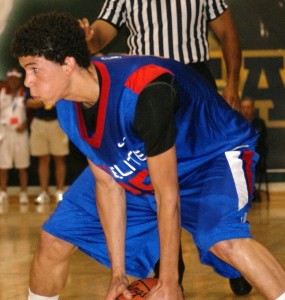 Two future Duke Blue Devils were named to the Team USA U-18 roster earlier this afternoon.  Duke's point guard of the future Kryie Irving and Virginia native Josh Hairston  were named to the final roster after participating in the trials.
"When I heard my name it was a big relief, just the amount of talent that was out here and to just represent your country was big time. Everybody who came to the tryouts could have been on this team, everybody from the top to the last person on the list was very talented. I think the coaches put together the best 12 guys that meshed together and play well together so it's an honor to be a part of that," said Hairston.
Hairston, who was not too happy when his name was not called out for the McDonald's All American and Jordan Brand All Star games, went into the trials with something to prove.
"I wanted to show the coaches I could rebound, that I could talk on defense, that I could run the floor and that I could be a leader. One of the things my dad told me before I came out here was to just go out there and work my hardest and that's what I did," stated the future Dukie.

Kyrie Irving a will share the point guard duties with Abdul Gaddy and the experience should provide him with some great experience. "We've been working hard for about two-and-a-half days so coming out here and performing the way I did, I'm really proud of myself and all the guys that made it. We have a very talented team and we're going for the gold." said Irving.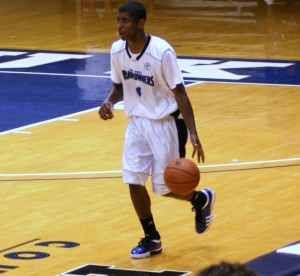 Irving also mentioned that he was the youngest player on the court. "That's going to be primary role next year is to be a leader on that team along with Nolan Smith and Kyle Singler, so just being a leader and being a point guard.
It will definitely help me. I'm the youngest player here; I'm playing with an older group. These are great players, competitive players, and it's going to help me take my game to a whole another level."
Three Duke prospects also made the final roster.  Duke is all over Austin Rivers who made the team and is considered by many as a strong Duke lean.  When asked what he brought to the table, Rivers stated," I would say I bring leadership as someone you can count on in a game. Whatever you need me to do, I can do it. If you need me to score, I can score. If you need me to try to get someone the ball, I can get someone the ball. I'd say a little bit of everything. Whatever you need me to do, I'll do it."
Quincy Miller of Quality Academy in Winston Salem and Detroit standout Amir Williams will join the future Dukies and Rivers on the team.
It's a privilege to be named to the USA team. This is a great experience, a great time for me to go out and represent my country. It's going to be a wonderful experience for me to play for this team, said Miller who list Duke and Kentucky on his list of schools.
BDN will follow Team USA closely in the coming weeks, so stay tuned for more as the team prepares for play.